What makes this homemade hummus so good? Your taste buds! Taste and tailor it to perfectly suit your taste.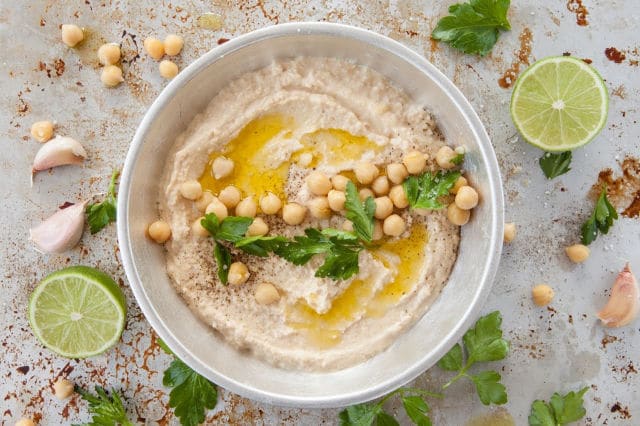 The hummus that you make yourself will be the best one you ever eat.
Why?
Because you can customise it exactly how you like it.
Prefer a garlic hit?
Add more garlic.
Like the tang of lemon? Add some more to taste.
Personally, I love smoked paprika and always put a boat load in my hummus.
I've been making hummus as a protein / fibre snack lately to eat on whole wheat crackers or with vegetables.
I was never a huge fan, but I've fallen in love with its subtle flavour. The biggest challenge is to make the lot last more than one day. Makes just under 500g.
Ingredients
1 440g tin of chickpeas, drained and rinsed
1/2 – 1 clove of garlic, crushed
1 – 2 Tbsp tahini
1/4 tsp paprika
1/2 cup olive oil
the juice of 1 lemon (around 1/4 cup)
a little extra water if necessary
Method
Blend or process until smooth. If the mixture is too thick, add a little water to loosen it up or until you have your preferred consistency. Taste and season, adding more garlic, tahini or lemon juice as suits your tastes.