Are You Flushing Cash Down the Loo? How to Save Money on Toilet Paper
This website may earn commissions from purchases made through links in this post.
Some frank and funny tips on how to save money on toilet paper.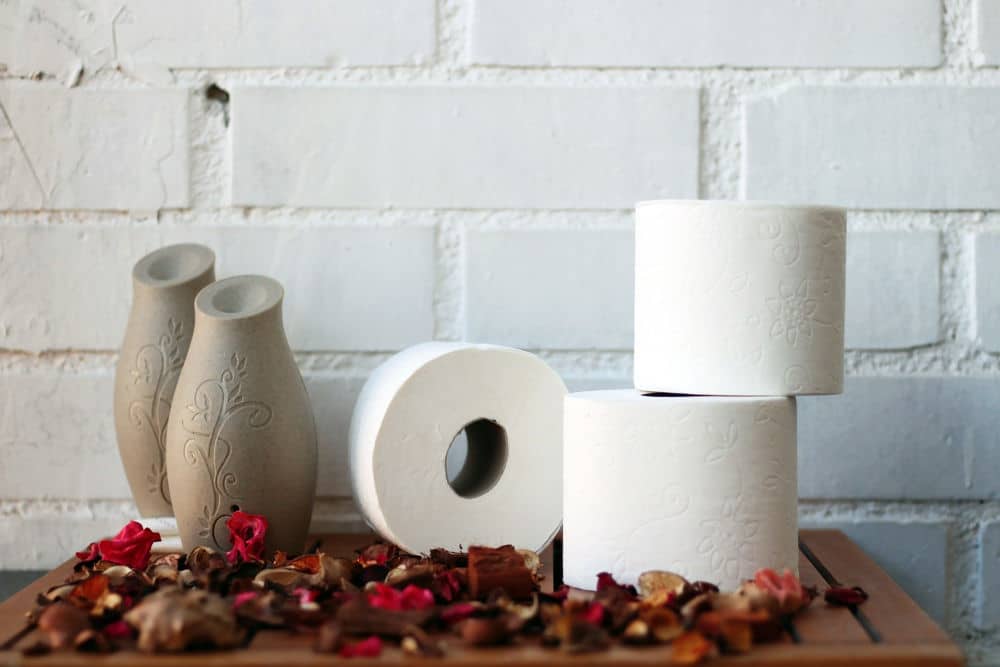 I've got some potty talk for you.
Today I'm going to get to the bottom of how you can save money on toilet paper (you can even use your savings to wipe away some debt).
So let's get a roll-on…
In our household, dunny paper is one of the great multi-taskers: we use it not only for it's intended purpose but also for nose blowing, kitchen floor wiping, splatted cockroach disposing and the occasional streamer strewing.
To me, 'facial tissues' and toilet paper are exactly the same thing, except loo paper comes on a roll rather than in a pretty box. My mother, however, finds it mortifying that I whip out a loo roll in public to blow my nose. DH also agrees that it's pretty embarrassing.
What is the world coming too when we get embarrassed about using the wrong shaped tissue paper for wiping snot on?
Just saying…
Anyway, because it's a multi-tasker, our toilet paper has to meet certain criteria: disintegration upon contact with liquid is a no-go. A certain level of absorbency is a must. Artificially scented toilet paper is also a bad thing (it doesn't help stop the sneezes).
And you know what?
Cheap-O bog-standard toilet paper suits all our needs.
How to Save Money on Toilet Paper
Little savings add up. So it pays to consider once in a while, ways you can save on everyday items, especially items you use as frequently as toilet paper.
Now, I'm all for ditching disposables…but not toilet paper. Although only 30% of the world's population uses toilet paper, it's one luxury I would rather not go without.
Two-ply? I'm fine with. Family cloths? Not so much.
So, apart from foregoing this little luxury, here are some ways to save money on toilet paper.
1. Buy a Cheaper Brand
I admit it.
We buy our toilet paper from Rough Scratchy and Co because let's be frank here, I'm not writing letters to the queen. I have little appreciation for coloured, printed, three-ply, scented loo paper.
What's more (and I realise this may be too much information), I think that the cheaper, no-frills brand works better because it has more traction if you know what I mean, and it doesn't tend to get left behind (in your behind – sorry, couldn't help myself).
The two-ply home brand can be just as absorbent, if not more so, than the expensive brands.
I've discussed the pros and cons of toilet paper with family and friends (as you do), and some argue that the three-ply stuff is one of life's little luxuries. One of those things that makes life worth living.
I have to say though, when it comes to luxury items, toilet paper isn't the first thing that comes to mind. Dark chocolate and champagne? Well, now you're talking. But dunny paper with little printed flowers..?
I've also heard the argument that if you buy the more expensive 3-ply paper you use less because it's thicker. If you've been using 3-ply for a long time, then that might just be the case. However, I think that the number of squares that come off the roll has more to do with habit than it does with thickness.
2. Compare and Save
There is no standardisation for toilet rolls. One, two or three-ply, 180, 260 or 1,000 sheet rolls. How do you compare prices to get the best value?
The first step is to settle on your desired ply. If you never want to use single-ply toilet paper, then eliminate it (I could go on all day) from your comparisons.
Then compare the per sheet cost within the desired 'ply' range.
To calculate the per sheet value, divide the cost per number of toilet rolls in a pack, then divide this amount by the number of sheets per roll. This is the comparison amount.
For example, our home brand toilet paper costs $4.29 for a 12 pack, each roll containing 260 sheets. That means each roll costs 35.7c and each sheet 0.137 cents. This makes it easy to compare value between brands.
You may also be interested in reading: How to Clean the Toilet Naturally and Cheaply.
3. Use Less Loo Paper
According to the Toilet Paper Encyclopaedia (no, I can't believe there is one either), the average number of sheets a person uses per quiet time is 8.6 sheets, or 57 sheets per day (assuming a frequency of 6 – 7 trips to the small room). That's around 20,805 sheets of toilet paper per person, per year.
Did you fill out that question on the census?
If you buy the Wondersoft brand, that adds up to $60 per person (or $240 per family of four 'regular' users) per year. Kleenex Cottonelle comes in at $83 per person per year (or up to $333 for a family). 2011 prices
Switch to home brand and you can reduce your loo paper cost to $28 per person per year ($114 for the family).
That's a saving of up to $55 per person, which isn't too crappy for something that only gets used for a second before being flushed.
4. Bulk up and Save
Sure, fibre is good for the diet, but that's not what we're talking about here.
Toilet paper is a great item to bulk buy because, if you have space, you can store it indefinitely. Supermarkets regularly have specials on toilet paper, but don't forget to check out discount stores like Kmart, Aldi and The Reject Shop, or buy online by the box load from websites like The Toilet Paper Man.
If you do buy online, share the cost between friends or family to save on delivery fees.
5. Squish the Roll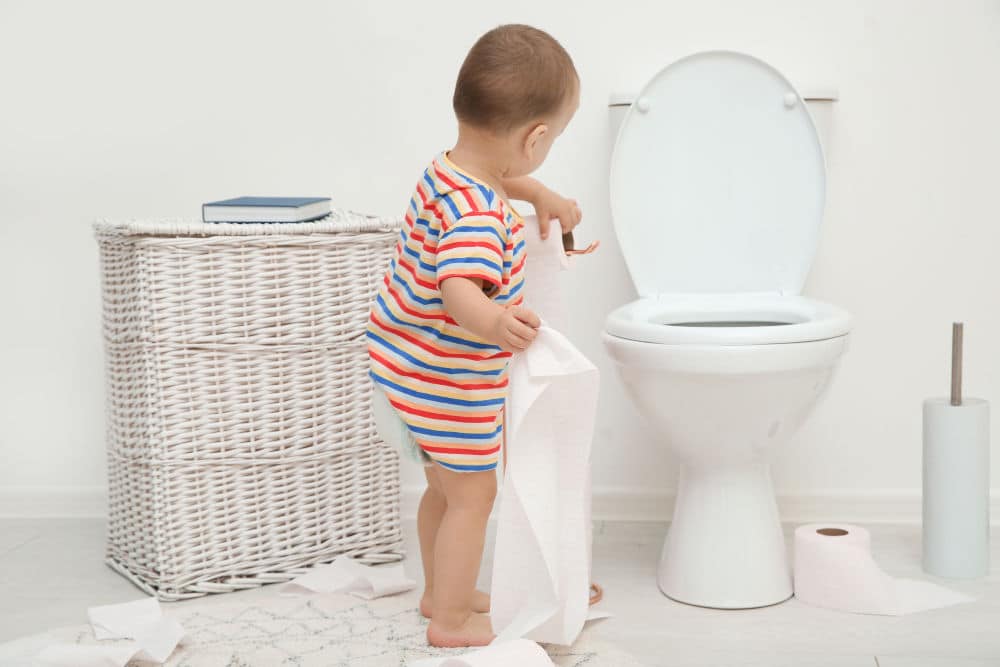 Can you relate?
This tip is especially useful if you have children (or pets) who like to watch the loo paper unravel in streams onto the floor.
If you give the roll a good squeeze before putting it onto the holder, it creates a resistance that prevents this kind of excess. It doesn't roll as easily, which means one swipe doesn't result in a cascade of paper. It also makes you aware of how much you're unwinding off the roll.
6. Fold, Don't Scrunch
Not that I want to get too personal, but apparently, if you're a 'folder' you have more surface area, and therefore need less to get the job done.
Here's a tip on how to get the time-saving convenience of scrunching with the saving power of folding:
Wrap the loo paper around your hand as you unroll.
Instant fold without all the folding.
8. Do Your Business at Work
The cheapest toilet paper is that which you don't have to buy yourself.
While some of us might get stage fright at the thought, using someone else's amenities can save you money.
And if your boss has an issue with you spending company time in the small room you can remind him of research that says almost all ideas, creative breakthroughs and solutions to problems come in moments of solitude and quiet reflection, not by slogging away at a desk.
9. Go Recycled – Pay More but Save the Planet
According to Greenpeace, Americans could save more than 400,000 trees if each family bought one roll of recycled toilet paper — just once. [source]
We currently get our recycled loo paper from Who Gives a Crap. It's 100% recycled, so good for the trees. And they donate money for sanitary works, so good for people too.
While we don't save money compared to supermarket toilet paper, I never have to worry about running out because we have a toilet paper subscription – our supplies are always backed up…in a good way.
I realise that calculating the per sheet cost of toilet paper or shopping at Rough and Scratchy might seem like taking frugality too far. But I honestly believe that saving on the little things will leave you flushed with success.
What can you do with the leftover toilet rolls? Here are 22 Creative Ways to Upcycle Empty Toilet Paper Rolls.
JOIN THE NEWSLETTER