How to Make Sure You're Saving Money At Aldi
This website may earn commissions from purchases made through links in this post.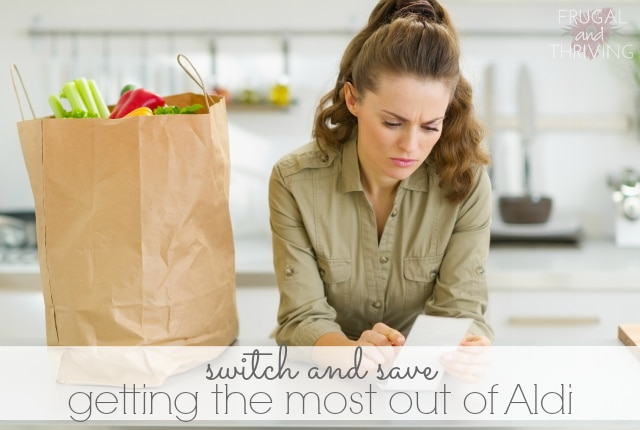 If you want to save money on the groceries, you pop into Aldi to shop, because Aldi is cheaper, isn't it?
That's certainly what the ad promises.
The problem with shopping exclusively at Aldi is twofold:
they don't always stock a wide variety of goods, meaning you usually have to finish your shop at one of the 'Big Two' supermarkets anyway
they are not always cheaper
the quality of products isn't always as good (check the ingredients list!)
I've written before that I'm not a fan of Aldi, but I've slowly come around.
The change of heart is because our local Aldi has finally started stocking things that I would buy. It's no longer just rows and rows of biscuits, cereal and cheap electronics.
And it's no longer out of our way to get there – we drive past Aldi on the way home from kindy.
After a few tentative forays, I've now made Aldi part of our regular fortnightly shopping routine and we've certainly saved more money on our groceries.
But I've found that Aldi is not always cheaper. Here's an example:
Wholemeal pasta is a lot cheaper at Aldi, even when San Remo wholemeal at Woolies is on sale. It's also organic. So we save a lot for better quality at Aldi.
On the other hand, regular ol' plain pasta (which hubby and the kids ask for occasionally) is much cheaper at Woolies (home brand).
Tinned beans and tomatoes are cheaper at Aldi, but dried beans are cheaper yet, and our local Aldi doesn't stock these. I've found Woolies home brand block cheese is cheaper than the Aldi brands.
These are just a couple of examples.
Assuming that you have to shop at both: Aldi and one of the Big Two supermarkets to supplement your Aldi shop (it's not worth going out of your way just to save a dollar or so on a block of cheese) how do you get the most savings with the least effort?
How do you keep track of prices and where to buy each grocery item?
The answer is with a price list.
A price list will help you decide once the best place to get your groceries and save.
HOW TO WORK ALDI PRICES AND SAVE
A price list or price book is a list of groceries that you regularly buy, their regular cost and their price per unit (per 100g, for instance). The price per unit is important – without it, it can be difficult to compare prices if brands are sold in different weights.
You can use this price list to create a master list of groceries and their prices per unit that shows you which items to buy at Aldi and which items to buy at your alternate supermarket.
Here's how to do it:
On a piece of paper make four columns: grocery item, weight, price, price per unit.
Grab the receipts from your last few grocery shops if you have them and fill in your price list. Alternatively, go to your regular supermarket's online store and check out the prices and price per unit there.
It shouldn't be a massive exercise – we usually buy the same things over and over so you'll probably only have about 50 items or less.
For ease, group grocery items by type: dairy products together, tinned goods, dried goods etc.
Write in the price and calculate or check online the price per unit.
To calculate the price per 100g divide the cost per total grams and times this by 100. (price / total weight) x 100
If you're savvy with Excel, this exercise is quick and easy. Simply copy and paste your formula down the columns.
Now next time you shop at Aldi, take this list with you and tick or highlight the items that are cheaper at Aldi and add their price per unit.
Alternatively, you can visit Aldi's online shop to compare prices.
You now know what items to buy at Aldi and what items to buy at your favourite alternative supermarket.
Write this up in a master list of what items to buy from Aldi and what items to buy at your alternate supermarket.
List your grocery items under two columns, Aldi and alternate, and also add their price per unit.
Next time you do a menu plan and write out a grocery list, divide your shopping list according to what products you are going to buy at Aldi and what grocery items need to be bought at the supermarket.
For even further savings, browse the two store's catalogues online as you make your grocery list to take advantage of any super sales. The price per unit on your Master List will allow you to compare catalogue specials with your regular prices to ensure you're really getting a bargain.
Creating your Master List is a one-off exercise that should only take you a little while but that will save you money for months and years to come and will ensure you really are getting the best savings when switching to Aldi.