We have been using knitted dishcloths for quite some time now but despite this, I keep knitting more. I find them quick and easy to make, I can knit a row or two while the little fella is preoccupied or while watching a movie with the hubby and the repetitive nature of knitting is meditative.
The first time I ever heard of knitted dishcloths I thought 'why would anyone want to knit dishcloths?' Even taking into account the environmental benefit of ditching disposables and reusing the same cloths over and over, surely, I thought, it would be easier to just recycle rags.
Then I got my first dishcloth in an internet swap and promptly fell in love. The knitted texture makes the cloths great for cleaning. So if, like me, you're wondering why you would bother, try one out. You may be surprised like I was.
And if you are wanting to learn how to knit, then these make an excellent first project. It doesn't matter if your knitting looks like the dog's breakfast (and many of my older ones look just like that), you are only cleaning with them anyway.
The worst one must be in the wash. I was teaching myself to knit the European way – much easier for a lefty like me. These are for kitchen bench cleaning.
The coloured cloths above are made from a cotton / acrylic mix yarn. I know, shock horror, I'm using acrylic, but the label said cotton and with a cranky bub, I didn't bother reading the fine print. As a bonus, acrylic dries much quicker than cotton, so I'm quite pleased with the added acrylic. And if you're wondering, I use this pattern, found in the dishcloth pattern round-up.
I colour code my cloths for different cleaning jobs: the yellow cloths are for cleaning in the bathroom, the orange cloths are for cleaning the kitchen and the green cloths are for washing the dishes. This is to ensure that no cloth that has wiped the toilet seat gets used on the dinner plates. I have enough now to use a new one each day, plus a few extra if the laundry is delayed.
To clean the cloths, I put them in a bucket of water with nappy soaker in it each night, along with the bibs and face washes we use for the little fella each day plus any other rags used. Every few weeks I will put them in a bucket of water with a little bleach instead to give them a thorough sanitise and get any manky smell out, which can sometimes linger.
When I wash the towels, I rinse the dishcloths, bibs, face washes, rags, tea towels etc. and add them to the load (I never wash them as a separate load) and then hang them to dry.
There's quite a difference between the old cloths (yes, same yarn) and the unused ones, but they all do the job and they're clean.
To keep your dishcloths fresh through the day, rinse them thoroughly in cold water after use and hang them on your drainer, over your tap or over your curtain rod to dry. Bacteria thrive in warm, moist conditions so rinsing the cloths and drying them helps prevent bacteria growth (this is a tip my grandmother taught me years ago).
If you're wondering how to teach the rest of the family not to leave the dishcloth in an wet, crumby pile in the sink, then I can't help. We haven't managed that in our household yet either
.
My photo shoot stylists giving me tips.
This is our system for using knitted dishcloths. The dishcloths get a regular clean without too much hassle or effort and I enjoy having something creative to do with my hands when I want to relax although I think I'm going to move onto baby knits, so keep an eye out for a round-up.
Do you use knitted dishcloths? What are your tips for using dishcloths?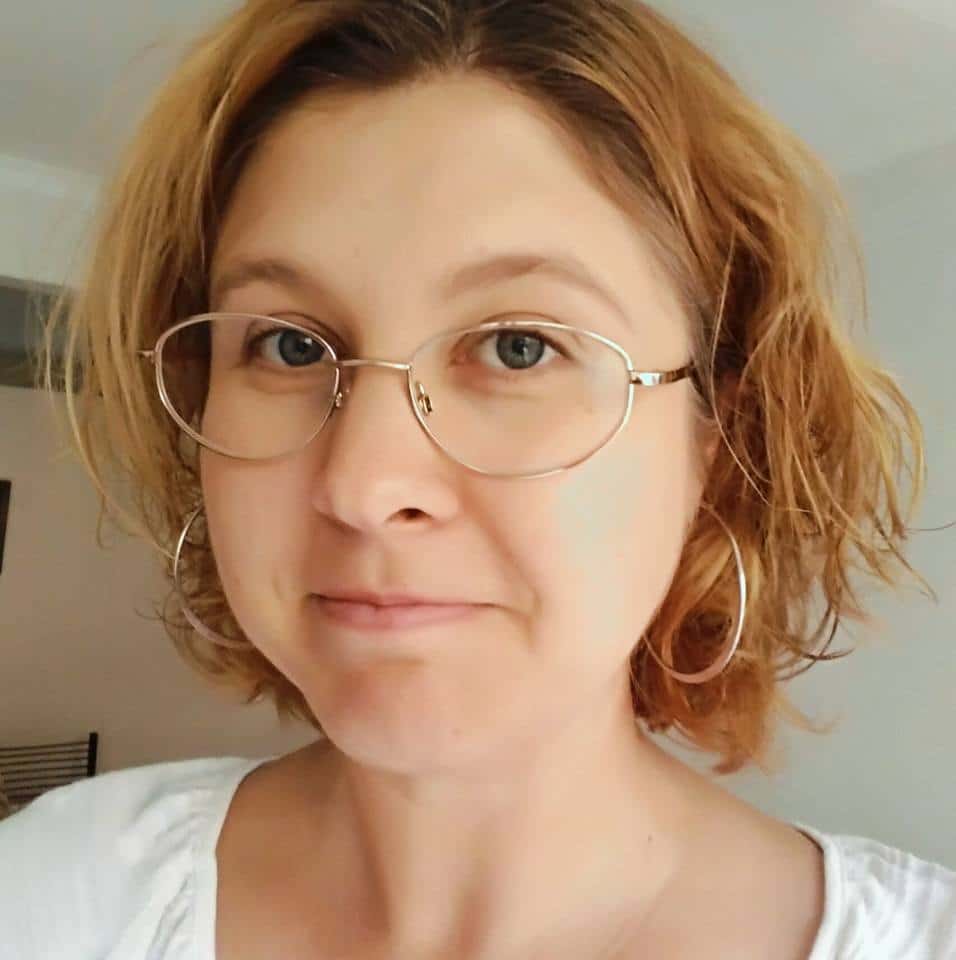 Melissa Goodwin is a writer and the creator of Frugal and Thriving who has a passion for living frugally and encouraging people to thrive on any budget. The blog is nine years old and is almost like her eldest baby. Prior to being a blogger and mum (but not a mummy blogger), she worked as an accountant doing other people's budgets, books and tax.