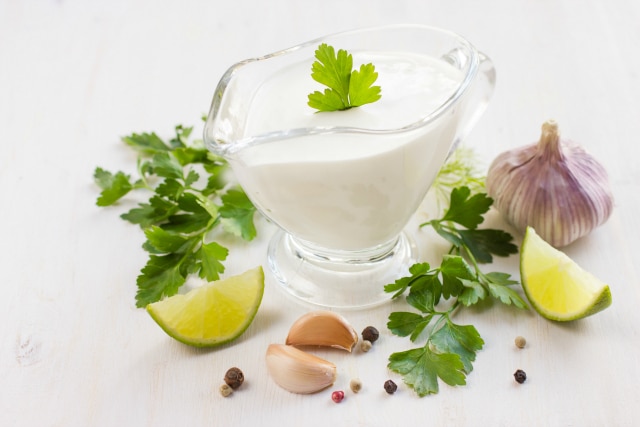 A drizzle of good sauce can turn an ordinary meal into something special, without being expensive or difficult. The photo shows the aioli over tuna rissoles, giving them a touch of class.
For aioli, you can make your own mayonnaise from scratch or for a speedy alternative, use bottled mayonnaise. If you use bottled, use the best quality, whole egg mayonnaise that you can find and avoid the imitation stuff, the difference in taste is huge. Making mayonnaise is not difficult, but I usually just use bottled whole egg mayonnaise. Fresh chilli is best, dried chilli flakes will do if fresh isn't available.
I made this the other night with pureed fresh mango in it also. Yum!
Lime and Chilli Aioli
Ingredients
1 egg yolk
1/2 tsp Dijon mustard
90 ml or approx 1/3 cup of light flavoured oil
(or 1/2 cup of bottled mayonnaise)
1-2 cloves of garlic, crushed finely
1 – 2 chillies finely chopped
juice of 1/2 lime
Method
For the mayonnaise, whisk egg yolk and mustard until creamy. (For regular mayonnaise, you would also add about 1/2 tablespoon of lemon juice here too).
Add the oil 1 tablespoon at a time, whisking continuously. As the mayonnaise thickens you can add the oil a little more quickly. Mayonnaise is supposed to be difficult, but it's not if you take your time adding the oil. If you're not sure, then err on the side of caution and add a little at a time, whisking well. Make it a little thicker as the lime will thin it out. Taste your mayonnaise and season.
For the aioli, add the crushed garlic to the mayonnaise and stir well. Add more or less according to your preference. Add the chillies and lime, again adjusting to taste.
Serve cold.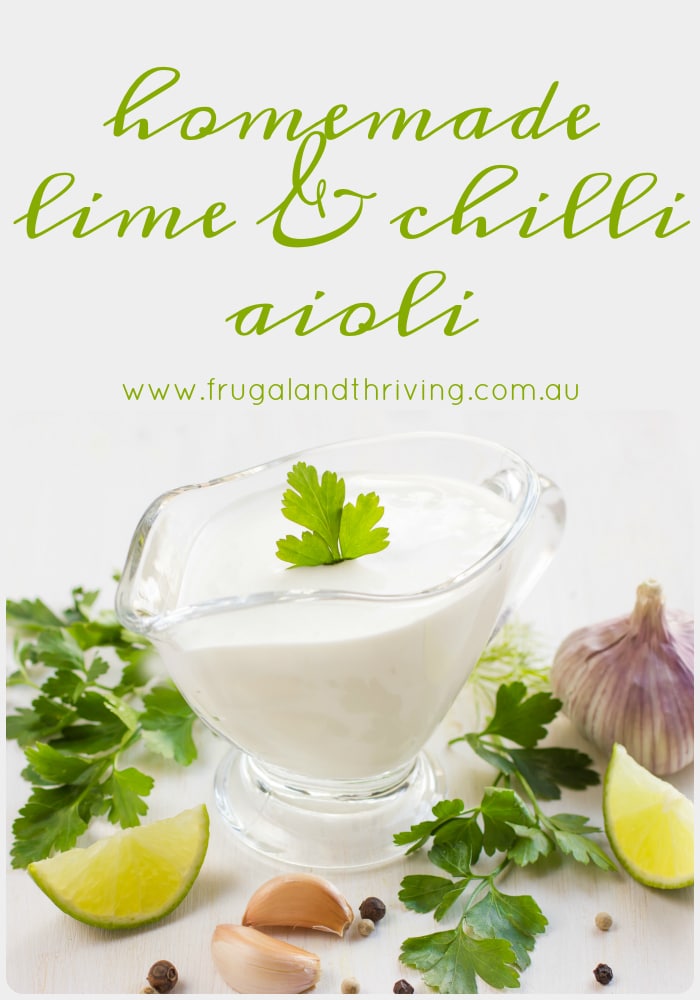 Melissa Goodwin is a writer and the creator of Frugal and Thriving who has a passion for living frugally and encouraging people to thrive on any budget. The blog is nine years old and is almost like her eldest baby. Prior to being a blogger and mum (but not a mummy blogger), she worked as an accountant doing other people's budgets, books and tax.