Master These 4 Simple Sauce Skills To Make an Endless Variety of Frugal Meals
This website may earn commissions from purchases made through links in this post.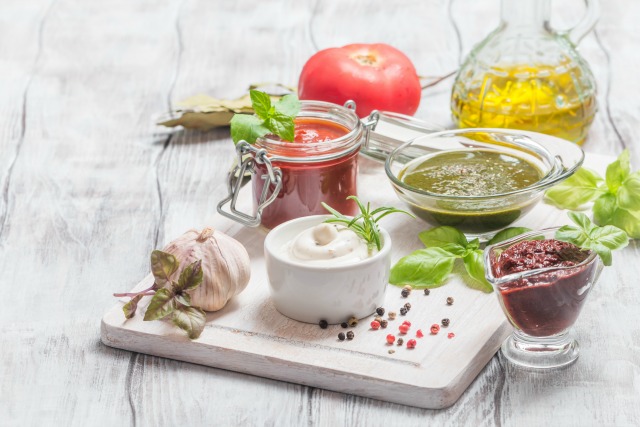 There are two approaches to learning how to cook: the novice way or the pro way.
The novice approach is to learn a bunch of recipes. That's how most of us do it. When we want to make a new meal, we look for a new recipe.
The pro approach is to learn techniques rather than individual recipes.
The pro learns how to prepare vegetables. They learn how to saute and steam and braise and roast.
They learn techniques for flavouring food and presenting it.
And then they take those techniques and create their own recipes based on the fresh ingredients they have on hand.
Today's post is about learning a few sauce-making techniques. Having these techniques under your belt means you can create all sorts of amazing frugal meals from the ingredients you have on hand, just like a pro.
4 Essential Sauce Techniques to Master
1. Roux-Based Sauces
A roux based sauce is one that is thickened with flour. There are three main types of roux sauces: white or bechamel, veloute and brown. These sauces are essentially made the same:
White sauce

is made with butter, flour and milk

Veloute sauce is made with butter or fat, flour and stock (use the same recipe as white sauce linked to above but swap the milk for stock)

Brown sauce

is made with meat drippings, flour and stock.
Purists and gourmet chefs might cringe at how the mother sauces of French cuisine have been essentially reduced to mac 'n' cheese and gravy, but for the home cook, these sauces allow you to cook a wide variety of meals without getting too technical or taking too much time.
Vary the flavours of your sauces by adding one or a combination of:
Cheese

Mustard

Spices

Herbs

Onion and/or garlic

Tomato paste

Wine

Anchovies

Capers

Or a combination of your favourite flavourings
Here's what you can make with white or veloute sauce:
Lasagne or moussaka

Macaroni and Cheese

Pasta sauce like mushroom sauce

Sauce for silverside

You can use it as a binder in a pie, for example,

chicken and vegetable pie

Cream of vegetable soup

Croquettes

Souffle

Creamed or scalloped vegetables

Hide vegetables in your white sauce by steaming and pureeing them to boost its nutritional value.
As far as your brown sauce goes, you can pour it over meat as is, or flavour it with your favourite flavourings for sauces like mushroom sauce or Diane sauce.
Brown sauce also forms the basis of a huge variety of stews and casseroles and pies although the technique varies slightly. Here's how to do it:
Toss your cubed meat in flour. Brown it in hot oil, butter or fat. Remove from heat and add flavourings (like onion, garlic and spices) and then 'deglaze' the pan with liquid like a little wine or stock. Add more stock, your meat and veggies and your stew is under way.
2. Reduction Sauces
Reduction sauces are thickened by boiling until they 'reduce' in volume and as a result, thicken.
You can reduce any liquid this way, intensifying its flavour.
Four super simple reduction sauces for the home cook include a pan sauce, a balsamic reduction, an alfredo sauce and a super simple demi-glace.
Pan Sauce
The most basic reduction sauce you can make is a pan sauce. After sauteing meat, deglaze the pan with a liquid, scraping up the browned bits and then reduce to a thick consistency. The video below uses cream and butter, but you can use wine and stock for a different flavour.
Balsamic Reduction
To make a balsamic reduction, simply boil balsamic vinegar until it's thick and syrupy. Be sure to watch it so it doesn't burn on the bottom. This reduction can be used as is, drizzled over salad it's quite nice with pear salad, vegetables, meat, fruit (particularly strawberries) and even ice cream, or it can be used in salad dressings or sauces.
Alfredo Sauce
Alfredo Sauce is a cream sauce that is thickened by reduction rather than with a roux. For a super easy pasta sauce, saute some garlic in butter or oil, add cream and reduce until thickened slightly and then stir in parmesan cheese or cheese of choice. Toss through pasta and serve with freshly ground pepper.
Demi-glace
Demi-glaces can get complicated, but at it's most basic, it's stock reduced to intensify its flavour. Cheap but oh, so gourmet!
Use a teaspoon of demi-glaze to add flavour to stews or braises, make a simple pan sauce with your demi-glace or wow your family or friends with bordelaise sauce by reducing some red wine (and maybe some onion and herbs if you like), add the demi-glace and finishing off with a little butter.
3. Emulsion-Based Sauces
Emulsion sauces are thickened by mixing oil and liquid.
The basic emulsion sauces include mayonnaise, hollandaise and vinaigrette.
You can buy these, but they are easy to make at home, you control the quality of the ingredients and having the basics under your belt means you can add a huge variety of flavours to your meals without running to the store.
Use these sauces to dress salads, vegetables, meat, seafood, eggs, sandwiches, burgers…just about anything.
Mayonnaise
For aioli, add garlic. For a herb mayo add herbs. You can also add spices or pureed fruit like mango for something a little different.
Hollandaise
A bearnaise sauce is made similarly but from a reduction of vinegar flavoured with tarragon.
Vinaigrette
Use your balsamic reduction above to create a honey balsamic vinaigrette. Or Italian herbs for an Italian vinaigrette. The sky is the limit.
4. Marinara Sauce
Marinara Sauce is a tomato based sauce that's so versatile; it's worth having a few portions in your freezer.
Use the video below to learn how to make a big batch of marinara sauce to freeze in batches but leave out the herbs so you can vary the flavour depending on how you want to use it later on.
Uses for marinara sauce
Lasagne

Bolognese sauce

Pasta sauce (flavour it with your favourite fresh herbs, bacon, capers, vegetables, olives or whatever you have in the fridge. Add a little cream for a creamy tomato sauce).

For a hidden vegetable sauce, add pureed steamed vegetables.

For chilli beef, add cumin, chilli and oregano as well as beans and mince.
You can also use it as the base for enchilada sauce.
Water it down and add vegetables and pasta for a minestrone.
For a simple tomato soup, add some water and cream.
Use as a pizza sauce.
Use with stock for a tomato risotto or paella rice.
Mix with vegetables for an easy ratatouille.
Add some mustard, brown sugar and beans and simmer for

easy baked beans.

Poach chicken or fish in the sauce.

Make Shakshouka.

Add a couple of tablespoons to an ovenproof ramekin, add favourite ingredients (I like mushrooms, but you can use

sausage like this recipe

) top with an egg and maybe some cheese and bake in the oven.

Add to meatloaf.
You can master the ingredients you have on hand and serve them up in a wide variety of ways by understanding cooking techniques. These four sauces are a great place to start.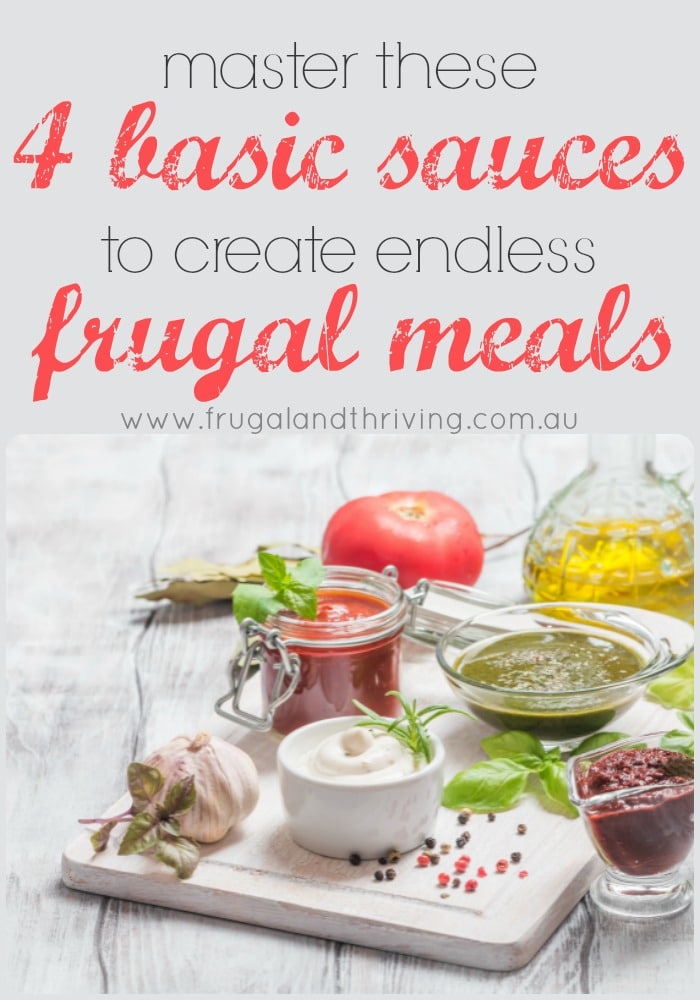 Melissa Goodwin has been writing about frugal living for 10+ year but has been saving her pennies since she first got pocket money. Prior to writing about frugal living, Melissa worked as an accountant. As well as a diploma of accounting, Melissa has an honours degree in humanities including writing and research and she studied to be a teacher and loves sharing the things that she has learned and helping others to achieve their goals. She has been preparing all her life to write about frugal living skills.
JOIN THE NEWSLETTER