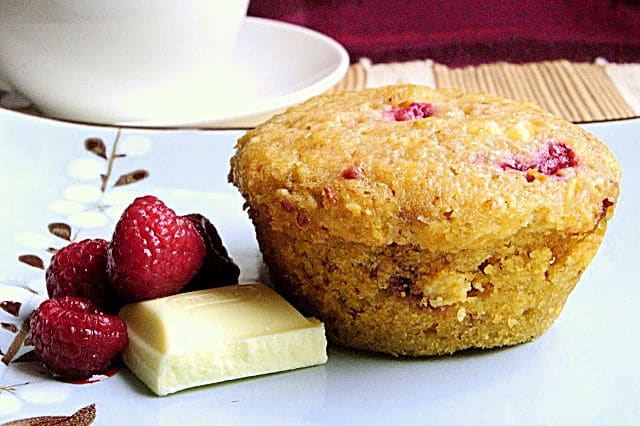 We're on a muffin fest lately. Maybe it's pregnancy and the cooler weather, but muffins, muffins and more muffins are coming out of our oven and into our stomachs at an alarming rate. But I'm enjoying coming up with my own creations and the little fella enjoys licking the bowl helping me bake.
These are one of my latest creations – they do include sugar because I didn't have time to work out substitutions. I also didn't have choc-chips but I did have a block of white chocolate left over from Christmas (I do have some self-control, see) that was just asking to be cooked with, so this was the result.
Ingredients
150g butter, softened
3/4 cup of raw or rapadura sugar
1 tsp. vanilla
3 eggs
1 1/4 cup wholemeal flour
2 1/2 tsp. baking powder
1 cup rolled oats
2/3 cup milk
1/3 cup yoghurt
1 cup raspberries, frozen or fresh
1/2 – 1 cup white chocolate chips
Method
Preheat oven to 180°C and grease a 12 x cup muffin tin.
Cream butter, sugar and vanilla until lump free and slightly fluffy. Add eggs one at a time, mixing with each addition.
Sift in the flour and baking powder, adding the husks to the mix. Add the oats and stir to combine.
Add the milk and yoghurt and mix until combined. Gently fold in the raspberries and choc chips.
Spoon into muffin tins and bake for 25 – 35 minutes or until cooked through and a skewer comes out clean. Leave to cool in tins for 5 minutes before turning out onto a wire rack to cool.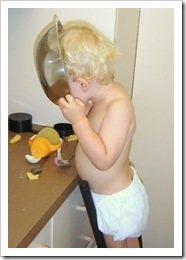 Melissa Goodwin is a writer and the creator of Frugal and Thriving who has a passion for living frugally and encouraging people to thrive on any budget. The blog is nine years old and is almost like her eldest baby. Prior to being a blogger and mum (but not a mummy blogger), she worked as an accountant doing other people's budgets, books and tax.