How to Render Lard in the Slow Cooker (Great for Making Soap!)
This website may earn commissions from purchases made through links in this post.
---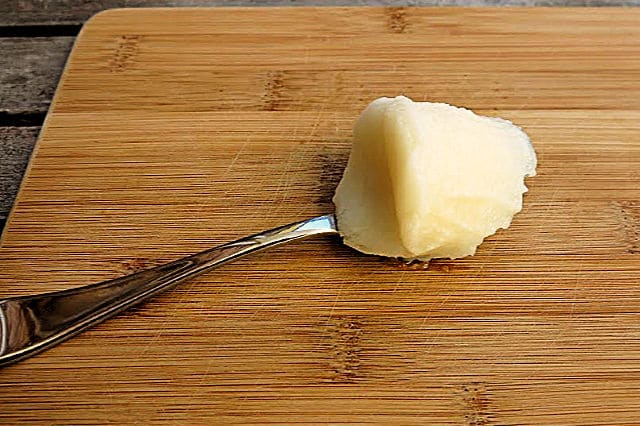 Long before there were polyunsaturated oils and hydrogenated vegetable oils, people used drippings and rendered animal fats for cooking.
Animal fats fell out of favour due to the health revolution, but they are coming back in vogue as people move back to traditional ways of eating.
Are animal fats unhealthy? There is a growing number of people who argue animal (and saturated) fats are not as unhealthy as previously thought (not in huge amounts though).
They argue that it's the vegetable oils that we should steer clear of.
Other nutritionists still insist you don't eat saturated fats, so I guess more research is needed to decide.
Health aside, the upside to rendering your own cooking fat is that it's frugal (practically free), and it reduces waste.
But if you don't want to eat rendered fat for health or other reasons, you can slather it all over your skin instead…in the form of soap!
Either way, don't let it go to waste!
Soap has been made from animal fats for hundreds, possibly thousands of years. Next week I'll write more about how to make soap from lard, but first, we have to render the lard!
In the first post of the series, we removed the skin and fat from the pork shoulder, chopped it into small pieces and froze it.
Rendering lard is easy when done in the slow cooker, but it's still a long process (not hands-on though), so it's better to do a large batch rather than lots of small amounts. Collect the skin and fat from several pork shoulders and keep them in the freezer until you've got enough to fill your slow cooker.
Alternatively, you can buy pork skin from the supermarket or you can ask your butcher for some pork fat. If you're lucky, your butcher may even give it to you for free, as many butchers just throw the fat away.
rendering lard in the slow cooker
Because rendering lard can take a few hours, it's easier to do it in the slow cooker. That way you can get on with doing other stuff.
Throw all the cut up bits of fat into the slow cooker. Add about half a cup or so of water. This stops the fat sticking to the bottom and burning before the fat starts rendering down to liquid. During cooking, the water will evaporate, leaving only the rendered fat.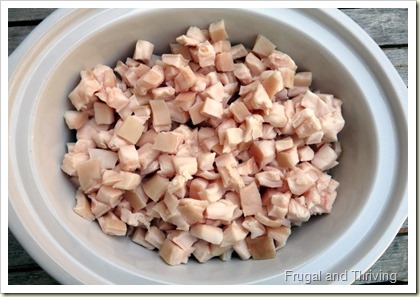 Now just turn the slow cooker onto low, put a tea towel over it to keep the flies out and let it do its thing.
After an hour or two, you can start ladling out the rendered pork fat. Strain your fat through a fine sieve, lined with muslin or a chux.
This first fat that you ladle out is going to be lighter and less 'porky' than the later rendered fat – good for pastry, if you're so inclined, although traditionally, pastry is made with leaf lard, the fat from around a pig's kidneys.
Keep cooking and rendering and ladling every now and then until all the skin becomes dark and crispy and there's no more fat left to render.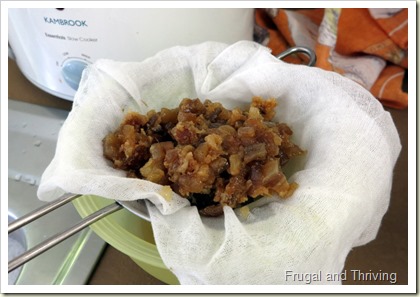 The process can take all day, but hands-on work is only a few minutes of ladling.
By the way, the remaining crispy crackling bits are nice salted and eaten as a snack.
Pour you rendered lard into glass jars or containers and refrigerate or freeze (leave plenty of headroom for expansion) until you're ready to use.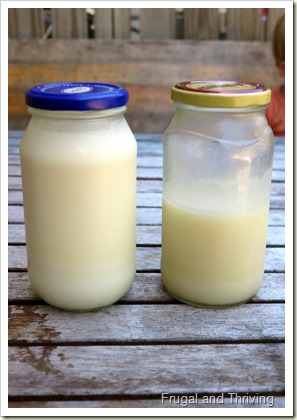 Check out the post on how to turn this home rendered lard into delicious soap.
Do you use animal fats when cooking? Lard, tallow, duck fat, ghee or butter?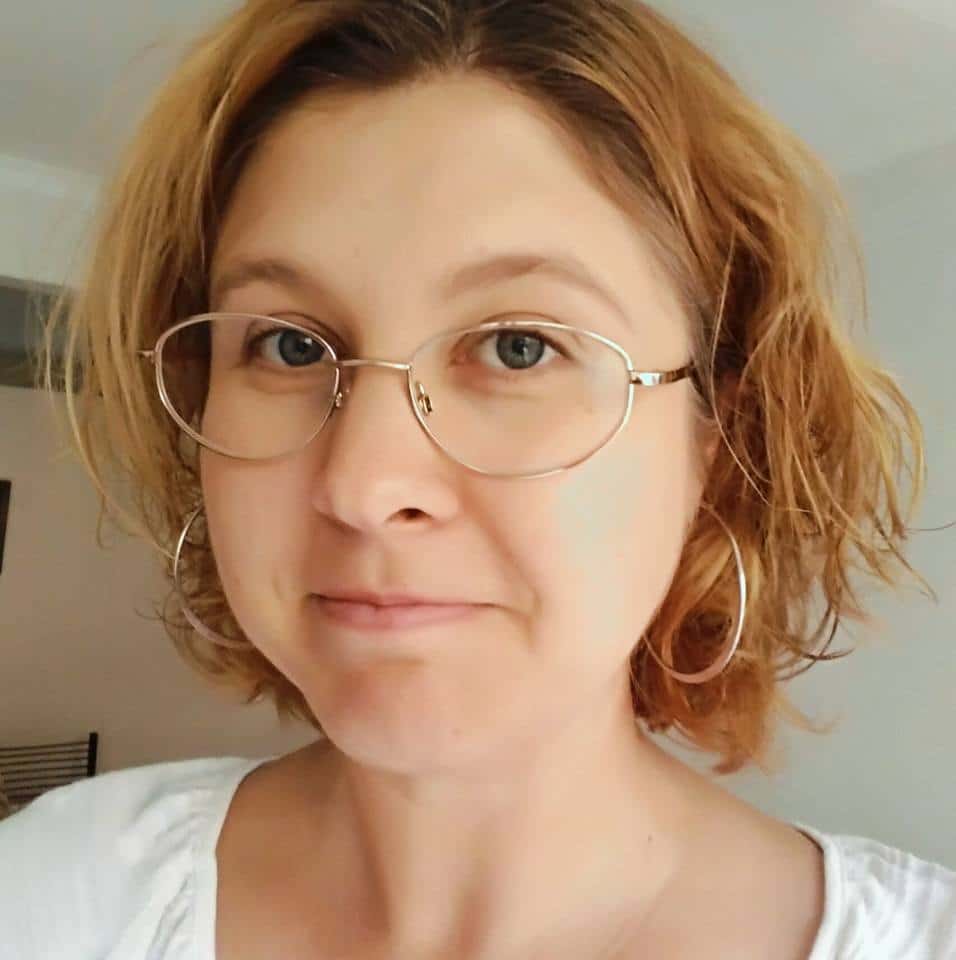 Melissa Goodwin has been writing about frugal living for 10+ year but has been saving her pennies since she first got pocket money. Prior to writing about frugal living, Melissa worked as an accountant. As well as a diploma of accounting, Melissa has an honours degree in humanities including writing and research and she studied to be a teacher and loves sharing the things that she has learned and helping others to achieve their goals. She has been preparing all her life to write about frugal living skills.
JOIN THE NEWSLETTER