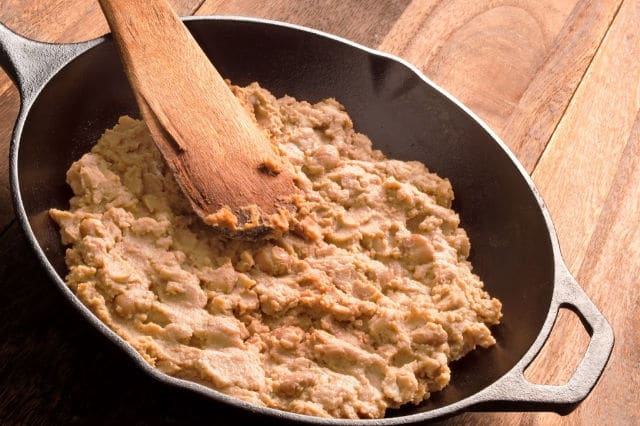 Despite the fact refried beans look like brown slop, they are (I promise) incredibly delicious and one of the best ways to eat beans.
Beans are a good staple because they are cheap, nutritious and tasty – and refried beans are especially tasty.
Refried beans, despite their name, are not fried twice…or once for that matter. The 're' is a mistranslation: in Mexican Spanish (according to the The Great Wiki) 're' means well. In other words, these are well-cooked beans, braised more than fried.
The mashed consistency, whilst admittedly looks unappetising, is quite practical. It means your beans aren't falling out all over the place in burritos, enchiladas and quesadillas and it's an opportunity to incorporate spices to enhance their flavour.
This recipe is based on one shared by Jill of The Prairie Homestead as a guest post on Money Saving Mom. Jill adds milk to her refried beans, and while it's not essential, it just adds a creaminess that makes all the difference to texture and flavour.
I make this recipe in a large batch and freeze in portions. Using leftover roast chicken or pork, these beans make a quick, filling and inexpensive weeknight meal as burritos or enchiladas.
[Check out this post also: How to cook and freeze beans.]
Homemade Refried Beans
Ingredients
2 cups cooked beans (about 3/4 cup of dried beans). Or use 1 tin of beans. Pinto beans are traditional, but I usually use kidney beans. Black beans are another option.
1/2 onion, finely diced
3 garlic cloves, crushed
1 heaped tsp. cumin
1 tsp. paprika
1 tsp. salt
pinch of chilli powder (I leave this out as the kids eat it)
pinch of pepper
milk as needed (or use plain water or stock instead)
Instructions
In a little oil (lard is the traditional cooking fat for these. It adds a delicious flavour) sauté the onion over medium heat until translucent. Add the garlic and sauté for another few seconds, taking care it doesn't burn.
Add the beans and then stir in the rest of the ingredients. Add a splash of milk or water.
Simmer on low heat for 10-20 minutes to let the flavours develop. If your beans dry out, add more water or milk.
After 10- 20 minutes or so, mash your beans with a fork or masher. Or you could puree the mixture.
Use in Mexican dishes or as a dip.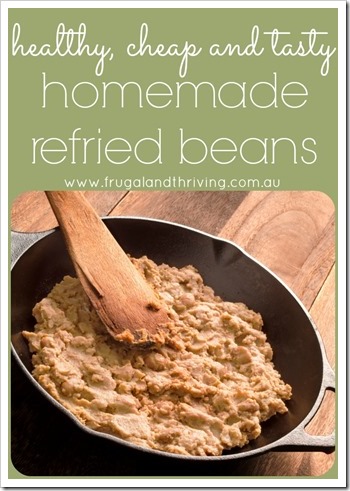 Melissa Goodwin is a writer and the creator of Frugal and Thriving who has a passion for living frugally and encouraging people to thrive on any budget. The blog is nine years old and is almost like her eldest baby. Prior to being a blogger and mum (but not a mummy blogger), she worked as an accountant doing other people's budgets, books and tax.