Homemade Old-Fashioned Lard Soap From Home Rendered Lard
This website may earn commissions from purchases made through links in this post.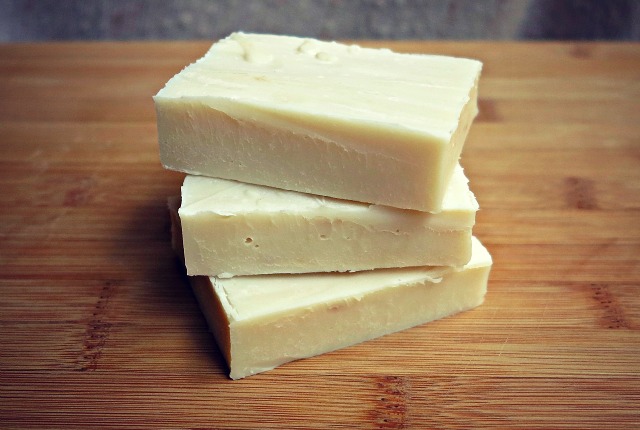 For many years, I thought that soap making was too hard and too frightening.
Then I figured it was too expensive. Coconut oil is expensive enough to eat, let alone making soap from it.
It turns out that making soap is neither hard, frightening nor expensive.
For hundreds of years, soap has been made out of animal fats in many parts of the world, often from household drippings. It's only recently we've become a bit funny about using animal fats for anything.
I know this isn't a popular stance, but I can't see the point of using expensive food oils in soap, like coconut oil, which puts a lot of extra strain on the environment, when animal fats are more often than not thrown away after we eat only the choice cuts of meat.
Vegans and vegetarians excepted, I can't understand why we despise soap made from animal fat, when it's less expensive, eliminates waste and makes excellent (some people argue superior) soap. If we're going to eat the beast, we should be using all of it.
Lard makes a very mild, conditioning soap that is great for your skin. Unlike commercial soaps, where the glycerin is removed and sold as a separate by-product, homemade soap retains the glycerine, which is very moisturising.
Lard doesn't lather very well, though, so if you're expecting a bubbly lather from your soap, it's a good idea to add another oil, like a little bit of castor oil (about 5%). Lard on its own makes a great laundry soap for homemade laundry detergent, although we use ours for personal washing and it cleans just fine. It's a very luxurious soap.
(Note: one commenter – see below – says that her plain lard soap lathers really well, so it's good to experiment!)
You can buy rendered lard from the supermarket, but it's cheaper to render it yourself, especially if you're using the trimmings from your slow-cooked pork shoulder.
When you first read through the instructions, it might sound a bit complicated. But it is easy, and only takes around 20 minutes.
A large batch will mean you only have to make soap once or twice a year to keep the whole family squeaky clean.
Because I used leftover, home rendered lard, the total cost of the soap (which was just slightly under 1 kg) was less than $1 for the lye. This is pretty frugal for around an hour's work (including cutting the fat, the hands-on work of rendering the lard and making the soap) every six months or so.
This article will walk you through step-by-step how to make lard soap. Printable instructions are at the end of the article for your convenience.
Making Old-Fashioned Lard Soap
Soap Making Precautions
Let's get the scary but important stuff out of the way first.
Soap is made from lye (otherwise known as caustic soda or soda ash) which is extremely alkaline. When mixed with water, it causes a chemical reaction that gives off fumes and will burn your skin on contact.
So due care must be taken when mixing the lye and water and making the soap.
Always add the lye to the water not the water to the lye, or you might get a volcanic eruption happening.
Wearing gloves and protective glasses is advisable. If you do happen to accidentally get some on your skin, keep some vinegar close at hand to help neutralise the burn.
When the lye and water mix, there is a chemical reaction, and they give off fumes, so it's best to mix them in a well-ventilated area or outside.
And make soap when the kids and the pets are not around.
Lard Soap Ingredients
There are three basic ingredients for making soap:
oils or fats
water (distilled, filtered or rainwater is best)
caustic soda/lye
You can also add essential or fragrance (synthetic) oils, colours and botanicals for speciality soaps.
Lye is a naturally occurring substance, and while it's the scary part of soap making, there's no way of making soap without it.
You can actually make lye yourself, by leaching water through ash from a fire, but it's also readily available and cheap to buy from the supermarket or hardware store. I got mine from Woolies and used very little to make around 1 kilo of soap, so it's going to last for years!
You can find caustic soda in the cleaning section of the supermarket along with the 'Draino'. Make sure you get the pure caustic soda and not drain cleaner, which can have other ingredients added.
Once mixed with the oils or fats in your soap and left to dry, the soap 'saponifies' and becomes less alkaline. At a pH of around 8 – 11 and no longer burns the skin (although our skin is actually slightly acidic at around 4.5 – 5.5 pH, so any soap is going to be drying if you have sensitive skin, eczema or dermatitis).
Glycerine is made when the lye reacts with the fats and remains in the soap. Glycerine is very moisturising for the skin.
For soap making supplies, kits and equipment, check out Green Living Australia.
Lard Soap Making Equipment
It is often recommended to have separate equipment for soap making, but I just use the kitchen equipment I have on hand, and wash it well, using plain vinegar first to neutralise the lye, then hot soapy water.
You will need:
Accurate kitchen scales
A large pot (not aluminium)
A Pyrex jug or smaller pot
A wooden spoon (I do have a separate wooden spoon for soap making)
Kitchen thermometer
A stick blender (optional, but will save you a lot of stirring)
A spatula
A mould (I used a plastic tub – clean recycled plastic containers is another option or silicone cake moulds)
Rubber gloves and glasses (I wore sunglasses and made the soap outside. The glasses are to protect your eyes from splashes. I don't want to scare you off because making soap is quite easy – but it's always better to be safe than sorry.)
The Soap Making Process
Soap can be made by using either the cold or hot process. Today, I'm sharing how to make cold processed soap, which is quicker and easier.
There's very little difference between the two processes except that the soap is cooked after you combine the fat and lye in the hot process, whereas in the cold process, the fat is heated initially, but then there is no further cooking.
Weighing and calculating your soap recipe
All ingredients, including your water, must be weighed accurately. I have an old-fashioned set of scales with a dial, but if you've got digital scales, all the better.
Place your pot on the scales and tare your scales (set them to zero). Then add your lard and weigh it.
Now enter the amount of lard you have into an online soap calculator (like this one or this one or this one) to work out how much water and lye you will need.
Whenever you read a soap recipe, you should always run it through a soap calculator or two to double check.
Once you have a soap recipe you like, you can write it down and use it again and again. If you're not sure how much lard you'll have after rendering, start by weighing what you've got each time and calculating the recipe from there.
[A note on superfatting (you will see this in the soap calculators): Superfatting is a term that means adding more fat or oils to your soap than the lye can react to. Superfatting makes your soap more moisturising. It also acts as insurance that there's enough oil to react with the lye so there's no lye leftover, which can burn if there is.
I superfatted my soap at 5%, just to be on the safe side. Superfatted soap isn't great soap for the laundry, so if you're making laundry soap, you want to superfat as little as possible. If you don't superfat your soap, just be careful when unmoulding it (wear your glasses and gloves) and look for any spots of lye that have not reacted with the oils.]
Now place a jug on the scales and tare them again, and weigh your water according to the recipe the soap calculator works out for you.
Then in a separate container, weigh out the lye.
Making your lard soap
Prepare your mould(s) by greasing them with a little lard. I place a piece of baking paper in my mould like you would do with a cake, but I'm not sure it's necessary. If you use an empty milk carton or similar, you can simply cut the mould away (make sure it is spotlessly clean, though).
Melt the lard in a pot on the stove, and then let it cool until it reaches between 37°C-51°C.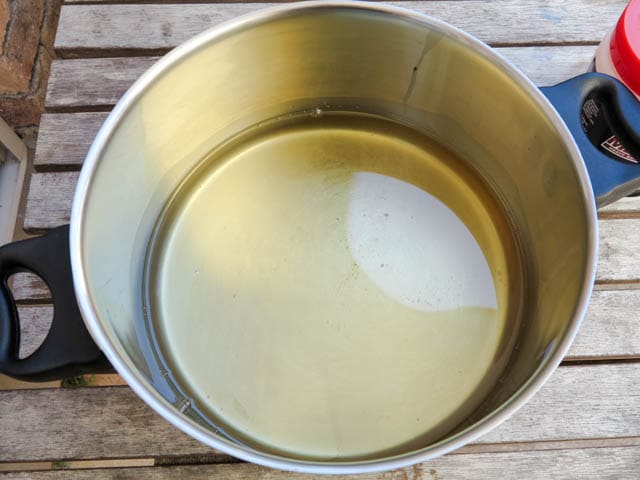 While the lard is melting, outside, or in a well-ventilated area, add the weighed lye slowly to the water in a Pyrex jug, stirring as you add (I don't have a jug, so I'm using a pot. A jug would be easier).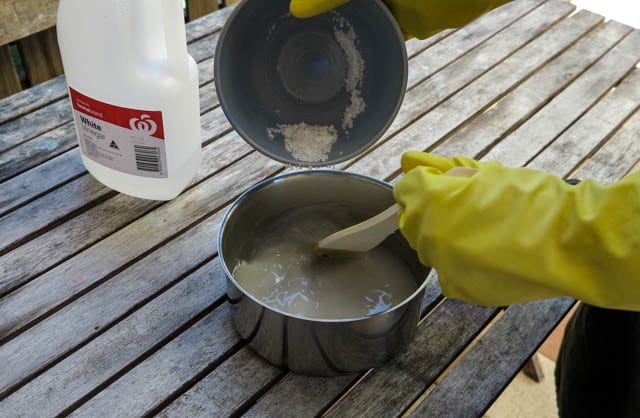 Let the lye mixture cool until it too reaches between 37°C-51°C.
Pour the lye mixture into the melted lard, stirring and making sure you don't splash it as you pour. Give it a stir for a minute or two to combine and then use your stick mixer to mix until the soap comes to 'trace', which means it looks kind of like a thin custard. Lines from the mixer should stay visible for a few seconds after you swirl it around. It can take about 5 minutes until the soap reaches trace or around 15 minutes if you stir with a wooden spoon.
If you want to add fragrance, now's the time to do it. Give it a quick whizz to mix in the essential oils.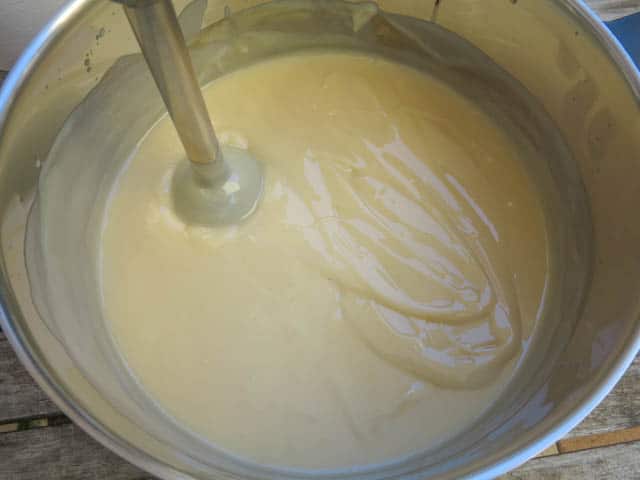 Pour the soap into your prepared mould. You can use a spatula to scrape all of the soap out of your pot and smooth the top of the mould.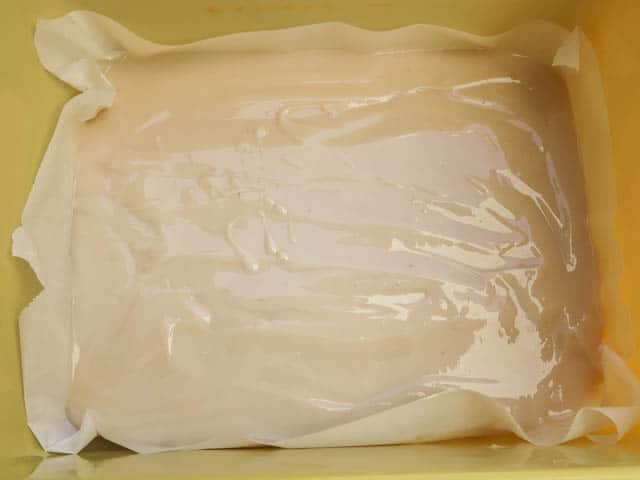 Wrap your mould in an old towel and put it somewhere safe for two or three days for the soap to set.
Once your soap has gone hard, you can turn it out of the mould with care and cut it into bars.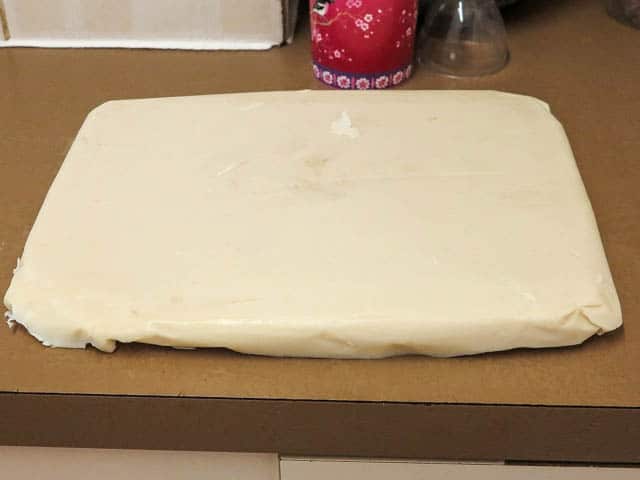 Place the bars on an old chopping board or mat and leave in a cool dark place for a few weeks to cure and go hard. This will allow the saponification process to finish and will make your bars last longer. Turn your bars every few days, or whenever you remember, to enable them to dry evenly.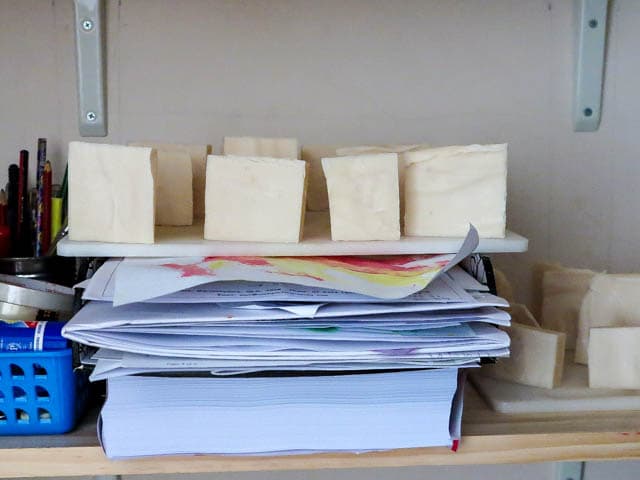 I cure ours in our Harry-Potter-esque cupboard under the stairs. Please excuse the filing.
It was hot and humid when I made soap, so they took weeks and weeks to go hard. However, they were fine to use after about a week, just a bit soft.
You can pretty your bars up by shaving the edges with a clean vegetable peeler, or you can mill them into speciality soaps, which I'll cover in another post.
[mv_create key="4″ type="diy" title="Homemade Lard Soap" thumbnail="https://www.frugalandthriving.com.au/wp-content/uploads/2014/03/old-fashioned-lard-soap-1.jpg"]
Have you made your own soap? Process: scary or easy? What's your favourite soap recipe?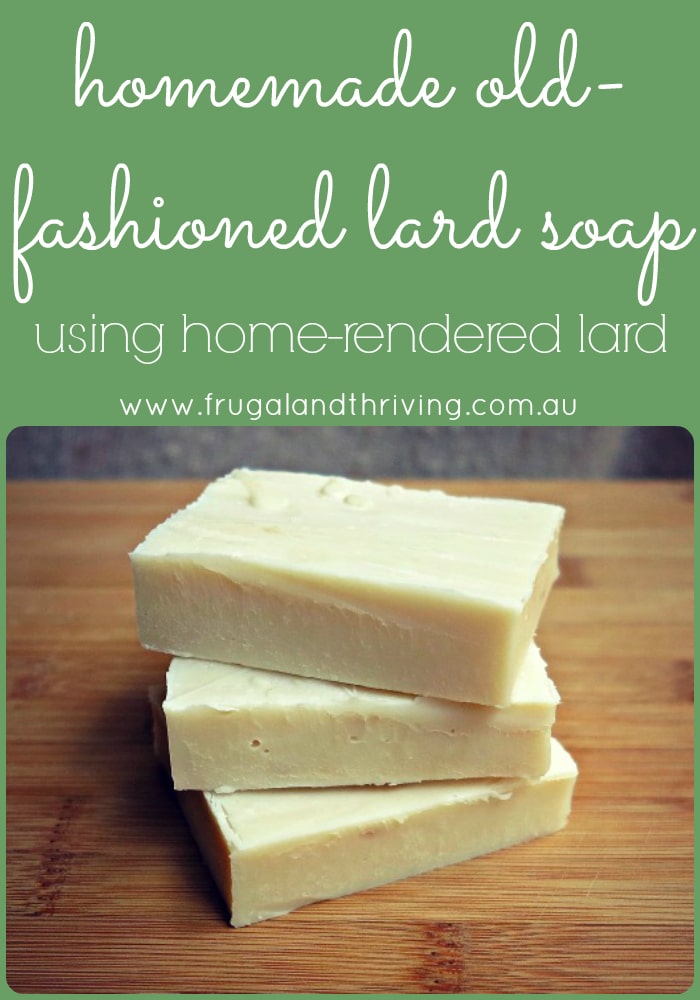 JOIN THE NEWSLETTER