One Cake Batter Recipe – Over 40 Variations
This website may earn commissions from purchases made through links in this post.
One basic cake batter recipe – infinite variations. A few pantry staples and whatever else you have in the kitchen this week to make a great cake easily and quickly.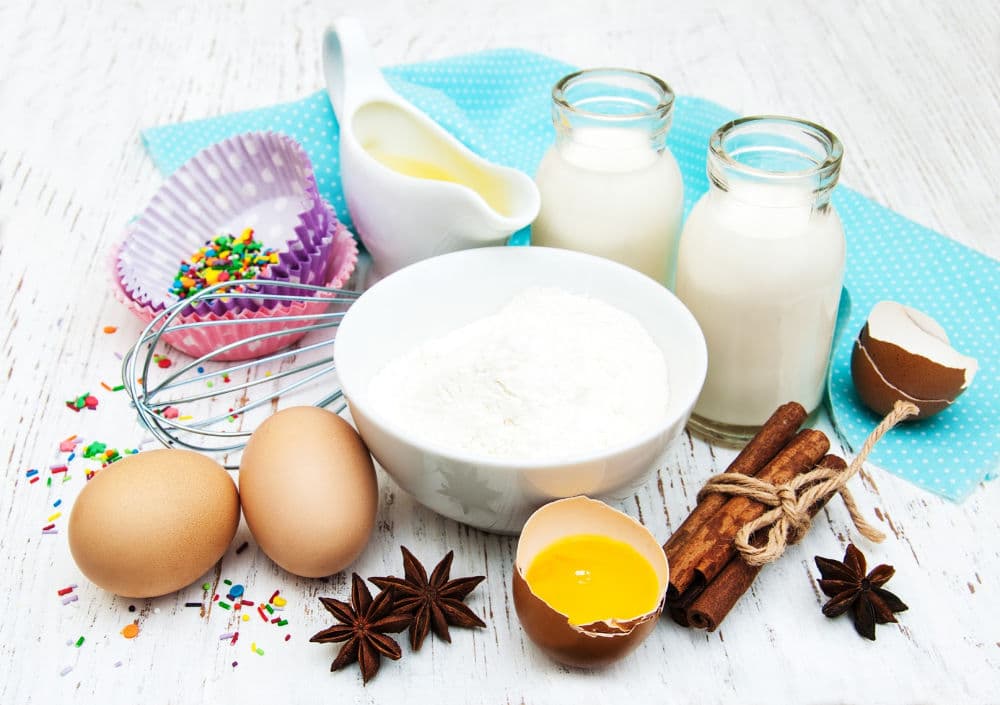 A homemade cake beats a packet mix cake hands down any day. And despite what advertising might have us believe, a basic butter cake is simple to make with everyday pantry staples.
What's more, a homemade cake is made from real butter, real flour, real milk and no weird artificial ingredients like colours, preservatives, egg substitute, soy flour or an anti-caking agent.
You may already have the world's best banana cake recipe or the most awesome chocolate cake recipe. This recipe doesn't replace those baking winners.
The idea here is that with a few staples on hand, one basic batter recipe and a little cake baking know-how, you can create all sorts of cake variations based on what's in your kitchen. Creative, spur-of-the-moment baking.
Cake Baking Tips for Creating Your Own Cake Variations
A couple of things to keep in mind: cakes need leavening agents to make them rise. These are the eggs and the baking powder.
If you're adding ingredients that will make your cake dense and heavy, you may need to add an extra egg or a little extra baking powder.
Also, denser cakes will take longer to cook. Cook them at a lower temperature to prevent them burning on the top.
You don't need a mixer or any expensive equipment. A bowl and a good old-fashioned wooden spoon work just as well. As long as you've softened the butter, you can have homemade cake in the oven in under 10 minutes.
Have fun and experiment. You can't go wrong with sweet stuff. If you end up with a 'failed' cake, turn it into a trifle.
Yield: 1
Basic Cake Batter with 40+ Variations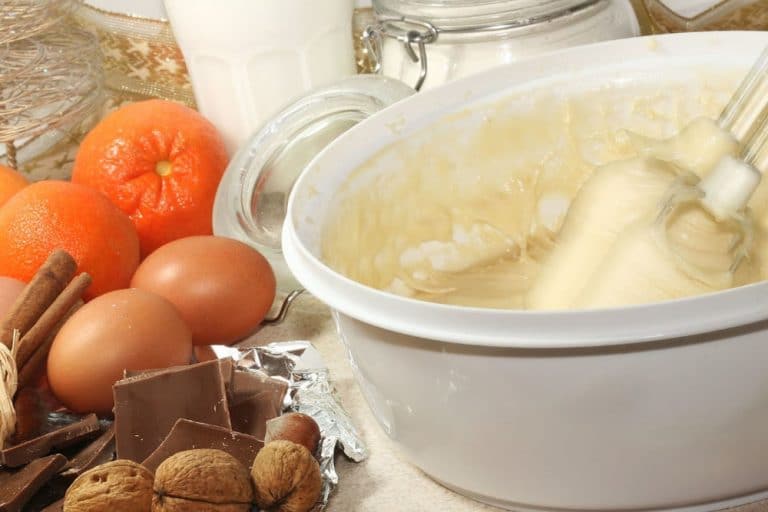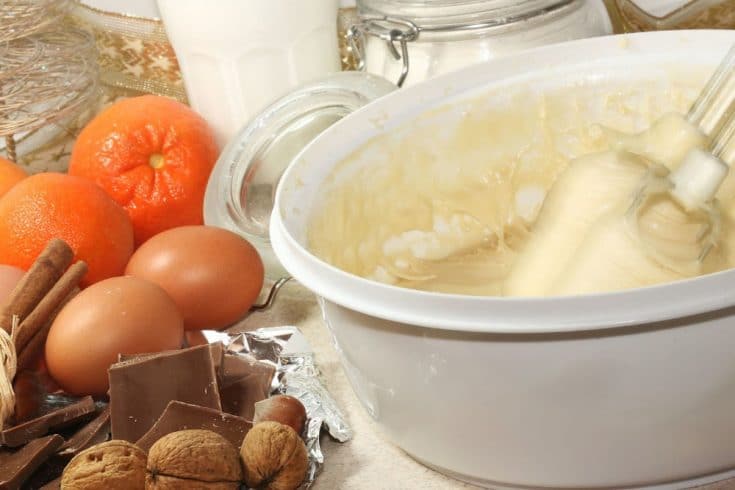 A basic cake mix using pantry ingredients is always handy to have in your cooking repertoire. Jazz up a basic butter cake recipe up with different added ingredients for infinite taste variations.
Ingredients
125g (4 1/2 oz) butter
3/4 cup of sugar
1 tsp. vanilla extract
2 eggs
2 cups self-raising flour
1/2 cup milk
Instructions
Beat the butter and sugar until creamy.
Add the vanilla and eggs beating well.
Add the flour and milk and beat well until well combined.
Pour into a greased/lined tin.
Cook on 180°C (350°F) for 35-45 minutes or until a skewer comes out clean.
Notes
Add cocoa powder (1/4 – 1/2 cup + a little extra milk) for a basic chocolate cake
Add cocoa powder and substitute sour cream for the milk (add a little extra to get the right consistency) for chocolate and sour cream cake.
Stir in about 100g of melted chocolate and 1/4 cup cocoa for a decadent chocolate cake.
Add cocoa powder and liqueur for an adult cake.
For (my fav) Black Forest Cake: add 1/2 cup cocoa powder and a teaspoon or 2 of kirsch. Bake as usual and cut the cold cake in half. Whip enough cream with a little kirsch to spread between layers, fold some tinned cherries into the cream, conserving the syrup. Dissolve some sugar in the syrup and more kirsch and drizzle over one layer of cut cake. Spread with the cherry cream mix. Top with second cake layer, drizzle remaining syrup. Finish the cake off with plain whipped cream (or sweetened or add more kirsch :) ) and some grated chocolate.
Add a teaspoon or two of instant coffee when you cream the butter and sugar for a coffee cake.
For a mocha cake, add the coffee and substitute the milk for Tia Maria or Kahlua.
For coffee and sour cream cake substitute the milk with sour cream.
For Rum and Raisin cake, substitute the milk with rum and throw in a handful or two of raisins.
Add one cup of mashed banana for banana cake.
Add walnuts or other nuts for a banana nut cake or just a plain nut cake.
For coconut cake add 1/2 tsp. Coconut essence, 1/2 cup desiccated coconut, 1 cup of sour cream and about 1/2 cup milk.
For lime and coconut cake, substitute the milk for some lime juice and leave out the essence.
Substitute sour cream or yoghurt for the milk and add 1/2 cup of lemon juice for lemon and sour cream cake.
Use the above and add a little lemon zest and 1/2 cup poppy seeds for poppy seed cake.
For orange cake substitute the milk with 1 cup of orange juice and add the zest of an orange and about 1/2 cup extra self-raising flour
Substitute the milk with Greek yoghurt and stir in some frozen raspberries for raspberry swirl cake.
Or use any other fresh or frozen berry.
Or add some chopped white chocolate along with the raspberries.
For apple cinnamon cake, substitute the milk with pureed apple and add a teaspoon or two of cinnamon. Or try chopped pear.
Or add dried or glace fruit like dried apricots, glace ginger, glace pineapple.
For a denser cake, add 1/2 cup of ground almonds to any recipe.
For a variation, try ground hazelnut.
Add some grated carrot, grated zucchini, a handful of pumpkin seeds or some mashed pumpkin. Adjust the taste with spices like cinnamon, nutmeg or Allspice.
For Madeira cake, add 1/2 cup of ground almonds and 2 tsp. finely grated lemon or orange zest.
Stir in a tsp. or two of cinnamon for cinnamon cake.
Or try ground ginger for ginger cake.
Or a combination of spices, cardamom is my favourite.
For upside-down cake line the base of the cake tin with tinned or fresh fruit such as pineapple or peaches or pears (or berries), sprinkle with brown sugar and pour the batter over the top. Add some of the tinned syrup to the batter for extra flavour.
Add some honey for honey cake.
Or add maple syrup and substitute brown sugar for the white.
Substitute the milk with peanut butter.
Substitute the milk with strawberry jam.
Add some dates and serve with caramel sauce for an easy sticky date pudding.
For a caramel self-saucing pudding, sprinkle the top of the batter with 1/2 cup of brown sugar mixed with a little cornflour and drizzle 1 cup of boiling water over the back of a metal spoon. Bake until cake part is cooked through.
For a chocolate self-saucing pudding, sprinkle the top of the chocolate batter with 1/2 cup of brown sugar and two tablespoons of cocoa powder, then drizzle 1 cup of boiling water over the back of a metal spoon.
Use a cupcake tin instead of a large tin for cupcakes (any variation).
Add choc chips.
For a basic biscuit (cookie) recipe, substitute 1 cup of the self-raising flour with 1 cup of plain flour and leave out one egg and the milk.
Use brown sugar instead of white for a more caramel taste.
For cake disasters, make a trifle or serve with ice cream.
Nutrition Information:
Yield:
8
Serving Size:
1
Amount Per Serving:
Calories:

210
Total Fat:

2g
Saturated Fat:

1g
Trans Fat:

0g
Unsaturated Fat:

1g
Cholesterol:

48mg
Sodium:

399mg
Carbohydrates:

43g
Fiber:

1g
Sugar:

19g
Protein:

5g
Nutrition is for basic cake only. Actual nutrition depends on the ingredients you use, so it's always a good idea to run it through a nutritional calculator yourself using the actual ingredients you use.
There are infinite variations even from just the ideas above.
What about chocolate, coffee cake?
Or chocolate and raspberry jam cake, or chocolate raspberry swirl cake, or coconut and strawberry jam cake, or chocolate banana cake, chocolate ginger and fig cake…
and then there are all the different ways to ice or serve the cake. Like with cream. Or ice cream…
What is your favourite cake?
JOIN THE NEWSLETTER