Seasonal Spotlight on Zucchinis: Buying, Storing, Cooking + Recipes
This website may earn commissions from purchases made through links in this post.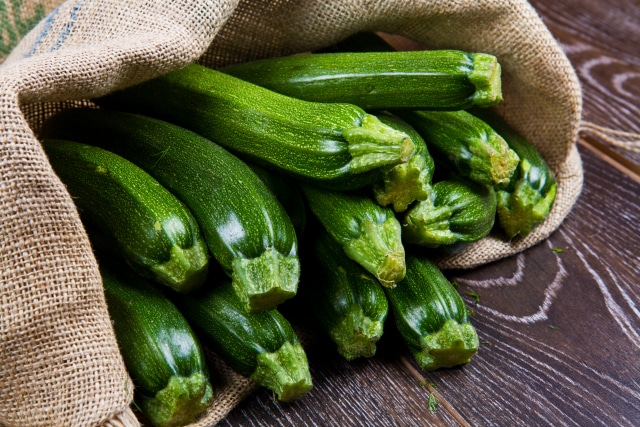 Looking for new ways to use zucchinis when they are in season and in abundance?
Zucchinis are a staple vegetable in our household, especially at this time of the year when they are cheap and plentiful.
When I was a kid, dad would grow zucchinis until they became huge – so big we could hardly carry them inside. Mum would stuff them with savoury mince, and they were one of our favourite meals. My childhood friend still reminisces about those glorious stuffed gourds.
And yet, mum hated them. She hated cooking them and hated the taste.
If you're wanting to get the most out of your zucchinis this season, here are some tips for buying, storing and cooking zucchinis along with a few recipes, both from this blog and other great blogs – recipes I have tried and enjoyed myself.
Guide to Buying, Storing and Cooking Zucchinis
In season: Summer and Autumn
Buying and Storing: Look for firm and glossy zucchinis. Store in the fridge in a vegetable storage bag (like these new super cool vegetable bags – see video below for more info) for a few days.
Preparation: Wash zucchinis just before cooking (see further: pesticide wash). Top and tail and cut as preferred.
Cooking tips: I love steamed or boiled zucchini, especially when it's soggy, but as most people don't, I'll share Stephanie Alexander's alternate method sounds delicious.
Rinse and cut your zucchini, put it in a pot with a little butter or oil and just a tablespoon of water. Put the lid on and leave for a couple of minutes until cooked to your liking. Season with salt and pepper and your favourite fresh herbs.
Alternatively, zucchinis are also great stir-fried, char-grilled, and my particular favourite: roasted in garlic and olive oil.
I love an omelette with grilled zucchini or roasted zucchini frittata. To use up zucchini, toss them with a bunch of other vegetables and a little oil and roast.
Freezing: Do you have an abundance of zucchini? Freeze them for later. You can either grate the zucchini and freeze for recipes like zucchini bread or any dish you want to hide vegetables in. Or you can freeze the zucchini in chunks or slices. (See further: how to freeze zucchini).
Zucchini goes well with: Basil, butter, eggs, feta, garlic, lemon, mint, oregano, onions, parmesan cheese, pine nuts, tomatoes.
8 Ways to Use Zucchinis
Looking for some zucchini recipe inspiration? Here are some of the ways that I have enjoyed zucchini.
Some of the recipes are from this blog, and some are from other wonderful blogs. Click through to the recipe and have a look around their other fantastic recipes.
Zucchini Bread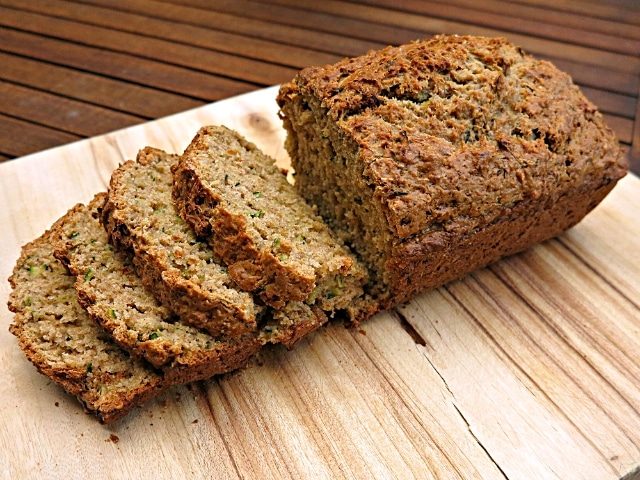 From: Frugal and Thriving
This zucchini bread makes a great healthy addition to lunchboxes.
Get the recipe: Zucchini Bread
Parmesan Zucchini and Corn Side Dish
From: Damn Delicious
This recipe really is damn delicious, along with the other recipes on the website. I ate the leftovers cold for lunch the next day and the lime coriander flavours melded into a salsa-like flavour party.
Get the recipe: Parmesan Zucchini and Corn
Baked Parmesan Zucchini Fries
From: Apples for CJ
Don't these look just like the ultimate healthy comfort food! This recipe, from Apples for CJ is amazing.
Get the recipe: Baked Parmesan Zucchini Fries
Bruschetta Inspired Zucchini Noodles
From: Frugal and Thriving
Zoodles make a great cheap and healthy alternative to pasta.
Get the recipe: Bruschetta Inspired Zucchini Noodles
You might also like: 8 Ways to Swap Grains with Veggies
Zucchini and Sweet Potato Fritters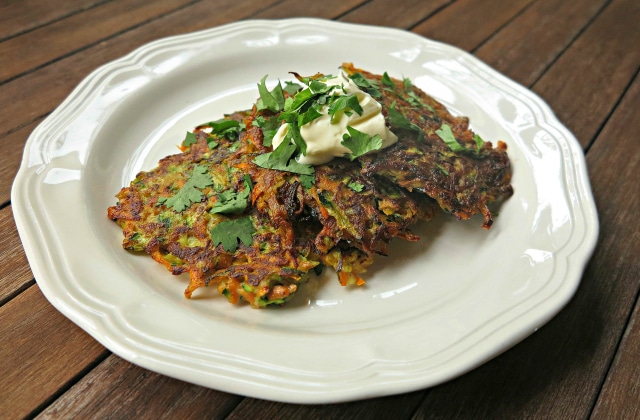 From: Frugal and Thriving
This is one of the few vegetarian meals my kids don't make a fuss about.
Get the recipe: Zucchini and Sweet Potato Fritters
Zucchini 'Meatballs'
From: Delish
My son loved these so much he asked for seconds! I served these Zucchini balls from the Delish website with a lemon and cream sauce (just garlic, lemon juice and cream) rather than the tomato sauce.
Get the recipe: Zucchini 'Meatballs'
Easy Zucchini Ratatouille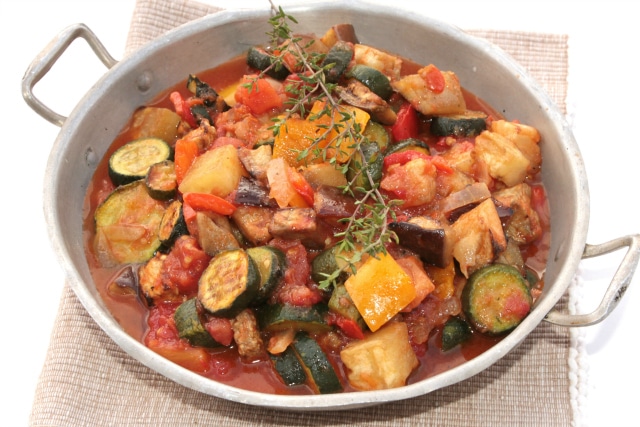 From: Frugal and Thriving
Ratatouille is cheap and tasty – a great vegetarian dish that uses up summer seasonal produce like capsicum and eggplant (as well as zucchini). Serve with couscous or creamy polenta. Can be frozen.
Get the recipe: Easy Zucchini Ratatouille
Mexican Zucchini Burrito Boats
From: Making Thyme For Health
What I enjoyed about these boats is that they are vegetarian, super easy and tasty, cheap to make and healthy. I followed the recipe and also swapped out the rice for quinoa – both are great.
Get the recipe: Mexican Zucchini Burrito Boats
If you have a glut of homegrown zucchinis or you want to make the most of buying seasonal produce, then serve them up in a variety of ways and you'll never get sick of the humble zucchini.
For more information on The Swag, check out the video below.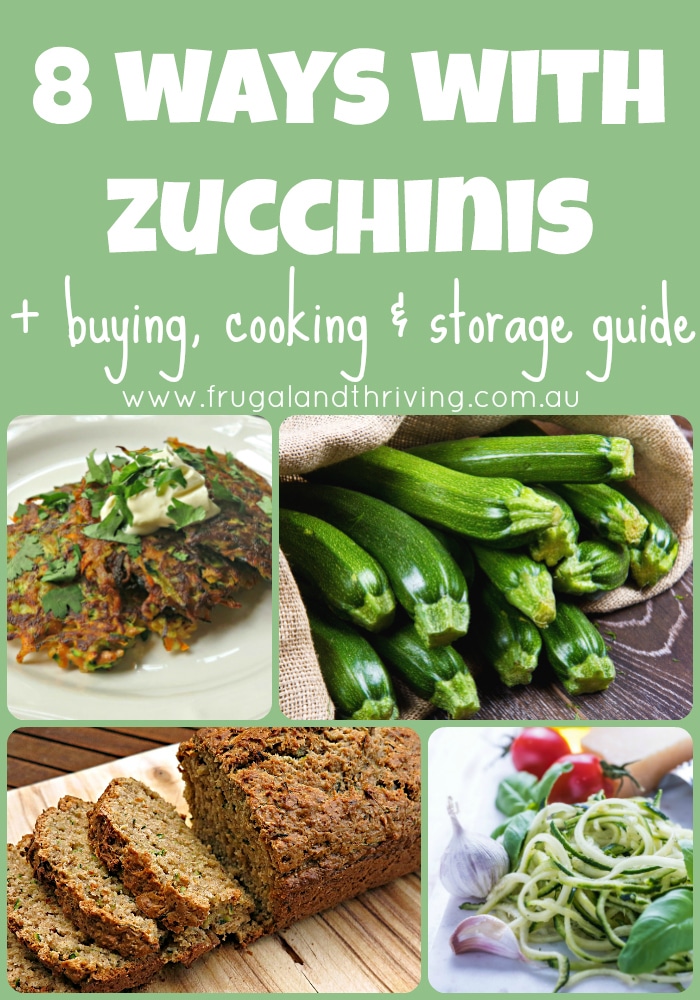 JOIN THE NEWSLETTER