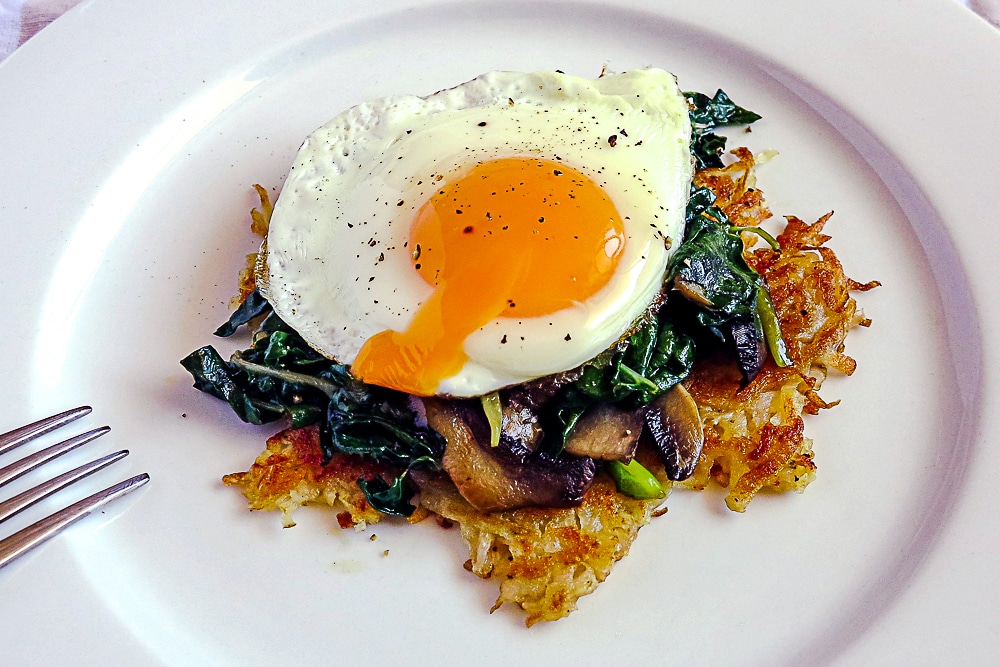 Here's a healthy, vegetarian, gluten/wheat free breakfast that tastes great and is easy to throw together.
Both the little fella and I eat eggs for breakfast most days of the week, alternating with porridge in the cooler months or bircher muesli when it's warmer. Even on busy days, when we have to be out of the house by 7:30am we still have eggs – it really only takes a couple of minutes to scramble or fry an egg.
Eggs make a great start to the day; we mostly serve them with fried mushrooms and tomato on toast (yes, the little fella eats a scrambled egg, mushroom, tomato and two pieces of toast for breakfast!!), but lately I've been looking for alternatives to toast for myself for health reasons.
I'm testing the claim (on just me) that wheat prevents the absorption of B12 by avoiding wheat for a while. I've been found deficient in both vitamin B12 and iron, despite eating meat (not to mention eggs nearly every day!). This is a combination that makes for one very tired mamma. Nonchalance on behalf of the doctor spurned me to explore reasons for the deficiency, hence the wheat avoidance. Time will tell if it makes any difference.
Having just egg with vegetables is fine, but I miss having some carbs and that's where the potato rosti comes in. A rosti is easy enough that it only takes a few extra minutes to cook but makes a more rounded meal, at least I find so.
At the same time, our silverbeet is ready to be picked and eaten. There's nothing like popping out the back door and picking a few leaves to add to breakfast. The little fella has been helping pick the leaves (although whether he eats any or not is hit and miss). Last week I sent him off to pick some leaves for me and he came back with a whole pea plant, so he may need a little more help with plant identification.
The sunflowers give texture. Any seed or nut would add a nice crunch.
For a vegan version, substitute the butter with coconut oil (which I could truly eat by the spoonful!) and top the rosti with some sliced avocado and cracked black pepper.
By the way, this was my Sunday rosti made with sweet potato: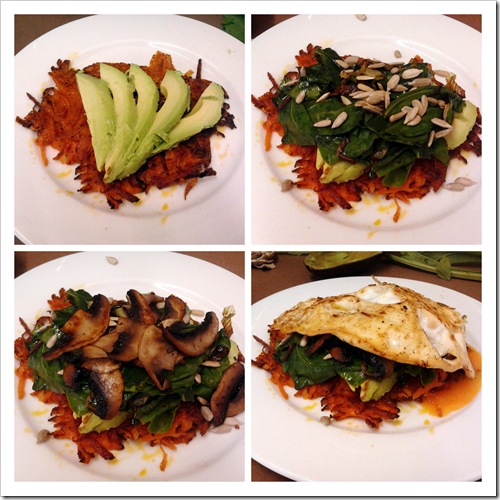 Fried Egg with Potato Rosti, Spinach and Mushrooms
Ingredients
1 small potato
1 Tbsp. or so of butter
salt and pepper to taste
a few silverbeet leaves, rinsed and torn
spring onion
a sprinkling of sunflower seeds
1 egg
Instructions
Melt the butter in the pan you're going to cook your breakfast in.
Grate potato and squeeze out excess moisture. Season with salt and pepper and add a little drizzle of the melted butter – enough that the potato starts to come together (around 1/2 – 1 tsp.).
When the pan is hot, spoon potato mixture into a pan, pressing it down. Cook on both sides until golden. Remove from pan.
Throw in the spring onions and silverbeet and lightly sauté before frying your egg, done just the way you like.
Top your rosti with the silverbeet, sprinkle on some sunflower seeds and then finish with the egg.
Melissa Goodwin is a writer and the creator of Frugal and Thriving who has a passion for living frugally and encouraging people to thrive on any budget. The blog is nine years old and is almost like her eldest baby. Prior to being a blogger and mum (but not a mummy blogger), she worked as an accountant doing other people's budgets, books and tax.