organising recipes and menu planning using evernote – a definitive guide part one
This website may earn commissions from purchases made through links in this post.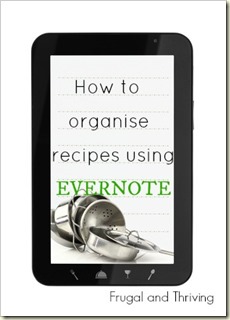 Are you a recipe hoarder? Do you cook recipes from your collection or do your recipes gather dust, untested and untasted?
Evernote (the free note-taking software) can help you collate all your recipes into one database so that they can be easily searched, browsed, planned for, shared and, of course, cooked.
Collate recipes from magazines, books and blogs along with written recipes, typed recipes, downloaded recipes, scanned recipes and even photographed recipes into one super-database.
Then search for recipes by ingredient. Browse your recipes for new dessert ideas. Create a menu plan and grocery list. Sync with your mobile to view your grocery list in the supermarket or easily look up tonight's meal.
Then get cooking.
Today's post is part one of how to use Evernote to not only collate and organise your recipes but to create menu plans and grocery lists from your personal recipe library.
Setting up Evernote
Start by downloading Evernote for PC or Mac, installing the software as per instructions and then set up your account.
If you have a smart phone or tablet and use it for net surfing, download the app relevant for your device and sync your account with your PC.
Finally, install the web clipper add-on to your computer browser and mobile device browser – this allows you to clip pages rather than just link to pages (more on that below).
Once you have Evernote up and running, go to File – New Notebook and create a notebook for your recipes. If you're going to use Evernote predominantly for recipes then make this your default notebook by right clicking on your newly made notebook and selecting the default option. This will make saving recipes a quick and easy one step process.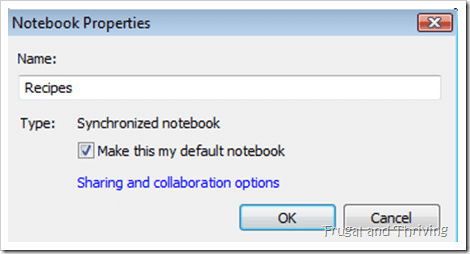 You can make sub-folders ("stack notebooks") if you like, but this isn't necessary – I'll explain why below. The more folders, the more fiddling you have to do when you add a note – this is one programme where simplifying things now will actually save you time later.
That's it for setting up Evernote. It's time to get clipping, collecting, collating and cooking!
Hint: there's a tonne of things you can use Evernote for, but remember it's cloud computing so keep security in mind when creating notes that include personal information.
Organising your recipes
So how are you going to find that yummy chicken recipe if all recipes are dumped in the one notebook? That's where tags and Evernote's super-powerful search function come in.
Let's get straight to the search function because you may decide you don't need tags with Evernote's search capabilities.
Not only can Evernote search text within the body of a note, a note's title or a note's meta data, it can also search images and PDFs. That means if you take a photo of a recipe that has the word 'chicken' in it or if you scan a recipe in from a cookbook, Evernote can pull that recipe up with a simple search (you may need to sync manually with the server before an image is searchable).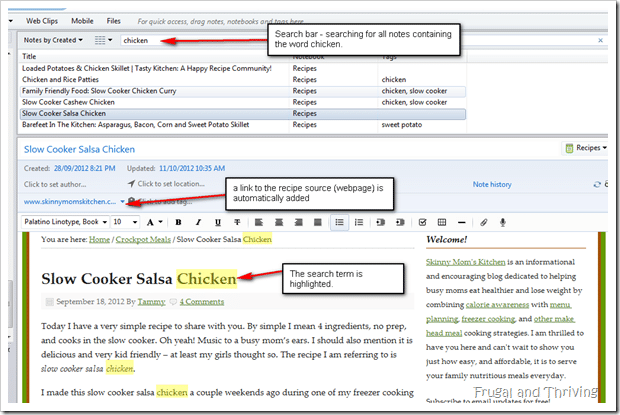 You can do some pretty nifty stuff with Evernote's search function, for more information check out the knowledge base on advanced search operators.

You can run a search that uses multiple terms. In the picture above, I want to view only recipes that include chicken and that are cooked in the slow cooker.
Now to tags. You can see in the pictures above that I got tag-happy before realising I don't need to tag.
Or do I?
There may be instances where you want to add a tag to a recipe. If you want to be able to browse recipes as a group using words that don't appear in the recipe itself, then a tag will be necessary.
For example, you may want to add the tag "desserts" to sweet recipes. That way you can run a search for the tag 'desserts' and browse all the recipes with that tag. 'Family Favourites' is another useful tag.
Another example, which is totally unrelated to recipes but is another way I use Evernote, is to create a notebook called "Gift ideas" and tag notes with the name of the potential recipient. Then when it comes to Christmas or Birthdays I can search their name and browse through gift ideas that I've come across over the year.
So don't discount tags altogether. While there's no need to tag ever recipe because of Evernote's search function (saving you time), it can still be useful to tag some recipes.
Hint: You can use more than one tag per note.
Adding recipes to evernote
There are several ways that you can build your recipe database in Evernote from writing recipes out, to scanning recipes or linking or clipping recipes from the web. Here's how to do each one.
writing recipes directly into evernote
This one is pretty straight forward. Simply click on new note, give it a title where it says click to set a title and type your recipe out. Add tags as necessary.
This is useful for recipes that you create yourself. Or maybe grandma has divulged her secret sponge cake recipe and you've scribbled it down on the back of an envelope. Type it up so it's not lost forever.
I've written before about creating a family favourites master list to make menu planning easier. I've always used Excel for this list, but an alternative is to enter these meal ideas into Evernote.
If your family favourites come from an actual recipe, then you can scan this recipe directly into Evernote (see below). Otherwise create a new note, give the note a heading and write out the recipe or, in the least, jot down the ingredients so that your family favourites are searchable by ingredient along with all your other recipes.
Don't forget to tag these recipes 'family favourites' so that you can browse just your favourites when menu planning. If you try a new recipe and want to cook it again, tag it 'family favourites' too, so it gets added to the collection.
Clipping Internet Recipes
So you come across a great recipe on the internet that you would like to keep – how do you put it into Evernote?
That's where the web clipper browser add-on comes into play. Simply click on the Evernote elephant (log in if you need to) and then clip away, adding tags and comments as necessary.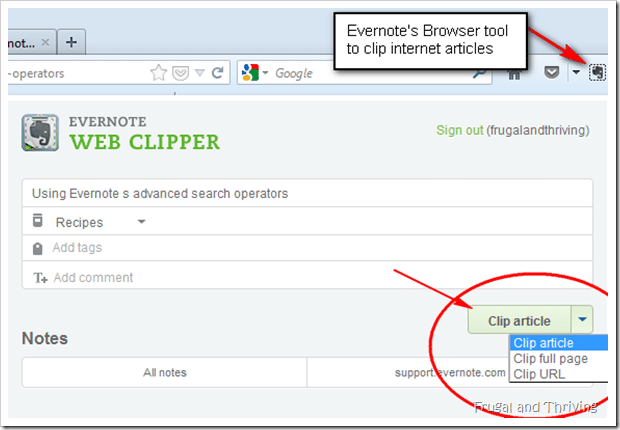 You can clip just the URL and that is exactly what will appear in your Evernote note as shown below.
Or you can clip the article which will select just the relevant text, not headings and sidebars etc.. If you are having trouble clipping just the article, highlight it first.
Alternatively, you can clip the full page.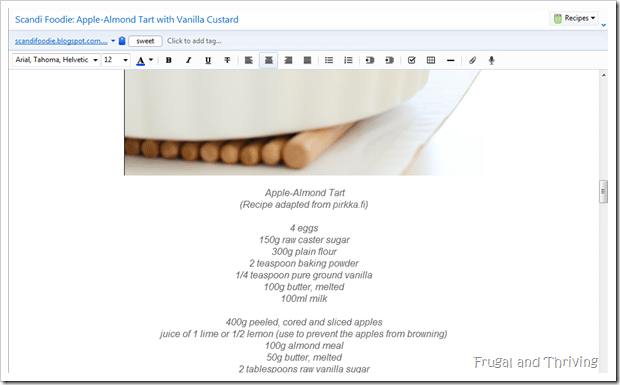 I use the Feedly app on my phone to read blogs that I have subscribed to via RSS (usually at 3am while I'm feeding the little lady). This is a convenient way to keep up to date with blogs that I enjoy and saving articles for later reference is easy if you have Evernote installed. There are several options for saving web content to Evernote on a mobile device (assuming you have installed the app).
The first is to use your phone or tablet's function button to 'share' content either directly from Google Reader or directly from your mobile's internet browser. The note created will be a link to the recipe (as pictured above).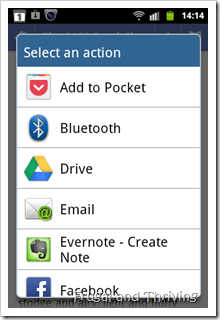 Alternatively, you can install the Evernote Add-on for your mobile browser and this clips the whole page just as it does on your computer, the only difference being that it will capture the mobile page view of the website (assuming there is one).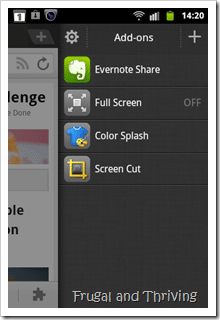 If you have made your recipe notebook the default notebook, you can skip choosing a notebook (it should automatically go to recipes) and just click 'clip'.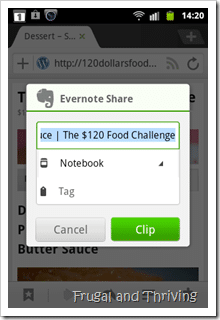 Saving images to Evernote is done in the same way. Take the photo with your phone camera and use the 'share' menu option to send the image to Evernote.
Importing previously scanned or typed documents
If you're like me you may already have a bunch of recipes scanned into the computer from both magazines and cookbooks from the library (5% or less copied does not breach copyright), as well as recipes that you've typed up into a Word document. These recipes can be imported into Evernote quickly and easily using the Import Folders tool.
Go to Tools ~ Import Folders and select the folder(s) where your recipes are saved. You can choose to keep the original files or delete them and only store them in Evernote.
Click OK and all the recipes on your computer (in the folders you selected) will be imported into Evernote as individual notes. Super easy!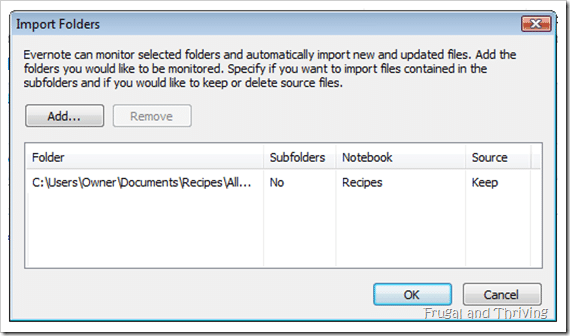 Scanning recipes directly to Evernote
For new recipes, You can scan them directly into Evernote using one of two methods. If you have a newfangled scanner, then it may be compatible with Evernote in which case you can choose to send scanned documents directly to Evernote.
If you have pre-Evernote scanner like me, then this next method is the method for you. Create a folder on your Desktop or in your Documents specifically for scanned recipes.
In Evernote, use the Tools ~ Import Folders option to select this folder; choose to either keep or delete the original scanned files.
Now each time you scan a recipe into this folder it will be automatically imported into Evernote either at the time you scan it, or when you open Evernote.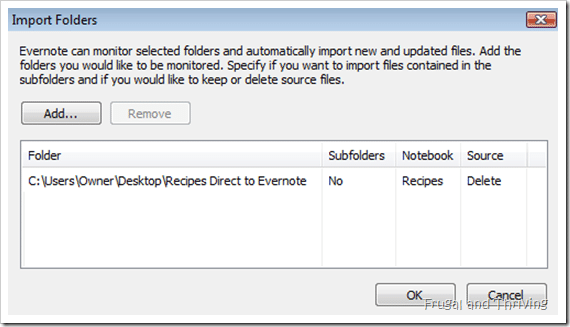 Finally, when it comes to scanning recipes from books, here's an awesome tip from No Ordinary Homestead: scan the index pages of each book in your personal cookbook collection into Evernote so that you can search or browse these simultaneously with your digital collection. The searches your run on the indexes won't be as powerful as those run on individual recipes, but it allows you to have much easier access to your hardcopy recipes.
Of course, all the recipes in the world aren't much use if you never cook them. Next week's post will be about how to use Evernote to create a menu plan and shopping list to make use of all these recipes.
A disclaimer: I like Evernote, I'm not affiliated with them and don't get anything for writing about them, even though I may sound quite enamoured.
JOIN THE NEWSLETTER