Eat Healthy On a Budget With These Frugal Fruit and Vegetables
This website may earn commissions from purchases made through links in this post.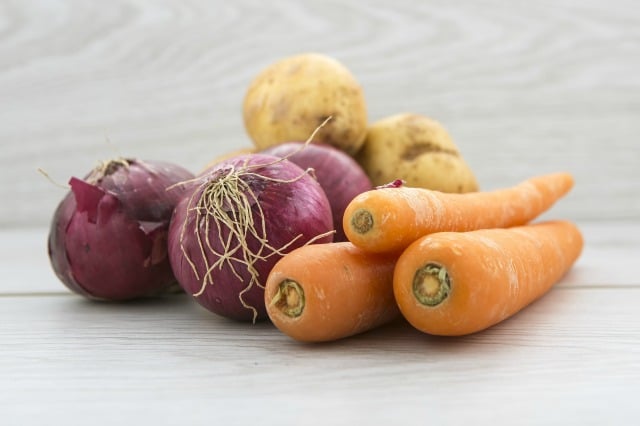 You know eating fruit and vegetables is good for you.
But which frugal fruit and veg should you choose when you're on a tight budget?
In other words, which fruit and vegetables fill you up and give you the most nutrition for the least cost?
If your grocery budget is really tight, it's important to get the most value for money, not just eating as cheaply as you can.
Here's the shorthand version of how to do that:
Stock up on the 'ever-frugal' veggies listed below.

Combine these with fruit and veg in season (and when it's cheap).

Supplement with frozen fruit and vegetables; and

Grow a few greens of your own.
The last article was a list of frugal pantry staples (including beans, which are technically a vegetable but never mind). Today's article is a list of ever-frugal fruits and vegetables which, in addition to your pantry staples, are a foundation on which to build a variety of frugal meals.
Ever-frugal Fruit and Vegetables
Ever-frugal vegetables are ones that are:
Cheap all year round

Have a high nutrient value per calorie, giving you great value for money; and

Store well, which helps reduce waste
How did I come up with this list?
Researchers from the Paterson University compared the nutrient value of fruits and vegetables and developed a list of 41 'powerhouse' veggies in the order of the nutrients per calorie.
The nutrients measured are ones considered vital for health by the Food and Agriculture Organisation of the United Nations. They didn't measure things like phytochemicals, which is why there are some surprising omissions on the list. You can see the entire list of powerhouse produce and read some of the rationale behind it here.
From this powerhouse list, I've picked some of the cheapest and most shelf-stable fruits and vegetables based on my own experience as well as this study done by the US Department of Agriculture on the cost of vegetables (PDF).
And I've added a few obvious frugal extras that while aren't considered 'powerhouse' vegetables, they are still healthy and very cheap, so worth having on the 'ever-frugal' list.
7 Ever-Frugal Fruits and Vegetables
Cabbage
The top cheapest and most nutritious vegetable is cabbage.
The best use of cabbage is to make your own sauerkraut, which is super easy. This inoculates the cabbage with a host of good bacteria, making this highly nutritious food even more nutritious! And it lasts a long time this way too.
Other ways to serve it so it's not boiled goop is as a fresh, crunchy coleslaw, braised, sauteed, or roasted.
I also like to add it to this tasty mince dish. Or you can make the very frugal okonomiyaki: Japanese cabbage pancakes.
Onions and Garlic
Onions did not actually make the list, but they are super cheap 'prebiotic' food, which means they feed good bacteria.
Besides using as a flavour base for just about everything, onions can also shine in their own right in frugal dishes like caramelised onion frittata and French Onion Soup.
Pumpkin
Uncut pumpkin is super versatile and can be stored for weeks, sometimes months in a cool dark place.
Roast pumpkin for that deliciously sweet caramel flavour and serve with the Sunday roast. You can also put roast pumpkin in risotto, make roast pumpkin frittata or roast pumpkin salad. Pumpkin curry is also delicious.
Pureed pumpkin can be used in pumpkin soup, a sweet or savoury pie or in good ol' Flo's pumpkin scones, adding extra nutrition to one of the most frugal morning teas you can make.
Carrots
Carrots are usually around 99 cents a kilo in the supermarket, giving you great value for money.
They are also very versatile: eat them sweet or savoury, raw, boiled, steamed, pureed, roasted or sauteed. They are great with a little honey. Grate them in fritters or cakes. Make carrot soup.
I grate them (along with zucchini) into just about anything to stretch meat and make meals healthier: mince patties, fish patties, spaghetti bolognese, just to name a few.
You might also like this printable fruit and vegetable storage chart.
Sweet Potatoes (and regular)
While it was just sweet potatoes that made the powerhouse list, you can't have a frugal list without including regular white potatoes too. Both varieties are cheap, filling and nutritious.
Sweet potato can be used in just about any way regular white potatoes can be used.
Roast, mash, steam, fry, turn into chips. Serve as a side, bulk up curries and casseroles, make gnocchi.
If you have potatoes, you have a meal.
Citrus Fruit
Like onion and garlic, a dash of citrus can level up the flavour of many dishes. Jamie Oliver puts a squeeze of lemon on just about everything.
As well as eating them plain, you can also juice them or add a squeeze to your glass to liven up plain water.
Keep citrus juice for even longer by squeezing and freezing it in ice cube trays. And don't forget to save some rind!
Some of my favourite ways to use citrus include:
Citron tart (a really frugal but oh so decadent dessert), marmalade, lemon curd, lime and chilli stir fry, lemonade, compote and citrus and poppy seed muffins.
Apples
The only fruits beside citrus that made the powerhouse list were strawberries and blackberries, neither of which are cheap to buy, although if you can pick them for free, you can't get more frugal than that!
And while buying fruit in season will mean you can get good prices on a variety of fruits, apples are usually always available cheaply and they're another staple that will store for a long time.
My favourite ways to eat apples include apple slices with peanut butter, apple turnover, apple crumble, apple muffins, apple pie, apple pancakes, apple puree and caramelised apples.
Eat Variety on a Budget
Ever-frugal fruit and vegetables are just the start. To eat healthy on a budget and get plenty of variety, couple these with in-season, frozen and homegrown produce.
Diversify By Eating in Season
Seasonality has a big impact on the cost of fruit and veg. Many of those 'powerhouse' vegetables that didn't make the ever-frugal list are cheap when in season.
Seasonality will depend on where you live, so keep an eye on prices throughout the year to discover what's cheap and in season in your region.
You can also check out these printable seasonality guides for Australia, although again, there will be some regional differences.
Save Money on the Groceries eBook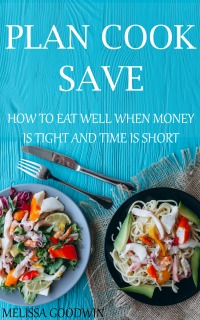 For more ways to save money on groceries, check out the eBook Plan Cook Save: How to Eat Well When Money is Tight and Time is Short.
*Learn how to set the right grocery budget for your circumstances.
*Find out the easiest and quickest way to reduce the grocery bill.
*Discover a meal planning strategy that will only take you a couple of minutes a week but will save you hours.
Frozen Fruits and Vegetables
Frozen fruits and vegetables offer great value for money. They are usually just as nutritious as fresh or more so as they are snap frozen when picked at their best.
You can buy frozen vegetables for as little as $1 a kilo and because they're frozen, they have a long shelf-life, so they provide exceptional value in a frugal kitchen.
Go extra frugal and stock up on fruit and veg when it's in season and freeze it yourself to enjoy cheaply throughout the off-season.
Grow Your Own
Some of the top 'powerhouse' veggies are also some of the easiest plants to grow.
Anyone can grow a pot of parsley or watercress on a warm windowsill.
And greens like lettuce, parsley, chard, kale, mustard greens, rocket, chives, dandelion are all super easy to grow in the garden, in pots, in hanging baskets, in vertical gardens and even hydroponically.
Snip what you need, and the plant will continue to grow and feed you for weeks and months on end.
The foundation of any frugal meal is frugal ingredients. If you have a well-stocked frugal pantry and some ever-frugal fruits and vegetables on hand, you can make a wide variety of cheap and healthy meals. For extra variety, add some seasonal vegetables and animal proteins if you eat them, which is the subject of the next article.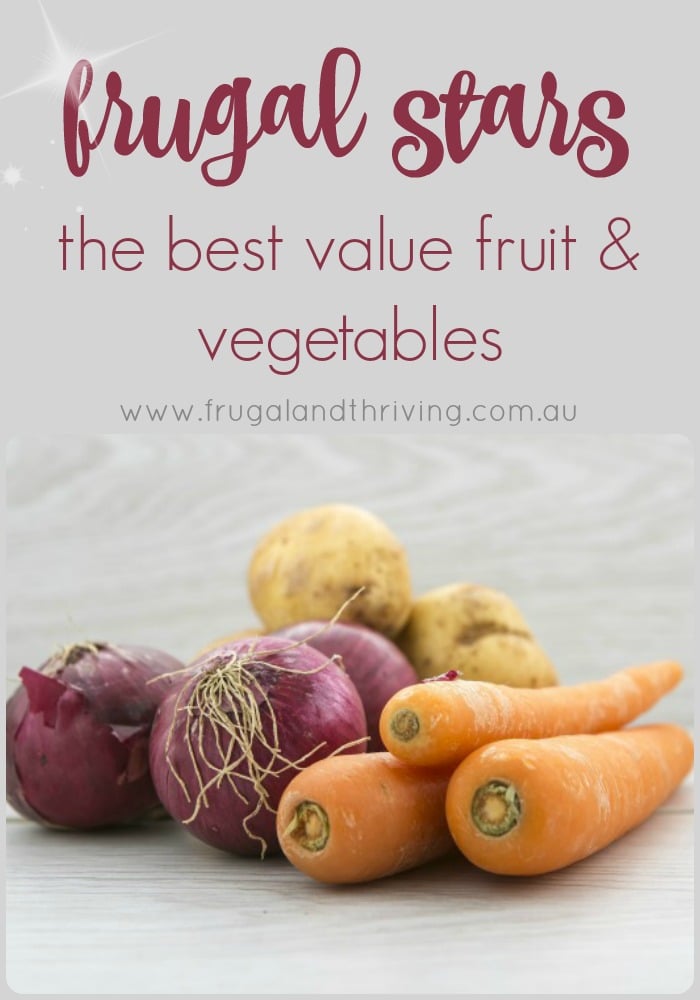 JOIN THE NEWSLETTER