Easy Meal Planning Hack Using a Rotating Meal Plan
This website may earn commissions from purchases made through links in this post.
This easy meal planning hack gives your meal plans flexibility while still making it super quick and easy to plan a week's worth of meals.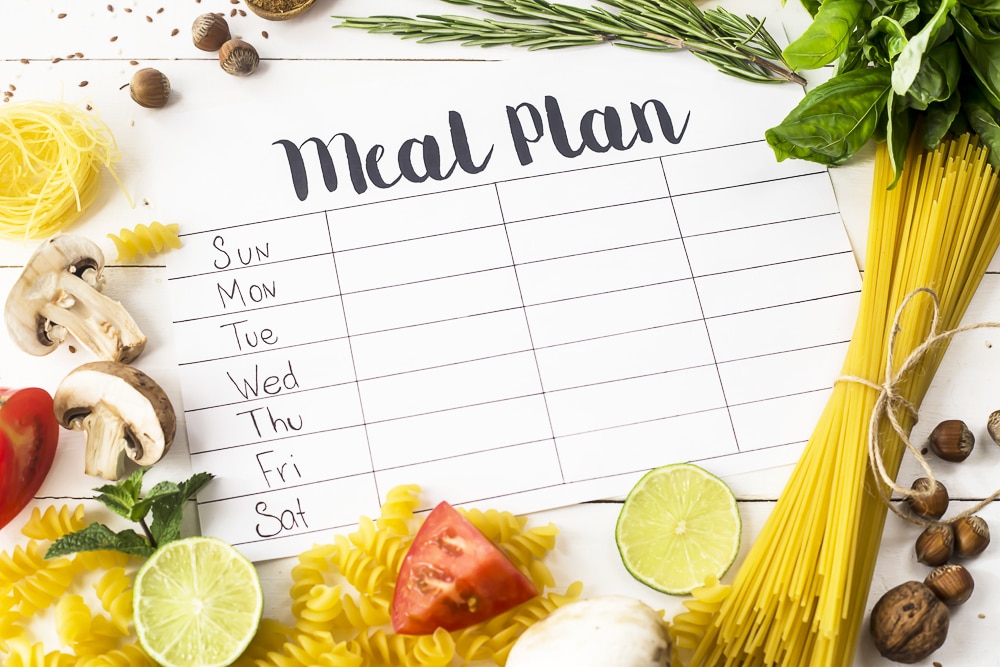 When I was a kid, Wednesday nights were spaghetti bolognese nights, and it was my night to cook.
On Saturday's we had roast and Monday nights we ate lamb chops and vegetables.
The predictability of our evening meal was almost satirical: 'Chops? It must be Monday!'
So as an adult, I've always been resistant to having set meals on certain nights.
Because…boring!
But now as a mother myself, I see the benefit of not having to plan new meal ideas every week.
Gone are the days when I could spend time browsing cookbooks for new and exciting meal ideas over a quiet cup of tea.
Instead, I need meal planning to be quick and easy and require as little thought as possible.
Because I haven't slept a whole night through in nearly a decade. #brainfog If you're a mum, you can probably relate.
Thus, I've come to embrace a meal plan rotation.
You might also like: Organising Recipes and Meal Planning Using Evernote
Use a Rotating Meal Plan for Ease and Flexibility
A meal plan rotation doesn't have to be boring.
You don't need to eat the same thing every Wednesday night.
Here are some tips on menu planning using a set meal rotation.
Allocate a Set Theme For Each Night of the Week
Allocating meals to each day of the week doesn't mean you have to eat spag bol every Wednesday night.
You might make it pasta night instead, which gives you variety as well as the flexibility to plan dishes using seasonal ingredients. In our case, Wednesday is either stir fry or pasta night, preferably, but not necessarily, vegetarian.
Here's how our meal rotation works:
Sunday: Roast / Braise
Monday: Vegetarian
Tuesday: Leftover roast / Mexican
Wednesday: Rice / noodles / grains (stir fry, pasta, curry etc.)
Thursday: Fish
Friday: Slow cooker / casserole
Saturday: Homemade 'take out' food
Use your family favourites list
When it comes to choosing exactly what you're going to eat, a family favourites list makes the job super quick and easy, especially if you group your list according to your meal rotations.
So for pasta night, you simply have to look at all the pasta meals on your list to choose one that is most appropriate.
Capitalise on leftovers and advance preparation
You will save time and money if you incorporate leftovers into your menu plan.
For example, I put fish night after stir fry night because if I make tuna rissoles, I can use leftover rice in my rissoles from the stir fry the night before.
Use your menu plan to plan prep work as well as what's on the menu – like a to-do list for the kitchen. Why chop one carrot, when you can chop all the carrots for the week in just a little extra time?
Start the week with a roast
I read this idea on the Weed 'em and Reap blog: start the week with a roast. That way you can incorporate leftovers later in the week and make stock and / or soup with the bones for another meal or lunches.
Making stock is easy in the slow cooker: throw the bones into (or back into) the slow cooker straight after the Sunday dinner, and maybe some vegetables, and wake up with stock or soup already made the next morning.
Reuse your meal plans
Once you have a few weeks of meal plans, you can save time by just reusing old ones – no need to write a new meal plan each week.
If you plan meals around seasonality, then keep all your meal plans and then reuse old meal plans from the same time the year before.
Example menu plan
This is our menu plan from last week:
Sunday: Roast chicken (make stock overnight in slow cooker; roast extra pumpkin)
Monday: Roast pumpkin frittata and salad (use leftover roast pumpkin; strain stock; add rest of pumpkin to slow cooker for pumpkin soup for lunches)
Tuesday: Chicken burritos and salad (use leftover roast chicken; salad from garden)
Wednesday: Stir fry kangaroo and vegetables (make up extra rice)
Thursday: Tuna rissoles and salad (use leftover rice from stir fry)
Friday: Slow cooked Boston baked beans (freeze half for an easy-reheat back-up meal)
Saturday: Burgers (hubby's night to cook)
I'm a big fan of menu planning because it makes life easier, saves money, time, waste, trips to the supermarket, petrol, mental energy deciding what to cook for dinner and effort.
Menu planning in itself is not difficult nor time-consuming, but using a meal rotation makes it even easier and quicker.
Do you plan set meals for each night of the week?
JOIN THE NEWSLETTER