save more on your electricity bill–saving on hot water heating
This website may earn commissions from purchases made through links in this post.
This article is part of a series on saving money on electricity.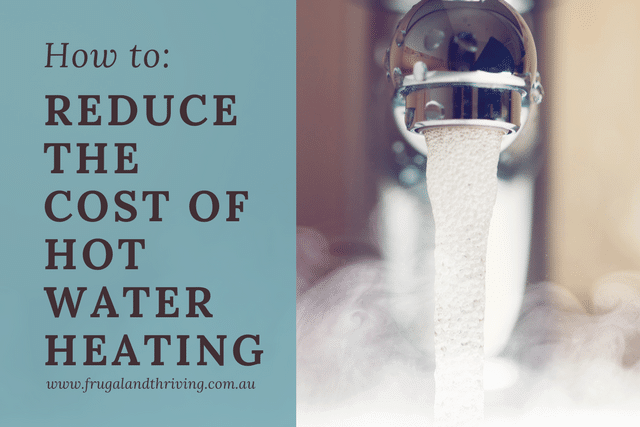 After heating and cooling your home, hot water is generally the next biggest expense on the energy bill, up to 25% of electricity usage for the average household.
So after targeting your cooling costs, the next area to target is hot water heating.
There are two main ways to reduce the cost of hot water heating:
use less hot water; and
install an energy efficient hot water heater where applicable
Or better yet, a combination of both.
Of course, installing an energy efficient hot water heater may not be feasible for you at the moment. But there are things we can all do to use less hot water, and this will not only save you electricity, but will save you water as well.
reducing your hot water use
IN THE BATHROOM
The shower (or bath) is where we use the most hot water. We can reduce our hot water usage in the bathroom by:
taking shorter showers; limit showers to 5 minutes or less
have a shower rather than a bath
install a low-flow shower head
don't turn the taps on full throttle
have cooler showers, especially in summer (scalding showers aren't so good for your skin anyway)
don't shower every day. I know some people may gasp at this, but if you're at home and you haven't been sweaty or doing dirty work, a shower every day isn't necessary.
"Every time you have a hot shower powered by an electric storage hot-water system, you're using the same amount of energy that it takes to run 150 televisions all at once."[source]
IN THE LAUNDRY
The second biggest consumer of hot water is the washing machine. Reduce hot water usage by washing in cold water (best) or washing on the 'warm' cycle. Wait until you have a full load before using the washing machine on any cycle, but particularly the hot cycle. For killing off bacteria, direct sunlight is the best.
IN THE KITCHEN
The third biggest consumer of hot water is dishwashing (regardless of whether you use a dishwasher or hand wash).
Many studies argue that the dishwasher is more water and energy efficient than hand washing, but it depends (as the article above and this one attests) on how you wash your dishes. How often you hand wash the dishes, how much water you use to hand wash, how often you run the dishwasher, how efficient your dishwasher is, how you use the dishwasher, what kind of water heater you have are all variables that will determine which choice is the most energy efficient for you.
We have solar hot water, so energy consumption for hand washing is close to zero. If we installed a dishwasher, despite what the studies reveal, we would be consuming more energy to run a dishwasher than to hand wash. So it's not always more efficient to use a dishwasher.
Reduce the cost of dishwashing by:
using as little water as possible when hand washing
rinse in a container or 1/2 sink of cold water
only run the dishwasher when full
run the dishwasher at off-peak times
use the economy setting on the dishwasher
open the door after the rinse cycle to air-dry your dishes
don't rinse dishes before putting them in the dishwasher
other ways to save on hot water
Wash hands in cold water
When using water in the kitchen (filling water filters, rinsing cloths etc.) and bathroom (brushing teeth etc.) use cold water
Turn the thermostat down. The recommended temperature to kill bacteria is 60°C (delivered to taps at 50°C). Most modern systems have a tempering valve set to this temperature (except instantaneous, which should be set at 50°C), but check your system or get it checked.
Insulate all exposed hot water pipes
Insulate your hot water heater
Shelter hot water heater from exposure to weather
Position hot water heater as close as possible to the bathroom and kitchen
Repair leaks and dripping taps
Maintain hot water heater regularly as per manufactures instructions
Consider connecting to an off-peak or night rate (the hot water will only be heated at night). Check out the Choice article linked to below for off-peak pros and cons.
Turn off your hot water heater when you're not using it. The jury is out on whether this saves you money on a day-to-day basis. Some argue that it does, but the savings are so small that it's not worth the trouble, particularly if you have a newer hot water tank, which are often better insulated. However, you will save money by turning off the hot water when you go away for more than a couple of days, so if you're going on holiday, don't forget to turn off the hot water.
and if you're in the market for a new hot water system…
Get the most energy efficient hot water system appropriate for your circumstances. You will need to do your homework on which option is best for you.
Gas boosted solar hot water is generally the most efficient hot water system, but not always – it depends on your location and situation. Gas is the second most efficient if you have natural gas connected, and heat pump comes in third. Other options are discussed in the Choice article linked to below.
Depending on which state you live in, you may be required to invest in an energy efficient hot water heater when replacing an old electric one, due to the government's phase-out of electric storage heaters. Not all states are enforcing this or they have provisions and exceptions, so check out the legislation as it relates to your state on the Australian Government's Department of Industry website.
When it comes to choosing a new hot water system that is going to be right for you, there's a lot to consider. This guide choosing a hot water system is a great place to start. Another useful guide can be found on the Australian Government Your Home website. Your local and state websites will also give information about choosing a hot water system that is most relevant for your region's climate.
When our old hot water system bit the dust, we took advantage of the rebates that were on offer at the time and installed a solar hot water system and saw our electricity usage plummet as a result. But even if you don't upgrade your hot water system, you can make significant reductions in your energy bill by implementing the tips above.
What are you doing to save on hot water?