How to Save Money on Back-to-School Expenses in Australia
This website may earn commissions from purchases made through links in this post.
The start of the school year can be tough on the budget. This article covers all the ways to save money on back-to-school expenses.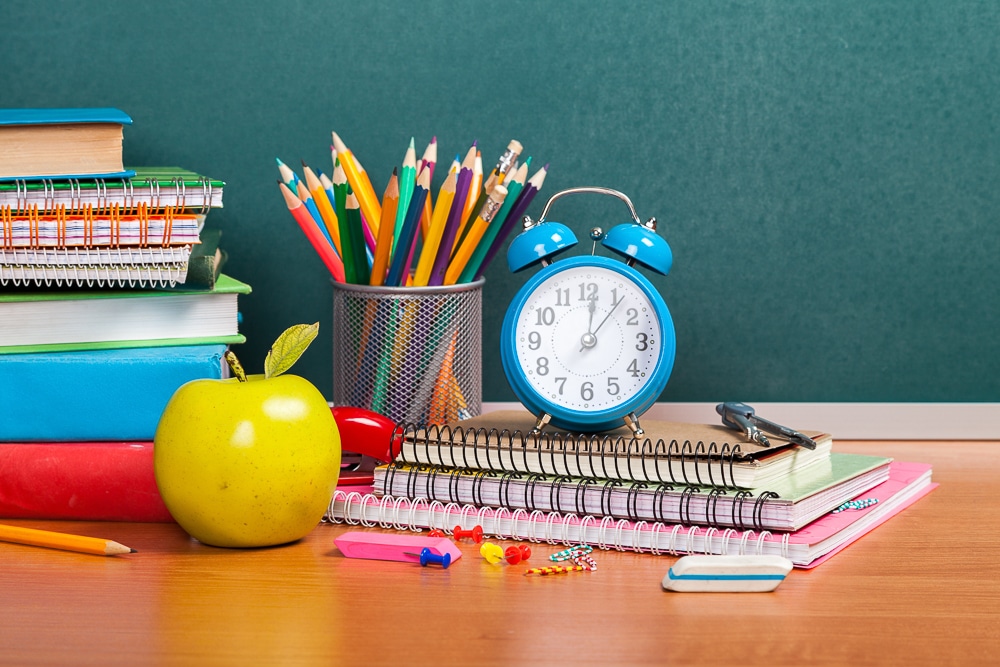 Starting the new school year is an exciting time. But it can also put a huge strain on the budget with all the back-to-school expenses.
This article shares tips for saving money on school supplies (like stationery and lunch boxes) textbooks, devices (for bring-your-own-device schools), school uniform and school lunches.
At the end of this article, there are also links to government assistance schemes, assistance from various Australian charities who help with school costs as well as some of the scholarships available to public school students.
How to Save on School Supplies
Textbooks, stationery, lunch boxes, water bottles, school bags – the things you need to start school can really add up. Here are eight tips for saving money on school supplies.
Start with an Audit of What You Need
At the end of the school year, do an audit of all the school supplies kids bring home, their lunch boxes, drink bottles and school bags, uniforms. Anything that is still functional can be reused next year, saving money and reducing waste.
Give everything a good clean so it doesn't go mouldy over the Christmas break, re-label as necessary and air out bags and containers until the start of the new school year.
Even if your child is just starting school, they may have lunch boxes, water bottles or bags from preschool that can still be used. My son is still using his lunchbox from preschool and he is nearly in high school, so don't waste it if it isn't broken!
Shop with a List
Now that you've audited what you already have, write a list of all the things you need. Consult school lists to make sure you don't forget any essential resources.
And then buy what you need as per your list, not necessarily what the kids want.
Shop the Sales
Many stores have back-to-school sales before school starts, so that's the time to stock up on supplies.
You can use a catalogue app (I use ShopFully – no affiliation with them, just an app I use) to quickly and easily compare prices between stores. Alternatively, you can look online at each store's prices to compare and save.
Shop Online and Get a Cashback
Avoid the craziness of the shops altogether and shop online. Compare prices to get the best deal and, if possible, use the click-and-collect option to save on delivery costs.
Save even more by using a cashback program like Cashrewards (affiliate link). This gives you a percentage back on purchases made at participating stores.
To get the most out of cashback schemes, comparison shop first for the best deal and then see if you can get a bonus cashback. Having the browser notifier and shopping on a laptop or PC makes this easier.
Compare Prices with the School Resource Scheme
Depending on the school, you may have the option of participating in a school resource scheme/book list. Prices can be cheaper through the scheme because of bulk buying discounts.
On the other hand, using the resource scheme can mean buying items you don't really need.
"New research shows that parents are overspending on school stationery by an incredible $37.8 million by fulfilling their school list directly from their schools, instead of looking for alternatives."

[source]
If you do use the list from the school, check what items you already have and what you actually need and only order the items you need.
You can also keep some stationery at home instead of sending the lot with the kids on the first day. That way you can replenish during the year and use remaining items in the following year.
Some schools get rebates through the scheme which is money that goes back into the kids' education, so it can be worth using them if your school benefits as a whole and you can afford the extra cost.
Choose Generic Brands
For many items, generic brands are much cheaper than name brands and can be significantly cheaper.
However, it's always good to make sure the generic brands are still good quality. Some cheap pencils, for instance, don't work properly and this can be very frustrating and discouraging for kids.
Give School Supplies as Christmas Gifts
A new water bottle or pencil case or backpack can be great stocking stuffers. Useful presents save money and reduce waste.
Label Everything
Labelling everything can help lost items find their way back to your children, reducing the need to buy extra stuff during the year.
For younger kids, it can also help if you run through a checklist when you pick them up from school. 'Have you got your drink bottle? Have you got..?' It helps build the habit so they can learn to run through the checklist each day themselves.
How to Save Money on Textbooks
Textbooks can be expensive but one way to save money is to buy them second-hand. Here are some things to check before you purchase:
ask the teacher if a specific edition is required
check if the textbook covers more than one year (so you're not purchasing needlessly)
ask the school if they have a book exchange where older kids can pass on their textbooks (consider organising one if they don't)
check to see if the school offers discounts on textbooks through its resource scheme
see whether you can rent the textbooks from school to save money.
Places where you can find secondhand textbooks include:
I Love Books – sells secondhand high school books
Zookal (more for university but may have some high school textbooks)
Student VIP (again, more for uni, but may have some high school texts)
Local Facebook groups
Gumtree
Booko – Compares online retail prices of books, including the cost of delivery. Includes secondhand books as well.
Two other options for saving money on textbooks is to buy the digital version of the book, which is often cheaper, or to borrow the book from the library.
These options aren't ideal (studies show kids learn better from REAL books, for instance), but if money is tight, these options are better than no book at all.
How to Save Money on School Devices
Many schools now require students to bring their own laptop or tablet to school. Here are some ways to save on school devices.
First, Get the Specs
You want to make sure the device you buy meets the minimum system requirements as specified by your school.
If your children do subjects that require speciality software (like Photoshop) then system requirements will be different. So check to make sure the device you buy is right for the subjects your child studies.
Compare Buying a Laptop With Your School's Tech Resource Scheme
Some schools offer a "choose your own device"(CYOD) option where the school gets a bulk discount on laptops. This may be cheaper than buying your own device.
Compare prices and read the fine print on the contract before deciding which option is best for you.
Shop online
Once you know the specs the school recommends, check out online retailers, where you may be able to find a cheaper deal.
And as with school supplies, once you find the best deal, see if you can also get a cashback on that deal. I purchased a laptop in an online sale at 40% off and got a $50 cashback on top of that as well. So it can be well worth doubling up on deals.
When purchasing directly from the manufacturer, you can sometimes custom configure your system, helping to save money.
And if you shop online, you may be able to take advantage of services like AfterPay to help spread the cost over several weeks. Just make sure you can meet the required repayments in time and to read all the fine print.
Plan Ahead
Another option is to start saving for a device before your kids start school (or high school). A little put aside each week over a year will make it budgeting easier.
When it gets close to the school year, check the specs the school recommends and then start looking out for sales so you can get the best deal possible. Black Friday sales and January sales are good times to look for sales on school devices.
Gift a Device for Christmas
Save money by making the school device the Christmas present for the year. If other family members (like grandparents) normally buy gifts for your children, you can ask them to contribute to the cost of the laptop or tablet instead.
Look at Refurbished Laptops
It's possible to save money by buying a refurbished laptop or device. If you're looking at buying refurbished, make sure it meets the specs recommended by the school and that it is covered by a warranty.
Local computer stores are the best place to get a refurbished computer so you can be assured it's tested and covered under warranty.
Don't Forget Insurance
Check with your current insurer to see if you can get a discount for 'single item insurance'. This covers accidental damage and theft. Paying annually may save you money on this insurance.
Save Money on Uniforms and Lunches
Stationery and devices aren't the only back-to-school costs. Here are two separate articles on how to save money on school uniforms and how to save money on school lunches with lots of tips for both.
The cost of school uniform can add up, especially when kids grow so quickly. Here are twelve tips for saving money on school uniform.
Seven tips for saving money on packed school lunches.
Assistance with School Costs
Although public schools are free, resources like textbooks, stationery and excursions etc. are not. As these costs can be expensive, there is financial assistance available from each state government as well as charities.
Some schools have a student resource scheme that is designed to help reduce the cost of educational resources for parents through bulk purchasing. However, compare costs with purchasing items yourself to get the best savings.
Individual schools will also have assistance programs or payment plans for families for extra costs like excursions, so it's always a good idea to speak to your school about financial assistance.
Government Assistance
Each state has some financial assistance programs or concessions for eligible families to help cover the costs of schooling. Some states also provide financial assistance for out of school activities like sport. You can find out more via each of the state's websites:
Some schools are connected to Centrepay, which can help with budgeting for school costs.
Help From Charites
Charities can also help with back to school costs like uniforms, fees and supplies for low-income families. Each charity has its own eligibility requirements. Contact your local charity directly for more information.
Scholarships
Some public schools, as well as some state governments (Vic, WA, NSW), offer scholarships to help pay for student resources. Check your school to see if this is something they offer.
As well as the school, some organisations offer educational scholarships. The Public Education Foundation and the Country Women's Association are two such organisations. Scholarships are usually based on both merit and financial need.
Back-to-school can be hard on the budget but it's possible to save money on back-to-school expenses with a bit of planning, shopping around and making the most of second-hand items.
JOIN THE NEWSLETTER