How to Save Money on School Uniform
This website may earn commissions from purchases made through links in this post.
Even in public schools, school uniform can be costly. And kids grow out of it faster than you can say A B C. Save money on school uniform with the following tips.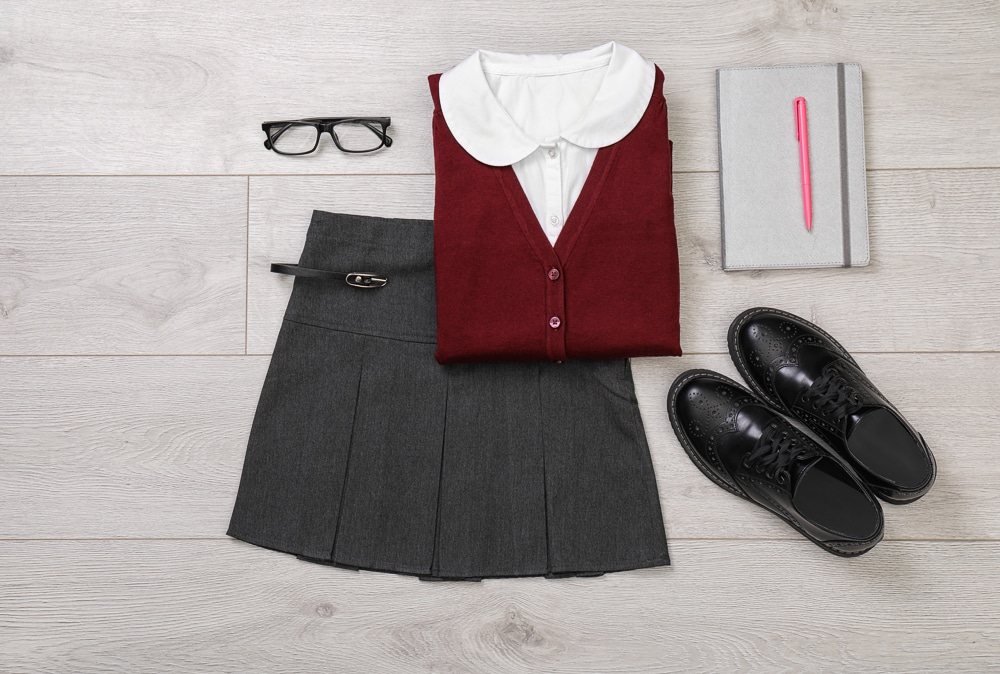 I have two kids in a public primary school, so I know how quickly the cost of school uniforms can add up.
And they haven't even hit high school yet, where they will need a couple of everyday uniforms, a formal uniform and a sports uniform. And that's a public school!
It is possible to keep the cost of uniform down, though. In this article, I share twelve tips for saving money on school uniform.
1. Audit Your Uniform
Do you have uniform leftover from the previous year? Shoes that still fit? Shirts that don't have paint all over them?
Conduct a uniform audit to see what you really need to buy. I volunteer in our uniform shop and it's surprising how many people buy new uniform just because it's the start of the year. If the uniform from the previous year is still in fairly good nick and it still fits, then it's not necessary to buy more.
2. Spread the Costs
If you do need new uniforms, deferring the cost can help make it easier to pay for it. For example, waiting until closer to winter to buy winter uniform can help spread the costs of uniform purchases. Buying one set of clothes this month and another next month can help with cash flow.
3. Make the Most of Hand-me-downs
As school uniforms are mostly non-gender specific, you can pass uniforms down from older siblings to younger siblings.
4. Network with Other Parents
Siblings aren't the only way to benefit from hand-me-downs.
Participating in the school community means meeting parents with kids in other grades. And older kids can be a great source of hand-me-down uniform.
And in turn, you can hand down uniform to parents of younger kids.
5. Buy Second-hand
Some schools sell second-hand uniforms, which can help alleviate the cost.
If your school doesn't, other places to find second-hand uniform is through local charity stores or local Facebook community groups.
Also, look for specific second-hand uniform Facebook pages for your local area. You don't have to wait for someone to post about uniforms they intend to sell – you can also ask the community if there is anyone who has the uniform and size you're after.
Another option is to ask the school if they have a Facebook group where you can ask the school community directly for second-hand uniform.
6. Buy Generic Brands
For many schools, it's possible to buy generic polo shirts, shorts, skirts and dresses in the school colours from shops like Target, Best and Less, Big W and Kmart.
These generic polos are around $3-$5 compared to school shirts that can cost between $25 and $45 depending on the school.
Generic school shorts, skirts, skorts etc are also generally cheaper in department stores, especially when on sale.
Another option is to buy one 'official' school shirt and bottom with the logo for parade days or school photos and generic alternatives for every day or as a backup.
7. Shop the Sales
Look for back-to-school sales to save money on plain shirts, shorts, dresses, shoes, and socks.
It's also a good idea to keep an eye out throughout the year for markdowns and buy bigger sizes for the following year at much cheaper prices.
8. Look online
You can buy school uniforms through many of the big retailers' online stores throughout the year. If you can't find the right size or colours in your local stores, check online for uniforms and keep an eye out.
Another option is to check out the Sustainable School Shop for second-hand school supplies and uniform.
Don't forget to check for cashback offers if shopping online.
9. Buy a Size Bigger
Kids grow quickly, so buying one or two sizes too big can save you money in the long run. Skirts and dresses can be hemmed if too long and many shorts come with a drawstring if they are a little roomy to start with.
I use this strategy for my own kids. It can mean the difference between a shirt lasting for 1-2 years versus 6 months!
10. Buy Less and Wash More
A midweek wash can save you money on the upfront cost of uniforms.
But what about the cost of running the washing machine?
The cost per load of washing is approximately 5 cents to 67 cents depending on the variables. Even at 67 cents per load x 40, the cost is still only $26 per year. Compared to buying an extra 2-3 shirts and shorts per child, this can be a significant saving.
11. Check Regularly for Mending
School uniform gets some rough treatment! Make clothes last longer by checking for any needed repairs. Resew fallen hems, use laundry soap on paint splashes (not all paint will come out though), darn holes and stitch or patch tears.
Dresses and skirts can be 'taken up' or temporarily hemmed higher if they are too long. As your child grows taller, unpick the temporary hem to lengthen.
12. Label Everything!
Kids often lose things so it's important to label all clothes very clearly.
If you've ever dug through the lost property box at school, you'll know that it's FULL of lost hats and jumpers and all sorts of other unlabeled clothes.
Our school recommends stitching a small identifying mark (like a piece of ribbon or name tag) on the OUTSIDE of hats so kids (and parents) can easily see whether it's their hat or not.
Check labels periodically because they can wear off. At the same time, you're making sure your kids haven't inadvertently come home with someone else's stuff.
Save money on school uniform by making the most of hand-me-downs and second-hand items as well as shopping the sales. Fewer items, well cared for will also save you money.
More ways to save money and time:
JOIN THE NEWSLETTER