how to shop the second-hand stores like an expert
This website may earn commissions from purchases made through links in this post.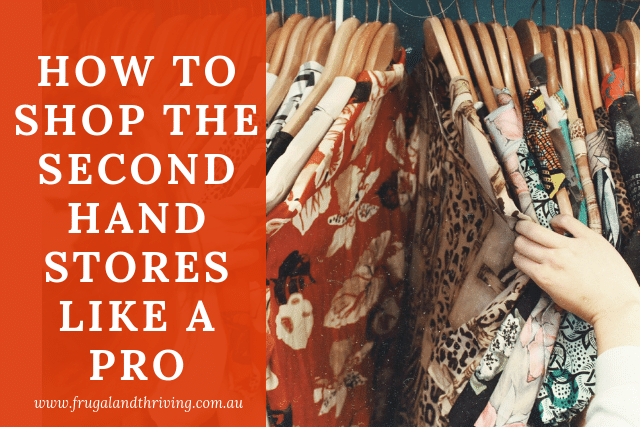 There's a knack to shopping in second-hand stores successfully.
Unlike big box stores, where you can walk in, get exactly what you want and walk out again, there's an element of serendipity and creativity when op-shopping.
It can take time to find that perfect bargain.
When op-shopping I like looking for books, household goods, craft items and kids clothes and games. I do not have the knack when it comes to shopping for me, but then again, I don't like buying clothes for me at the best of times. I'm in awe of those who can come away from op-shops with designer labels and trendy looks.
Op-shopping is a frugal skill to foster. The more you do it, the more likely you will find great bargains.
Improve your bargain hunting prowess with following 15 tips.
1. STICK TO A BUDGET
Just like any shopping, decide how much you can spend before you leave the house. Even second-hand shopping can blow the budget if you over do it.
And take cash. Not only does cash stop you from overspending, but some stores also don't have EFTPOS and only accept cash.
2. HAVE A PLAN AND SHOP WITH A PURPOSE
The old adage: just because it's cheap, doesn't make it a bargain, applies to second-hand shopping just as it does to regular shopping.
Before shopping at second-hand stores, have an idea of what you're looking for and write a list.
Define your style. Rather than shopping haphazardly, look for clothes, accessories or decor items that match your style.
Beware the hoarding gene. If you can't use it immediately or in the foreseeable future, don't get it, no matter how good a bargain it is.
3. BUT KEEP AN OPEN MIND
While having a plan will mean you avoid wasting money on things you don't need, it's also a good idea to keep an open mind.
Can something be repurposed to fill your need? Can it be renovated? Painted? Remodelled? Used as materials for a new project? Can you change your ideas slightly to accommodate what you've found?
4. GO OFTEN
Some days you may shop in second-hand stores and come out with a booty, other days may see you leave empty handed. The thrill of the hunt is part of the fun.
As stuff is being turned over constantly, visit your favourite second-hand stores regularly to increase the likelihood of picking up that serendipitous bargain.
5. GO PREPARED
Take a measuring tape, colour swatches, clothing sizes or whatever other information you need to make an informed purchase.
Are you looking for furniture? Measure your existing space to make sure you get furniture that fits.
Do you need it delivered? Have an idea of how you'll get items home before you buy them.
6. SUSS OUT THE BEST SHOPS
You may have dozens of second-hand shops in your area, some hidden gems just waiting to be discovered. So don't just stick to your local Vinnies.
Some second-hand stores are better than others. You'll get to know which shops are worth your time and which ones don't result in many bargains. Or which shops are good for clothes and which ones are good for second-hand home wares.
And don't forget, if you're on holiday check out the local second-hand shops while you're away.
7. SHOP OUTSIDE YOUR AREA
Quite often, well-to-do areas have better quality second-hand stuff. So it might pay to take a trip up the hill every so often to suss out what the other half is throwing away.
8. SHOP WITHOUT THE KIDS
Successful second-hand shopping takes time. You need time to browse and inspect. So it's a good idea to go without the kids, especially young kids, at least some of the time.
Sometimes bargain hunting can be a good learning experience for kids, but we all need some quality time alone to shop, right ladies?
On the other hand, taking a friend thrift shopping can be a good way to hang out and get a second opinion on purchases.
9. TAKE YOUR TIME
Give yourself plenty of time to browse, rummage and inspect.
10. KNOW YOUR MATERIALS AND LOOK FOR QUALITY
I'm a brand dodo. I have no idea about which brands are good. Instead of worrying about labels, learn about fabrics. Which fabrics are quality? Which materials are made to last?
When it comes to furniture, the same goes? Is it quality? Or is it chipboard?
11. HAVE AN IDEA ON PRICES
Our local Salvos charges exorbitant prices on some things. They sell Kmart kids clothes that are more expensive than what Kmart sells them!
So part of your preparation if you're looking for specific items is to have a ball park idea of prices and whether you're really getting a bargain.
12. EXAMINE AND TRY BEFORE YOU BUY
Always spend plenty of time examining items before you buy. If you buy anything electrical, make sure it's in working order before you put down any cash.
13. ASK ABOUT SALES AND MARK DOWN TIMES
Just like regular stores, second-hand stores have mark downs and sales to move stock. Ask when these times are so that you can shop on these days and save even more.
14. REPURPOSE, REPURPOSE
It's a special skill to look beyond what is and imagine what it could be with little paint or a few stiches.
But like any skill, it's one that can be honed with practice.
Start with what you need, and look for absolute basement bottom bargains that you can practice repurposing to meet your needs.
15. IF IN DOUBT, PUT IT BACK, IF YOU LOVE IT, BUY IT QUICK
If you're unsure of whether to buy an item or not, then it's a sure sign that it's not the bargain for you. Avoid buyer's remorse and put it back on the shelf.
On the other hand, if you love a piece, buy it. Chances are it won't be there next time you come back to buy it.
Scouting for second-hand good can be a great way to get what you need and save money at the same time. But it's a serendipitous exercise. Use these tips to improve your success when looking for bargains.
WHAT ARE YOUR TIPS FOR SHOPPING FOR SECOND-HAND GOODS?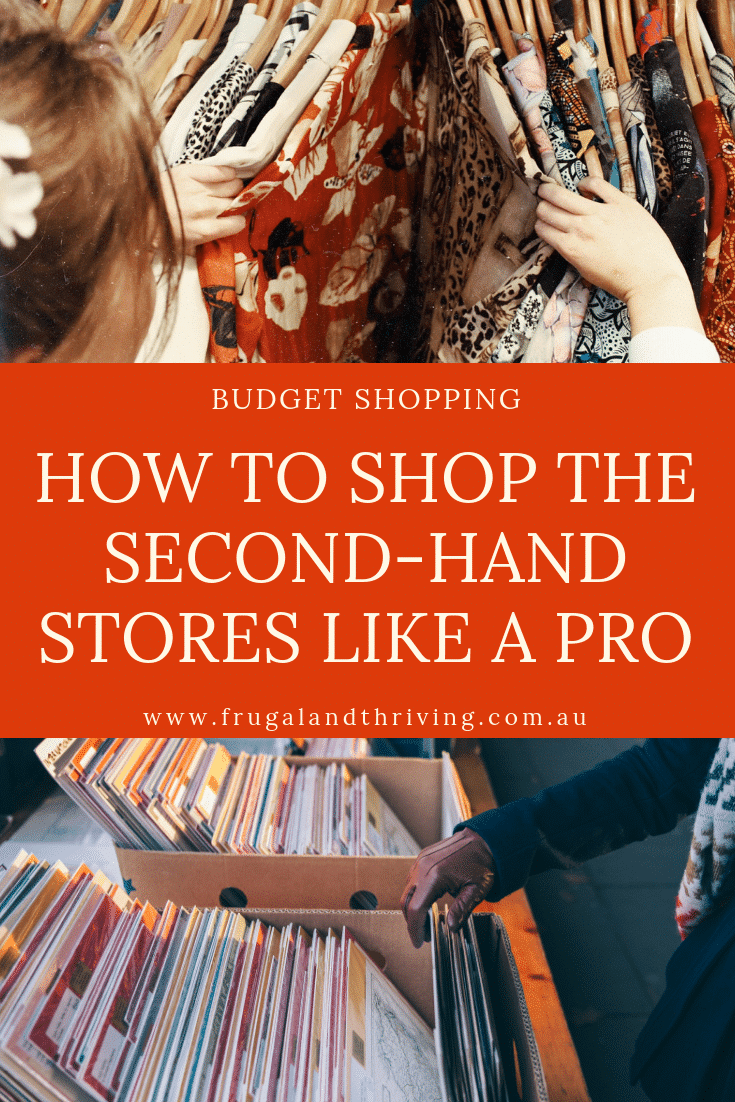 JOIN THE NEWSLETTER