DIY Coffee Hamper for the Coffee Lover in Your Life
This website may earn commissions from purchases made through links in this post.
A DIY coffee hamper is the perfect frugal gift for the coffee lover in your life. A great last-minute gift from the grocery store or farmer's market finds for under $30.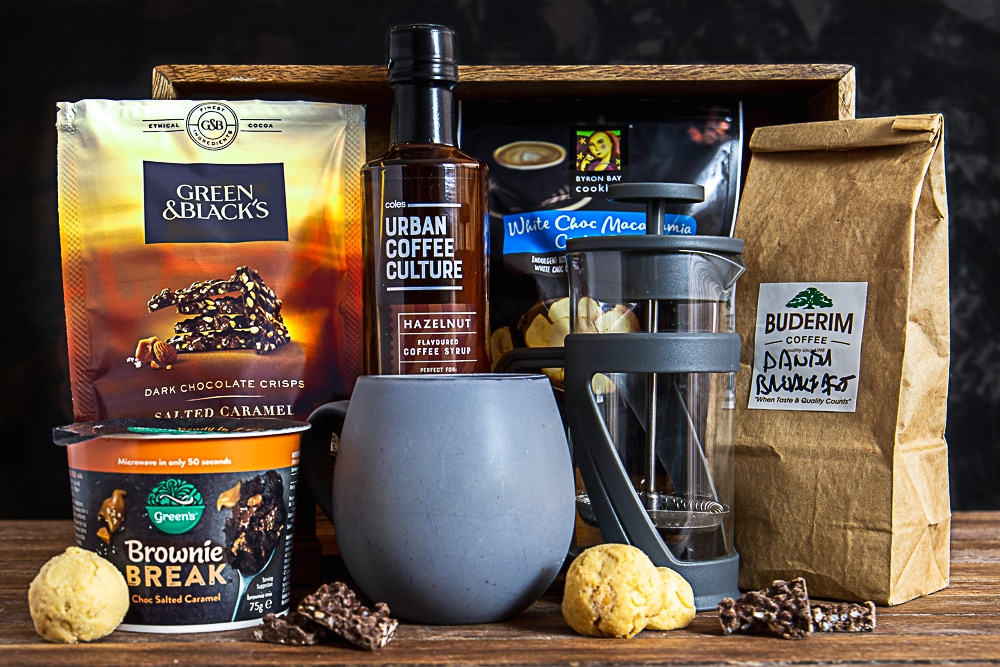 You don't need to spend a lot of money to create a lux gift hamper. In fact, the one pictured cost less than AU$30 for the lot.
Purchasing a cup of coffee costs around $5. This hamper will make dozens of cups of delicious coffee and it includes some treats to go with your cuppa.
The trick to saving money is to keep an eye on catalogue sales and pick up items when they are half price.
Below are some tips for putting together a coffee lover's hamper as well as some other ideas for what you could put in it for a variety of budgets.
The Base of Your Gift Basket
The most frugal options for a gift hamper is to use an old shoebox that you cover in paper to snazzy up. Or you can recycle a gift box that has been given to you. The cardboard box can then be recycled and your recipient isn't left with a basket they don't really want.
Alternatively, you can pick up a basket, tray, crate or container cheaply from a second-hand store, craft store or discount store. It can then be re-gifted or re-donated for other people to use.
A tray is a nice option for a coffee hamper because you can use the tray to bring your recipient coffee and breakfast in bed, which would make this gift even more special.
For more information about packaging your gift hamper, check out the article How to Make a Personalised Gift Hamper for Any Occasion.
Some Things to Consider Before Buying Coffee
Before you buy just any coffee for your coffee lover, there are a couple of things to keep in mind.
The first is how they make their coffee. Do they have a machine or a french press or do they drink instant coffee? If they like instant coffee, there are a variety of flavoured sachets available for instant coffee that's a bit more special.
If your recipient has a machine that takes pods, you might need to check what brand the machine is so you know which pods to get. Incidentally, you can get reusable steel pods like these depending on your budget. Again, check to make sure they fit the machine.
Does your recipient have a grinder or will you need to buy coffee beans that have already been ground?
If you're buying ground coffee, consider the coarseness of the grind. The side of the packet will tell you how coarse the grind is and what brewing method it's best for. For instance, for french press coffee, a coarse grind is best.
Does your recipient have a preferred brand? Or are you going to get coffee that they might not normally try for something a bit different?
Coffee Gift Basket Ideas
So now you have thought about what coffee to buy, what else could you put in your coffee gift basket?
Before you decide, work out your budget. This will influence what goes into your hamper. I've shared some tips below for saving money on hamper items. Here are some ideas:
Coffee
Coffee syrup (see below)
Chocolates
Biscuits (cookies)
mini cake
chocolate-coated coffee beans
chocolate-coasted nuts
A mug
A french press
coffee creamer
chocolate-coated spoons (here's how to DIY them – grab some old spoons from the second-hand store)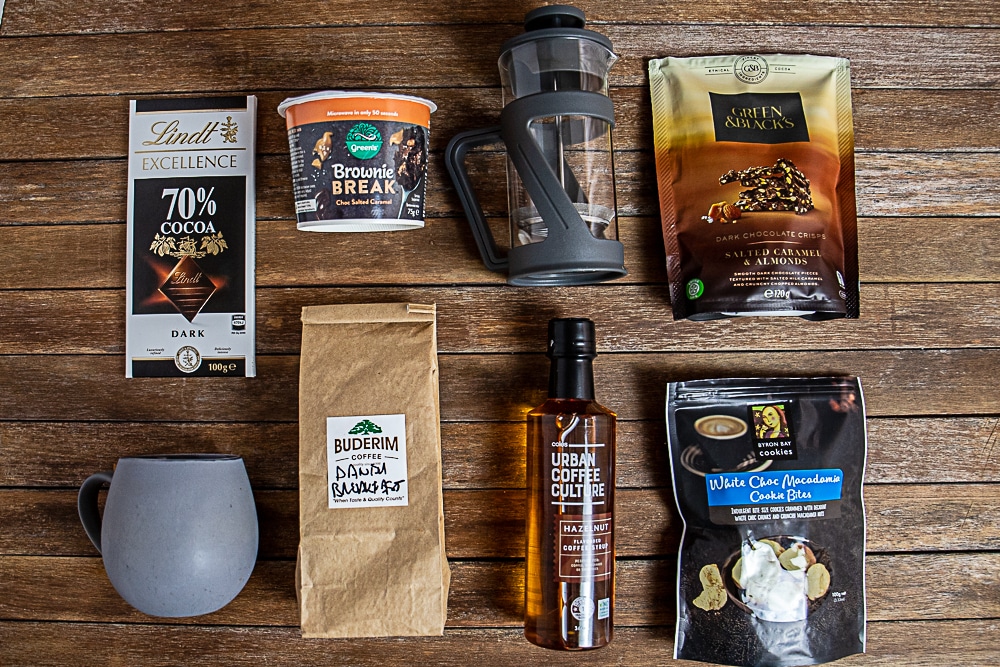 Where to buy the best Coffee Gift Basket Items
A coffee lovers hamper can be made cheaply and easily from items found at your local supermarket.
There are lots of coffee options in the supermarket – something to suit all coffee tastes. You can also get nice biscuits, chocolate, syrups, and even a french press from the supermarket.
I purchased the coffee pictured above at a local coffee shop that I happen to live a couple of doors down from. The shop gets it's coffee from a local roasted (although the beans aren't necessarily Australian). It's great to support local business where you can and the price of their coffee is comparable to supermarket coffee, albeit they don't do half-price sales.
Other places to look for hamper items include:
speciality stores
gift stores
delicatessens
farmer's markets
discount stores
online
How to Save Money on Your DIY Coffee Gift Basket
One great way to save money on DIY hampers is to keep an eye on supermarket specials and buy things when they go on sale. You can save quite a lot if you buy everything at half price over the course of a month or so.
Apart from the coffee and the syrup, I purchased all the foodstuff for the hamper pictured above at half price. That's AU$14.50 for everything plus $8.00 for the coffee which brings the total to AU$22.50. If you buy coffee half price at the supermarket, then you can do all the food for under $20.
If you want to add a mug, then you can pick these up for around AU$2.00 at the supermarket or discount store. Personalise the mug by decorating it yourself with a sharpie.
A french press or coffee plunger is around AU$7 from the supermarket or discount store. With the mug and plunger, you can make this hamper for under AU$30.
A homemade syrup can save you money on the coffee syrup and you can make several flavours for your hamper if you like. Coffee syrup is basically a simple syrup of sugar and water that has been flavoured. Here's are several recipes for different syrup flavours.
Pre-made coffee hampers can cost a small fortune. Save money and give a DIY coffee hamper full of items you know your recipient will love by doing it yourself.
You might also like:
JOIN THE NEWSLETTER