save money with a kid's clothes swap
This website may earn commissions from purchases made through links in this post.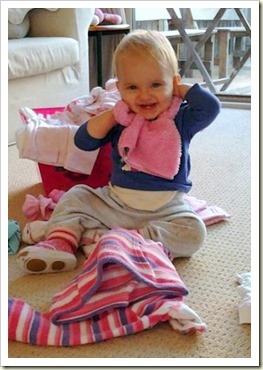 I'm blessed to be a part of a wonderful Mother's Group. We've been meeting now each week since our first children were just a couple of months old, nearly four years ago.
My Mother's Group has been a source or laughs, advice, support, social interaction (for us and the kids), a reason to get out of the house each week and some fun girl's nights out.
It's also been a source of free clothes.
Many of us have two children now, and so we've been able to pass the older kid's clothes around for the younger ones.
Nearly everything the Little Lady wears have been hand-me-downs from one of the older girls in the group or her older brother (that's an old photo, taken 8 months ago now, of her going through some hand-me-down clothes, very pleased).
Some of the clothes we picked up don't quite fit yet, but I've put them away for later. That means a continual saving. When the Little Lady grows out of them, I can pass them onto the other mums with younger daughters.
And I can also pass on Little Fella's outgrown clothes.
Last week I started thinking about what clothes my kids need for winter. Thanks to a clothing swap, a bit of second hand shopping (and nanna, of course), the Little Lady is now sorted on a minimal budget.
A clothing swap is a great way to declutter all those clothes that no longer fit your children, and get some 'new' clothes for them for free. Children grow so quickly, clothes often become too small long before they become too worn. A lot of these hand-me-downs are in perfect condition.
If you're not in a mother's group, you could organise a clothing swap amongst friends, with your local Playgroup if you're a member or with some mums through Kindy or school. Anything that doesn't get swapped can go to charity.
And to keep on top of the outgrown clothes, use the perpetual decluttering system, but put a box aside specially for clothes swapping.
Have you ever done a clothes swap? What are your tips for saving money on clothing children?
JOIN THE NEWSLETTER