Save a Tonne of Money on Kid's Clothes with a Clothing Swap
This website may earn commissions from purchases made through links in this post.
Children grow out of clothes quicker than they wear them out. A kid's clothes swap is a great way to save money with hand-me-down clothes.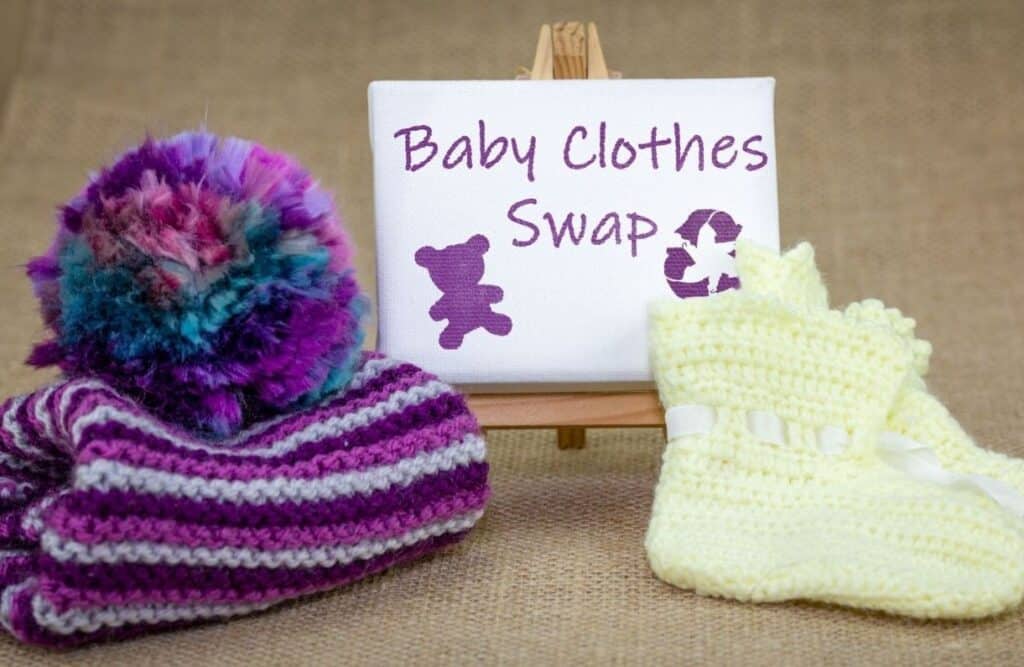 A clothing swap is a great way to declutter all those clothes that no longer fit your children and get some 'new' clothes for them for free.
Children grow so quickly that clothes often become too small long before they become too worn.
These clothes make perfect hand-me-downs, and a clothing swap is a great way to pass around hand-me-downs so that many people benefit at once.
Benefits of Holding a Kids' Clothes Swap
A clothes swap is a great way to add new items to your child's wardrobe without spending any money.
Apart from saving a tonne of money on kids' clothes, the other benefits include:
You reduce landfill – giving clothes a second life is better for the environment
Your child can try new styles they might not usually try (my daughter wouldn't wear jeans if not for a swap)
You can get rid of unwanted items while gaining some needed items
You can meet new people and potentially make new friends
If you run an exchange through a community group, you can raise money for your group
Your child can wear clothes with a story
What do I mean by 'wearing clothes with a story?' When you wear hand-me-downs, you're wearing clothes in which someone celebrated a birthday, learned to ride a bike, or had their first day at kindy.
My daughter received hand-me-downs from her best friend. That best friend has now moved away, and the clothes remind her of her friend every time she wears them, which gives them special meaning.
Formal v Informal Clothes Swapping
I was blessed to be part of a wonderful mother's group that was a source of free kids' clothing when the children were young, especially once we started having second children.
We didn't host formal swaps. Instead, we would bring clothes and have a free-for-all, which worked fine.
The benefit of an informal clothing swap is that there's a lot less work. Dump, rummage, and take what's left to a charity store or textile recycling service.
If you're hosting a clothes swap for a wider circle beyond your friends or a community group, you might want to organise a more formal exchange using the tips below.
How to Organise a Kids' Clothes Swap
A good time to organise a kids' clothing swap is at the end of a season or between seasons when people are clearing out wardrobes.
Think of how many people you want to invite to the swap, the space you'll need and where you'll host it. For a large group, you may want to hire a community hall.
Next, consider the age ranges of the families you're inviting to the swap. A good mix of ages will mean a good mix of sizes. The great thing about swapping children's clothing is you can get larger sizes they can grow into – no one misses out!
A great way to send invitations is with a Facebook event, where you can outline any rules (see below), and let people know the times, what to bring etc.
Usually, the more people, the better. If you want to extend the invitation to a broader group of families, a Facebook event can be easily shared amongst friends.
Set a time and a date, work out the rules of the swap and get ready to take home some free children's clothing.
Tips for Hosting a Clothing Swap for Kids
Whether you allow children to the clothing swap depends on the event you're hosting. Yes, if it's a mother's group morning tea or a community event. If it's a few boozy hours away from parenthood, then no.
If you're hosting the swap at home, you'll want to clear away any clutter and have plenty of extra table space for people to put out clothing. A few clothes racks and hangers will make things easier as well. If kids are coming, you will also want rooms where they can try clothes on.
You may want people to drop off items beforehand so you can sort them by size, gender, or season if you wish. For a large event, you can put out signs to guide people to the correct size.
If you're making a party of it, encourage guests to bring a snack to save money on food. Non-greasy finger food prevents stains on clothes.
If you have event rules (see below) at the end, you may wish to have a free-for-all to get rid of any leftover clothing. You will still have some leftovers, so plan to donate them to a charity.
Guidelines for a Successful Swap
For a formal clothing swap with people beyond your immediate circle of friends, you will want to establish clear guidelines so everyone walks away happy. To ensure everyone is on the same page, send out the rules with the invitation.
Guidelines could include:
Having a swap system where you get to take the same number of items you donate – that way, no one misses out
Limiting the number of items donated to five to ten items otherwise, it can become overwhelming
Asking that all garments are clean and in good condition (no stains, tears, etc.)
Shopping in rounds, so everyone gets a fair pick at the items
For big events, you might give swappers a card with the number of things they donated.
You might not care about tears and paint stains if you're happy to mend items or use them for rough run-around days. We've happily accepted less-than-perfect garments – the kids, when they were young, didn't care about that kind of stuff, so I didn't. So having a pile of clothes for 'mud-pie days' is a good way to get rid of less-than-perfect items.
Another thing to keep in mind is whether you have rules about brands. This can be a tricky one. For example, my friend is a 'Country Road' kind of gal, and we're more 'Target and Kmart', so I certainly get the better end of the deal when it comes to swapping. Some people may feel cheated in this scenario, so it's something to consider.
Swap Tips
If you have older kids, let them have a say in the items they want.
Be choosy about what you bring home, and don't go overboard just because it's free. Too many clothes cause clutter, mess, and kids can be easily overwhelmed by the choice and the chore of keeping them tidy.
Choose items that go with what your child already owns.
Bring a bag to carry your items home in.
Take your unwanted stuff to the charity store to save your host the trouble.
Don't go with expectations but consider ANY freebie a bonus. Don't worry if you couldn't get anything or not as much as you donated. Your donations are being used and not wasted, which is good.
Consider items one or two sizes up from your child's current clothes to save money on future garments.
Many kid's clothing items can be worn by any gender so consider looking at both 'boys' and 'girls' clothes.
Don't forget shoes, hats, jackets, and other accessories that are in good condition.
Use the perpetual decluttering system to keep on top of the outgrown clothes, but put a box aside, especially for clothes swapping or charity.
Kids grow out of clothes so fast. A kids' clothing swap is a great way to get rid of unwanted clothing without ending up in landfills while acquiring new items without spending a cent.