10 tips for Dining out in Style and on a Budget
This website may earn commissions from purchases made through links in this post.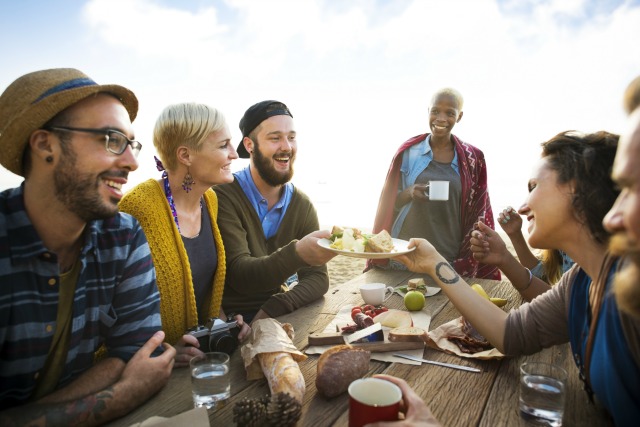 How do you feel about whipping out a two-for-one discount coupon when dining out?
What about if your date did it? Smart with their money, or just plain cheap?
It's been 11 years since I last went on a date. It mustn't have gone too bad, because here we are 11 years on, asking each other whenever we go out: 'Is there a discount for that place?'
With two young kids, we rarely get a chance to dine out anymore. We go out sans-kiddies about twice a year when my mother visits and can babysit (thanks mum).
Because it's a rare treat, and because our budget is tight, we like to look for a nicer restaurant but don't want to spend a fortune.
There's nothing worse than spending your hard earned cash, only to think: 'I could have made that better at home…for a quarter of the cost.'
But while it's cheaper to eat at home, sometimes it's just nice to dine out. Here are some of the ways we save when dining out.
Tips on dining out on a budget
1. Eat out during the week. Some restaurants have specials or meal deals on the slower days of the week (like Tuesdays). We used to get a great meal and drink combo at an up-market pub for $10. An alternative is looking for restaurants who give 'happy hour' meals. It will mean you'll have to eat a little earlier (as someone who eats at 5:15 each night with the kids, that doesn't bother me), but you'll save on the bill.
2. Make the most of discounts. I'm not a fan of Entertainment Books, but my brother and sister-in-law gave us one for Christmas, and we've used quite a lot of the discounts and have got good value out of it (and we shared it around with friends to make the most of it). If you go out a lot, then an Entertainment book might be a great investment. If you're like us and don't really go out, then not such a good investment (unless it was a gift).
I keep an eye out for coupons and shop-a-dockets, as daggy as they are, they can be a great way to save while still eating in a nice restaurant. Signing up to Facebook pages of local restaurants, local 'events' websites and loyalty programs can also be another way to get discounts.
3. Do breakfast or lunch instead of dinner. Breakfasts and lunches are usually a lot cheaper than dinner, especially if there are lunch 'specials'.
4. Eat an appetiser before you go. Appetisers, entrees, mains, desserts…it all adds up. Take the edge off your appetite with a simple appetiser at home and got straight for the main at the restaurant or…
5. Eat entrees as the main meal. Serving sizes can be HUGE at some restaurants. Avoid waste (and the cost of a main) by eating an entree or an entree size as a main course.
6. Limit drinks. Drinks usually come with a hefty mark up, so you can save by limiting the number of drinks or just drinking water with your meal.
7. Share a meal. Some dining experiences lend themselves to sharing more than others. Indian, Thai and Chinese cuisines come to mind here, where you can order one curry and rice and it's sufficient to feed two people. Couple this with a discount or coupon, and it's a nice meal out for very little.
8. Share an entree or dessert. Antipasto or selection type entrees are great for sharing and halve the cost of an entree. And you know, a dessert shared is a calorie halved :).
9. Move on for dessert. Rather than having an expensive dessert in a restaurant, we usually get a takeaway ice cream for a fraction of the cost and take a moonlit walk through the park or along the river or beach with it.
10. Doggy bag the leftovers. Don't waste those huge servings. You've paid for it, so make the most of your money by taking the leftovers home and reheating them for lunch or tomorrows dinner.
What are your tips for saving money when dining out?