How to Monitor Your Budget and Avoid Overspending
This website may earn commissions from purchases made through links in this post.
A budget is no good if you don't use it! Here's how to monitor your budget to make sure you stick to it.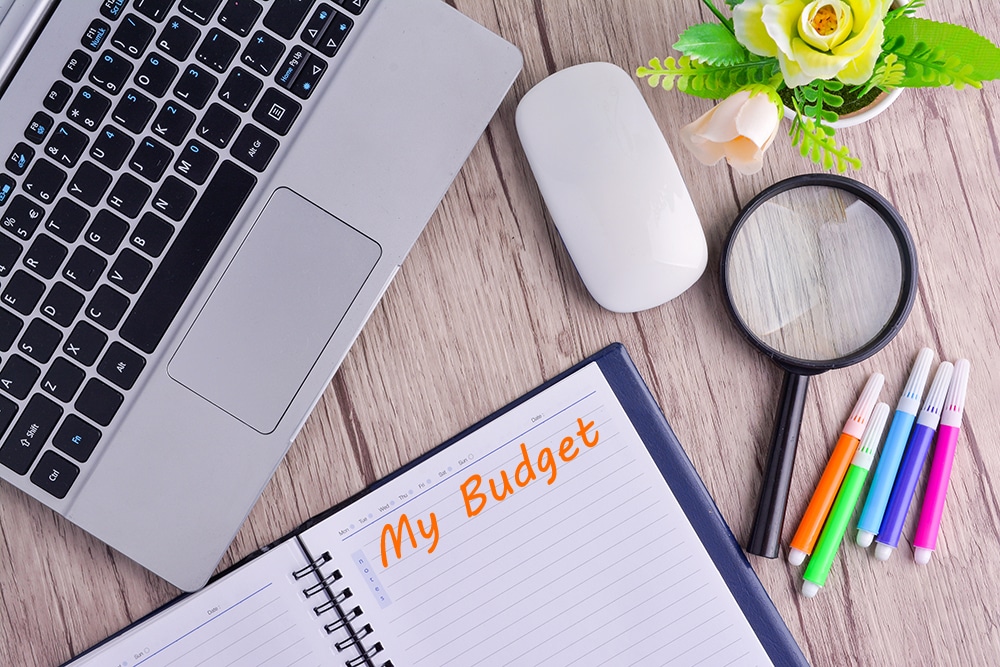 A budget is more than just a passive spreadsheet (or more commonly these days, an app) created in the spirit of good intentions and then forgotten.
Instead, a budget is a tool to help you control your finances. If you want to drive in a nail, you reach for the hammer. If you want to gain control over your finances, you whip out your budget.
The method explained below is the STANDARD method for comparing your actual spending with your budget. It's a useful way to get to know your spending patterns.
If you're looking for an easier way to budget, check out this article and this one. But even if you do use the easy budgeting method, it pays to do this exercise every now and then to make sure you're on top of spending.
Disclaimer: This is general information only. In this blog, I share my savings and budget planning and what works for us. You should always consult a qualified financial expert when making money decisions to tailor plans to suit your circumstances.
Before you Begin – Create a budget
First, you need to create a budget and create a method for tracking your spending.
There are apps available to create a budget (and if you're interested in using an app, you can check out some recommendations here). But as an Excel geek, I prefer a good old spreadsheet over an app.
The benefit of a spreadsheet is that working with your numbers gives you a more intimate relationship with your finances. Apps that automate the process are convenient but they take the THINKING out of the process. And the whole point of a budget is to be more INTENTIONAL about your spending, which requires MENTALLY processing the data.
So below I explain how I use Excel spreadsheets to create and track my budget.
Budgeting using Excel spreadsheets
Before you can create a REALISTIC budget, you need some idea of your current spending patterns.
To do this, track your expenses for a few weeks. Check out the expense tracking article for a detailed explanation of how to do this effectively.
The next step is to draw up a simple budget using the information gleaned from tracking your expenses.
Your budget should show your net income per month, your expenses per month and net cash flow. Net cash flow is how much you have leftover at the end of the month once you deduct expenses from your income.
Your reason for budgeting – every effective budget needs this
One of the factors between a successful budget and a failed budget is having a PURPOSE for sticking to a budget.
Without a reason for saving, it's easy to talk yourself into spending more than you've budgeted. Why not, if you have no reason for saving?
So as part of your budgeting, set aside some time to think about your financial goals and run some calculations on how much money you'll need to achieve those goals.
Adjust your budget to account for your goals. You may need to make adjustments to your spending patterns in order to achieve them. Your budget is your roadmap to success.
Comparing Your Actual Spending with Your Budget
Now that you've got your budget, you can use it to compare your actual spending with your budget.
This is not an exercise that's feasible to do all the time. Instead, it's a great stepping stone towards creating a money plan. A few months of budgeting the old fashioned way lays the foundation for a successful automated budget.
Again, while you can do this exercise in an app, I'm going to show you how I do it using Excel.
Below is just a standard format budget in Excel. Here's the link again to the article on how to draw this budget up in Excel.
The advantage of a yearly cash flow budget is that you can see how your cash flow is tracking each month as well as over the course of a year.
The beauty of a formulated spreadsheet is that you can see immediately how one small change can affect your whole budget and your whole year's finances.
Track Your Actual Spending in Excel
Once you have your budget set up, copy and paste your budget onto a separate excel sheet and delete the numbers leaving all the headings and formatting the same as your budget. Name this sheet "actual".
You should now have two almost identical sheets within the same workbook: your budget and your actual spending.

As you track your expenses, you can now enter them in your "actual spending" spreadsheet.
Now comes the fun part (did I mention I geek out on Excel?). You can use Excel's referential formulas (I'll explain how below) to compare your actual spending to your budget and immediately see if you're overspending.
Here's how to do it.
Compare Your Spending To Your Budget
Create a new sheet in the same workbook and call it "Variance". Copy and paste your budget onto this sheet and delete the numbers again so you have a blank budget that's formatted the same as the one on your budget sheet and your actual sheet.

Now in the INCOME cell of the Variance sheet, type the formula
=Actual!B4-Budget!B4
substituting the B4 for the relevant cell on your budget.

Copy that formula for all income boxes.
For the expenses, do the same formula but the other way around:
=Budget!B12-Actual!B12

This sheet shows the DIFFERENCE between how much you've budgeted and how much you've spent. If the number is POSTIVE, you still have money to spend in that category. If the number is NEGATIVE, you've spent more than you budgeted for that category.
You can make it easier to see at a glance whether you've overspent by adding a conditional format to all the cells with numbers so that they turn red if the number goes into negative.
To create a conditional format, click it on the HOME tab and select Highlight Cells Rules>Less than as shown below.


Then add the formula, the number you want it to be less than. In our case, it's zero, and select your prefered formatting using the drop-down menu.

That's it! You have set up Excel to automatically track the difference between your actual spending, which you enter when you track your expenses and how much you've budgeted to spend.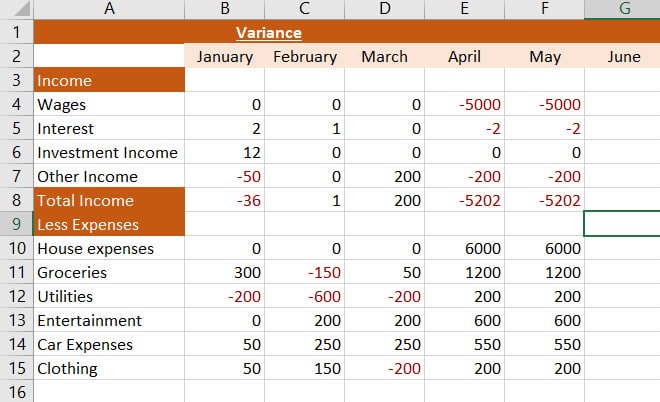 Using Your Variance Sheet
The Variance Sheet you've created allows you to monitor whether you're coming close to your budget or whether you've overspent.
But it doesn't just compare one spending category, it compares multiple spending categories and the total amount of expenses for the month.
So if you overspend in one category, say your electricity bill is higher than expected, you can use your budget to make decisions about where you will underspend in a different category so that you still stick to your budget overall.
And because spending varies from month to month, if you've been under-spending in a certain category for several months, that gives some flexibility to overspend this month but still stay on budget.
(Generally called saving up for something lol).
A budget is an invaluable tool when it comes to gaining control over your finances. Comparing actual spending to your budget gives you REAL-TIME DATA and allows you to monitor your financial progress.
You are no longer in the dark about what you are spending your money on. Or how much is left over at the end of the month. Or how much you are saving each year.
This type of budget allows you to see at a glance whether you are on track to reaching your financial goals.