Alternatives to Plastic Sandwich Bags – Reduce Waste, Save Money
This website may earn commissions from purchases made through links in this post.
Packing lunch in plastic every day can be costly for both your budget and the environment. Check out these seven better alternatives to plastic sandwich bags.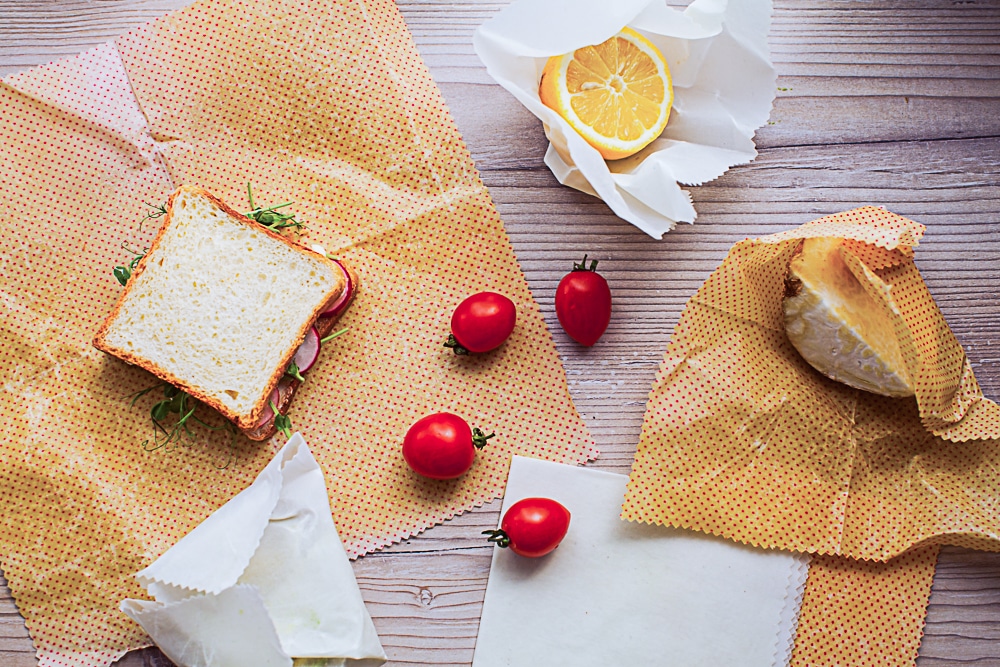 Five lunches a week, 40 weeks a year equals 200 little plastic sandwich baggies.
Add muesli bars, chips or other snacks and the plastic can really add up.
So below are seven alternatives to sandwich bags that can save you money as well as reduce waste.
And if you find you need to pack food wrapped in plastic for whatever reason (sometimes you just have to), there are tips at the end to minimise waste.
7 Alternatives to Plastic Sandwich Bags
Reusable alternatives to Ziploc bags are more expensive up-front. They are the kind of thing that is an investment – they will save you money over time.
That doesn't mean you have to purchase a super-expensive trendy stainless steel lunchbox. Here are some ideas of what to use instead of sandwich bags that are better for the environment, save you money and are budget-friendly.
1. Reusable Containers
The first option is to use a container for sandwiches. This is definitely the easiest option and my preferred option.
You can get stainless steel containers but they are pretty expensive. And there are a whole range of bento-style lunchboxes if that's what you prefer.
While stainless steel and other environmentally-friendly containers are ideal, if they are unaffordable, the next best option is to use a reusable plastic container.
I personally use Sistema plastic sandwich containers. They last for years (my son has been using his for nearly eight years now), they are inexpensive (especially if you buy them on sale) and the company is committed to being environmentally friendly.
2. Paper Bags
The next easiest and cheapest option is old fashioned paper bags.
At three cents each, they are cheaper than Ziplock sandwich bags and they can be composted, so no waste.
The ones in my supermarket are made from recycled materials, so no trees are chopped down for your sandwich wrap.
The downside is that over time, you may end up consuming more resources than their recyclable counterparts which can add up money-wise as well.
3. Baking Paper
Greaseproof paper or waxed paper used to be a good option because they were natural. However many are now coated in plastic and cannot be recycled or composted.
Unbleached baking paper is still an option because can be recycled and composted. You can buy this in the supermarket. Look for compostable brown baking paper.
Baking paper is best used in conjunction with a lunchbox to wrap messy sandwiches in.
4. Sandwich Pouch
A sandwich pouch is a fabric sandwich 'envelope' that has a waterproof food-safe liner and is a great environmentally friendly sandwich bag.
Depending on the brand (double-check the manufacturer's cleaning recommendations), to clean turn inside out and wipe over or wash in warm soapy water. Rinse and hang dry. Some brands are machine washable.
You can also make your own sandwich pouch. Here are some tutorials:
5. Beeswax Wrap
Beeswax wraps are a great alternative to sandwich bags and will prevent your lunch from drying out or the filling from getting everywhere.
The edges 'stick' like cling wrap when you place your warm hands on them. They last around six to twelve months although they can be revived with extra beeswax.
To clean, wash in cool soapy water, rinse and hang dry.
You can make your own beeswax wraps with this tutorial. You can purchase all the ingredients to DIY the wraps here (and a vegan version here).
6. Reusable Silicone Ziplock Pouch
Food-safe silicone pouches give you the convenience of plastic zip-lock bags but because they are reusable, they reduce waste.
As with sandwich bags, they can be used for a range of purposes including freezing food in. To wash, hand wash in warm soapy water and place over a glass or mug to dry.
Silicone pouches can be recycled through a special recycling program through Biome stores.
7. Disposable Plant-Based Ziplock bag
You can buy resealable plant-based plastic bags made from plant starch that are 100% compostable. So you can throw them in your compost bin along with your food scraps.
The downside to this option is twofold. The first is that they are expensive, so you're not saving any money compared to plastic sandwich bags. They are approximately eighteen cents per bag compared to around five cents per bag.
The second is that over time, you may end up consuming more resources over their reusable counterparts.
However, for special circumstances, like travel or camping, for instance, they can be a convenient choice.
What to Do If You Have to Pack Plastic
There are many good reasons for plastic-wrapped food, so no shaming here.
But if you're worried about the waste, then there is something you can do to minimise it.
Encourage your kids to bring their plastic waste home and then Redcycle it. This goes for work lunches as well.
While it isn't the perfect solution, at least this way less plastic ends up in landfill. You can find Redcycle bins outside Coles and Woolworths, so you can drop your bag of soft plastics off before you do a shop.
Just because a sandwich isn't wrapped in plastic doesn't mean the bread wasn't purchased in plastic. So no lunch is truly waste-free. Avoiding plastic when it is practical and Redcycling what you can are two good steps to take.
Luncbox plastic can add up, both in terms of waste and money spent on disposables. Reduce the waste and save money in the long run with these plastic sandwich bag alternatives.
JOIN THE NEWSLETTER