I made these placemats for mum as part of her Christmas gift. They were inspired by some that I saw at the shops, only mine didn't cost $12 each! If you're interested in making some, I've included a tutorial below.
Apart from a little blanket stitch and a bit of practice, this is the first time I've done any embroidery, so this is very much a beginner project. It used satin stitch, and if you can ply a needle, you can do satin stitch.
I created the embroidery design using GIMP, but you can download any embroidery design off the net, create one by hand or copy one out of a book.
You can download the leaf design here.
(instructions for 6 mats)
Materials
approximately 1 1/2 metres (1.6 yards) cotton fabric – prewashed and ironed (I used a linen blend meant for suits because I thought it was nice material)
approximately 1 metre interfacing (1.1 yards) (I used a fairly stiff interfacing, it wasn't iron on)
a roll of ribbon (or 2m / 80'')
embroidery floss to match the ribbon
matching sewing threads
Cutting
Cut 12 pieces of the cotton fabric 30 x 35cm (12'' x 14'')
Cut 6 pieces of interfacing 30 x 35 cm (12'' x 14'')
Cut 6 pieces of ribbon 33 cm (13'') long
Instructions
1. Pin the ribbon approximately 6.5 cm (2 1/2'') from the right edge. Using the zipper foot attachment on the sewing machine and matching thread, stitch the ribbon along each edge.
2. Using a light box, trace the embroidery design onto each of the six pieces of fabric with the ribbon. I ended up drawing a line down the middle of each leaf for the 'vein'. Use a fabric pen if you have one, I just used an ordinary lead pencil to trace the design – it gets covered up anyway.
3. This is the part I enjoy the most – hand embroidering them. I used satin stitch for the leaves and the base of the stem and just plain backstitch for the finer part of the stem. This part takes the longest, I usually do a little at a time during my favourite TV shows.
4. Iron if necessary. If you're using iron on interfacing, iron it on now. Then pin the top, interfacing and bottom in the order pictured.
5. Sew a 1/4 inch seam around all four sides, leaving a gap at the bottom to turn out. Trim the corners.
6. Turn the placemat right side out and use an awl or chop stick to push out the corners, being careful not to poke a hole through the fabric.
7. Give the mat a good press, and hand stitch the opening closed.
8. Top stitch around the mat 1/2 inch from the edge. Press.
And that's it. Six stunning placemats that don't cost $12 each!
I hope you liked the tutorial and the placemats. If there are any instructions that don't make sense, please drop me a line.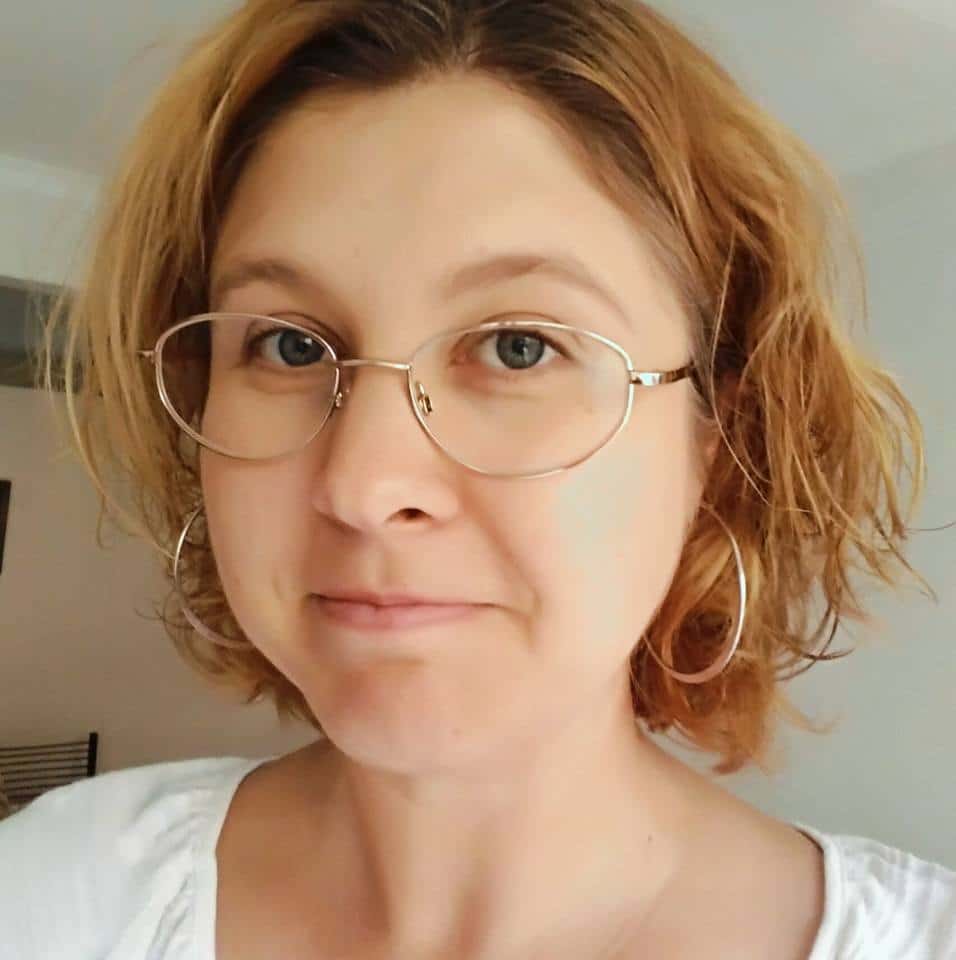 Melissa Goodwin is a writer and the creator of Frugal and Thriving who has a passion for living frugally and encouraging people to thrive on any budget. The blog is nine years old and is almost like her eldest baby. Prior to being a blogger and mum (but not a mummy blogger), she worked as an accountant doing other people's budgets, books and tax.