Tomato Chutney with Australian Bush Spices
This website may earn commissions from purchases made through links in this post.
Try this Australian Bush Spice Tomato Chutney for something a little different. Showcasing some Aussie bush tucker.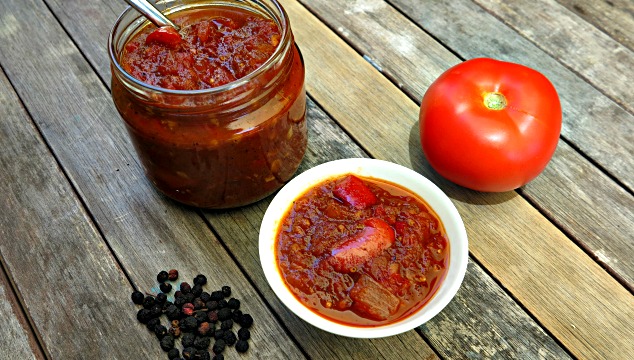 Looking for good, inexpensive gifts?
A homemade food hamper can be pretty glamorous while still being quite cheap.
I like to give food gifts to our extended family for Christmas.
The cousins are all foodies, so I know they will appreciate food hampers.
On the downside, the cousins are all foodies, so the pressure is on to make something really nice while staying in budget.
Homemade preserves, made throughout the year when produce is in season, allows you to do just that. What's more, when the silly season comes round – and hasn't it come round quick this year! – and you're super busy, you have a pantry full preserves, just waiting to be gifted.
Easy!
Although I'm strongly tempted to keep this chutney all for myself. We enjoyed it with brie and crackers the other night and it was gone in a flash.
If I do convince myself to part with some, it will pair nicely as a gift a homemade spice mix, marinade or dukkah.
What makes this tomato chutney that little bit special is it includes a couple of Australian bush spices to lift it from ordinary to gourmet.
Do you cook with Australian bush spices?
It's funny that Australians have adopted just about every cuisine in the world except our own.
And when you think about some of the Australian bush tucker, it's hardly surprising it wasn't adopted as readily as it could have been.
(Witchetty grubs. Need I say more.)
But that's a shame because Australian native foods have a lot to offer.
The bush tomatoes pictured below hardly look very appetising. But don't be deceived by their rabbit-dropping-like appearance. They actually taste quite nice.
Bush tomatoes, are related to the tomatoes we're more familiar with but are actually more closely related to eggplants – all three being part of the nightshade family.
There are over 100 species of bush tomato however only 6 are known to be edible and some are poisonous, so you're safer to buy than forage for your own unless you're with someone who knows what they're doing.
Despite their less than appetising appearance, bush tomatoes add a depth of flavour to your tomato chutney and other dishes that will have friends and family asking you for the recipe.
Ditto with the Pepperberries.
These little berries pack quite a punch. Starting with a sweet and herbal flavour, they leave a fiery, peppery aftertaste, so you may want to go light on the Pepperberries.
Pepperberries have about 3x more antioxidants than blueberries (and blueberries are like the gold standard of antioxidants!), which means they are healthy as well as delicious. They also have strong antimicrobial activity against food spoiling organisms, making them a great addition to preserves like this one.
You can also add them to your peppermill for a different peppery taste.
Where do you get bush spices? You can start at your local health food store or provedore of fine foods. The Herbies brand stocks a wide range of bush spices. And, of course, you can also buy online.
Now on to making the chutney.
This tomato chutney requires you to peel and deseed the tomatoes.
If you're new to peeling tomatoes, here's how to do it: score a cross on the bottom of each tomato with a sharp knife. Drop the tomatoes into boiling water and let them boil for 30 seconds or so. Then dunk them in cold water to stop them cooking further.
The peel should just slip right off, but if it needs a hand, use a sharp knife and peel from the bottom.
Cut the tomatoes into halves or quarters, cut out the core at the top and use the back of your thumb to scoop out the seeds. Ok, you could use a spoon, but fingers and thumbs are so much more convenient.
Once the tomatoes are peeled, seeded and chopped (and it only takes a few minutes) you're ready to get on with cooking the chutney.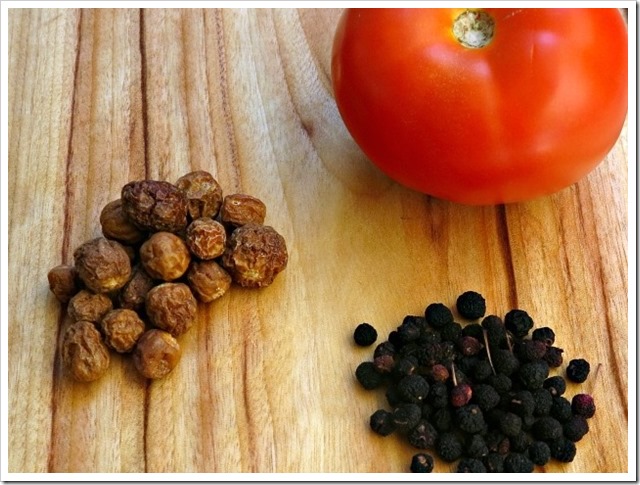 Yield: approx. 1.5 litres
Australian Bush Spiced Tomato Chutney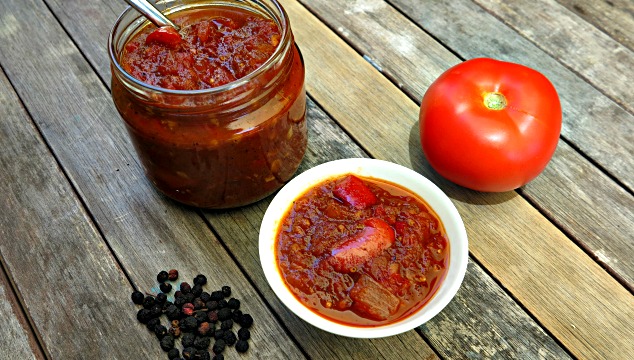 There are many underappreciated Australian native foods. This bush tomato chutney features a few.
Total Time
2 hours
20 minutes
Ingredients
1 kg firm red tomatoes, peeled, deseeded and chopped
3 Tbsp. oil
2 large onions, roughly chopped
1/2 head garlic, peeled and chopped (use a garlic press if you like)
2 red capsicum, deseeded and chopped
125g rapadura sugar (use brown or raw sugar as a substitute)
250mls of red wine vinegar
2 dessertspoons of bush tomatoes, ground in a spice grinder or mortar and pestle
1 – 2 tsp. pepper berries, ground.
Instructions
Heat oil in a large saucepan over medium heat and cook onions, garlic and capsicum for 5 minutes or until softened.
Add tomatoes and cook for 15 minutes to soften.
Add sugar and vinegar and stir until sugar has dissolved. Bring to the boil and simmer for 25 – 30 minutes, stirring frequently, until most of the liquid has evaporated and the mixture is thick.
Stir in the bush tomato and pepper berries (add pepper berries through a sieve) and cook for a further 5 minutes.
Spoon into hot, sterilized jars and seal well.
Process in a water bath (you can find instructions here).
Notes
Chutney will be ready to eat in 1 month. This time allows the flavours to mellow and develop.
Chutney can be stored in a cool, dark place for up to 1 year. Like any preserve, always check for mould before consuming. Refrigerate after opening.
To sterilize jars: wash in HOT soapy water and then place in a 130°C oven for at least 30 minutes.
Food safety recommends all home preserves be processed. High acid preserves like relishes and chutneys can be processed in a water bath. See instructions here. For processing times and more information, check out the USDA website.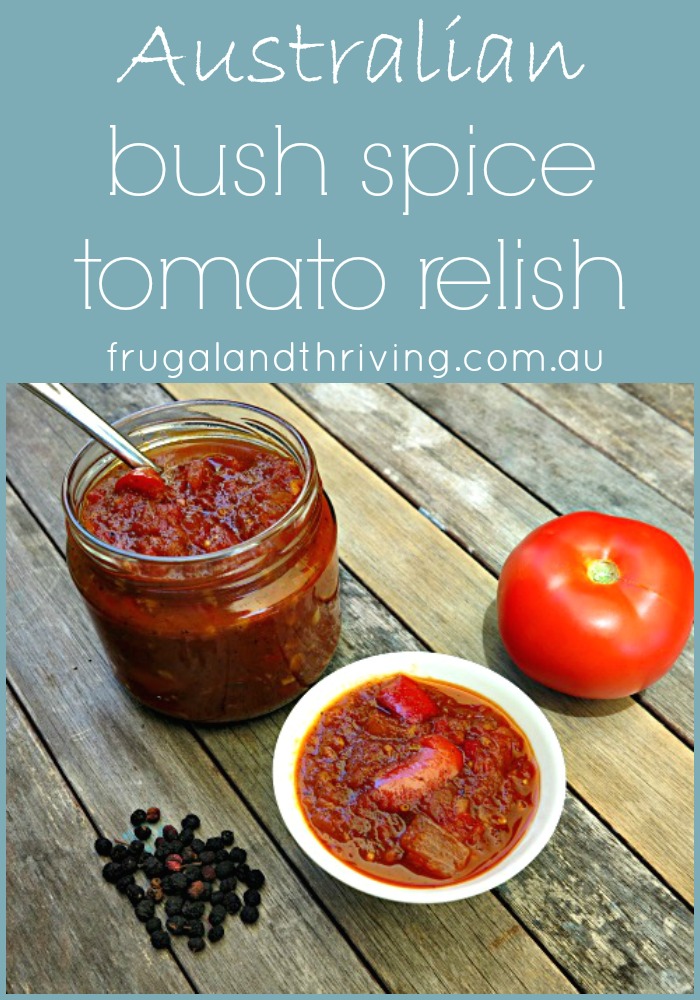 JOIN THE NEWSLETTER