can store loyalty programs save you money?
This website may earn commissions from purchases made through links in this post.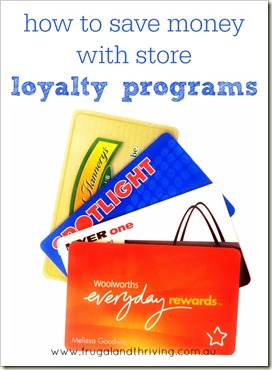 What is the real purpose of a store loyalty program?
Is it to reward loyal customers with discounts and other benefits?
Well, no.
The real purpose of loyalty programs is to get you to spend more money.
And to collect a whole lot of information about you so that stores can use targeted marketing to get you to spend even more money.
So can you save money with store loyalty programs?
Yes!
You can save money. You can save a lot of money.
But..only if you use loyalty cards wisely.
There's nothing evil about targeted and permission marketing. Done well, it can benefit both the business and the consumer.
And there's the catch: you have to wade through the offers that just benefit the business to find the win-win offers.
If a supermarket knows my preferred brand of pasta thanks to the information collected via a rewards card, and uses that information to send me discounts for said pasta, then store makes more sales and I can stock up and save.
That's a win-win.
If they entice me to buy things I don't need however, or I pick up a few impulse on the way to the pasta aisle, then I'm out of pocket.
Which is why you have to be a little bit savvy with loyalty programs to save money rather than spend more than you need to.
how to get the most out of store loyalty cards
1. BE CHOOSY TO WHOM YOU'RE LOYAL
What are your favourite loyalty programs?
If you're like me, you have some you use all the time, and others that never see the light of day.
Nearly every business has a loyalty program these days. But not all of them will be relevant or useful to you.
So don't sign up to every loyalty program available.
The best loyalty programs are with stores that you already shop with. Otherwise all you get is a wallet full of little plastic cards that never get used.
If you sign up for a loyalty program with stores you already shop with, you don't have to change your spending patterns to benefit.
2. OPT FOR PROGRAMS THAT OFFER RELEVANT REWARDS
Personally, I prefer programs that offer discounts on items that I normally buy or gift certificates.
Coffee machines, knife sets and other things I don't need and that I have to save up 24 million points for don't float my boat, but other people love Flybuys and use the rewards as Christmas gifts.
I don't fly much, but frequent travellers will benefit from frequent flyer points.
My local health food store has 15% off each month for VIP members. I shop there anyway, so it makes sense to join the program and save on the regular price.
I read a lot and as well as visit the library regularly, I buy eBooks from Kobo. I appreciate their member newsletters on the latest new releases and I use the discounts (it pays, however, to Google coupon codes to see if you can find a better current discount).
I get a gift certificate from Woolies and a free coffee from my favourite cafe all for doing what I would have done anyway.
The point is to choose rewards programs that you will actually benefit from.
3. CASH IN THE HAND IS BETTER THAN POINTS ON YOUR CARD
Stores use earning points to entice you to spend more than you planned.
But if you don't need something in the first place, it isn't worth the points!
Some stores hold promotions where you can 'double points', or earn hundreds of extra points if you purchase during the promotion.
And it works. These promotions can increase sales by up to 20%.
But that $25 voucher earned with points isn't worth it if you could have purchased the item for $80 less at a competing store.
Make a loyalty work for you you: if you're going to make a purchase, use a loyalty card to accrue points. But don't get trapped into buying things you don't need or buying things at a premium (in other words, being too loyal), when you can buy them cheaper somewhere else.
4. BEWARE OF IMPULSE BUYS
Often when you sign up for a loyalty program, you're consenting to receive promotional emails. Keeping track of sales and special offers is a great way to save money, unless…
they tempt you to buy things you don't need.
If there's something that you need, it's smart to wait for promotions and to use promotional emails alert you to promotions.
But if impulse buying is just too tempting 'opt out' of emails. At the same time, make sure you say no to receiving information from third-parties.
Can you save money with store loyalty programs?
The answer is yes, but…you have to be savvy about it, otherwise they could end up costing you extra.
Are you a member of store loyalty programs? Tells us in the comments below what are the best loyalty programs in Australia and what are their benefits.
Melissa Goodwin has been writing about frugal living for 10+ year but has been saving her pennies since she first got pocket money. Prior to writing about frugal living, Melissa worked as an accountant. As well as a diploma of accounting, Melissa has an honours degree in humanities including writing and research and she studied to be a teacher and loves sharing the things that she has learned and helping others to achieve their goals. She has been preparing all her life to write about frugal living skills.
JOIN THE NEWSLETTER