reviving lost skills: mending clothes
This website may earn commissions from purchases made through links in this post.
"Ending is better than mending. The more stitches, the less riches." – Aldous Huxley, Brave New World.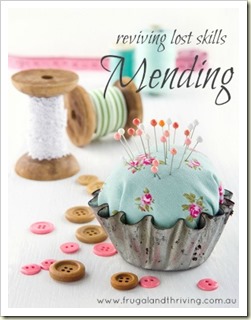 Whenever I revisit Aldous Huxley's classic novel, I get the feeling that we have come pretty close to living his dystopian vision, at least when it comes to an economy driven by mass consumerism.
And if there is one thing that symbolises our throw-away, buy-more culture, it's clothing. There's even a name for it: 'fast fashion'.
Fast fashion is a strategy of moving high-end catwalk trends into stores in the shortest amount of time at the cheapest possible price point. The fashion industry can design, manufacture and distribute new products in as little as three weeks, and they do so at bargain prices, at the expense of quality and fair working conditions [source].
A new fashion trend every three weeks? That's a lot of clothes to keep up with. And yet, what underlies this economic strategy is our willingness as customers to participate.
The result is overstuffed wardrobes and a lot of wasted textiles.
"Britons on average throw away 30 kilograms of clothes each year, while in Australia, unrecovered textile waste accounts for about 4 per cent of landfill." [source].
So how can we reduce waste and save money at the same time?
mending is better than ending
The key to reducing waste and saving money, in the long run, is to buy quality, classic styles of clothing, look after them well and mend them if you can when it becomes necessary. Not only will you save money, but you will also always be ahead of the trends.
Mending is a bit of a lost skill. After all, why mend when you can get a $3 top from Kmart? And who has time to mend anyway?
But all of those purchases add up: financially, environmentally and socially.
You don't need to have a lot of time to mend clothes. Nor do you need to be an expert seamstress (tailor??) to make basic repairs.
And you don't need a sewing machine or a bunch of fancy tools.
Just a needle and thread.
And access to YouTube or a good library book on basic sewing and mending.
There's been a lot of talk about how unskilled our generation is, as a generalisation, particularly when it comes to basic living skills. This year I'll be taking a look at some of the important life skills that it's wise to foster.
I know a lot of readers are already expert sewers, many more advanced than I am, but if you're not a sewer, maybe learning to do basic mending to clothes, like sew on a button or mend a split seam, is a good place to start.
"People seldom notice old clothes if you wear a big smile." Lee Mildon
Do you mend your clothes? What are your tips for mending?