Mini Caramel and Chocolate Tarts with Easy Biscuit Bases
This website may earn commissions from purchases made through links in this post.
These mini chocolate and caramel tarts are easy to make in a just minutes and are always a crowd pleaser. Great for desserts, afternoon tea, or when you need to 'bring a plate'.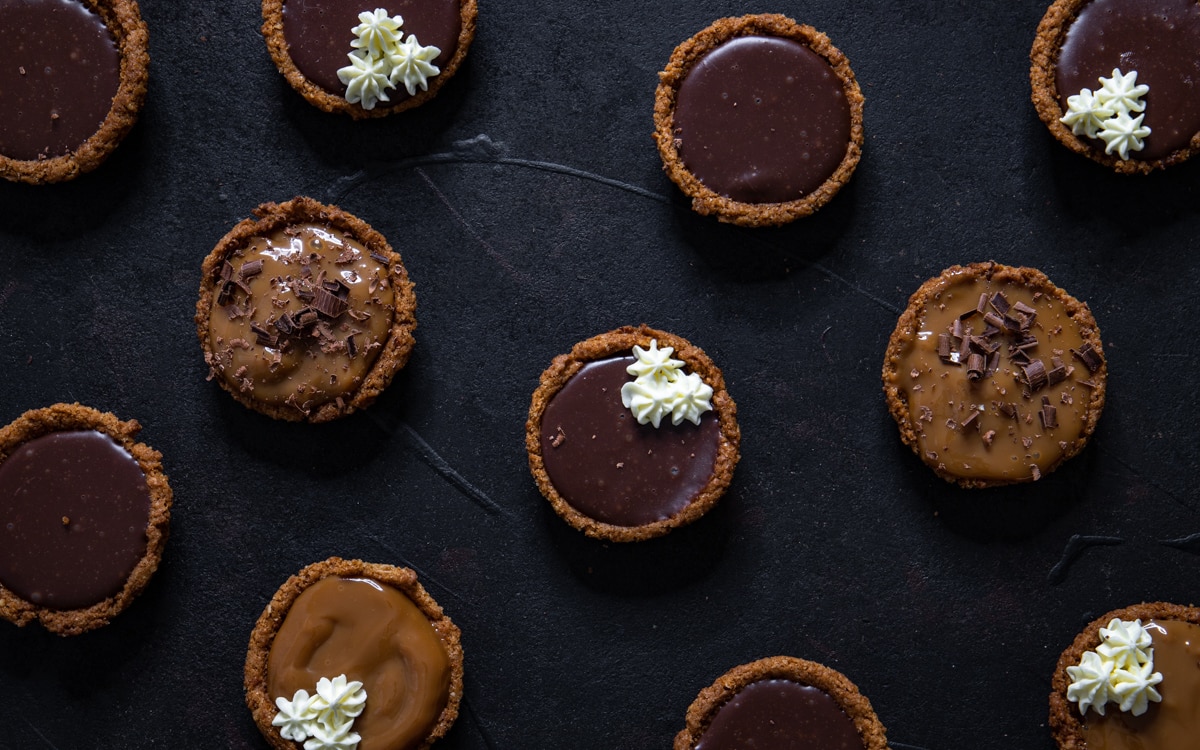 Quick and easy, these tarts are easy to whip up in minutes but are always a crowd-pleaser.
My mum has been making these since way back in the 80s – she was always asked to bring these caramel tarts whenever we had to 'bring a plate'. Back then, she would use honey snap biscuits, but unfortunately, Arnott's stopped making them. Butternut biscuits are an excellent substitution.
These tarts make elegant desserts, are perfect for dainty high teas, and are good for barbeques and other events when you need to feed a crowd.
Equipment Needed to Make Mini Chocolate and Caramel Tarts
The biscuit tarts are best made in a patty pan (and the patty pan is perfect for pastry tarts, too).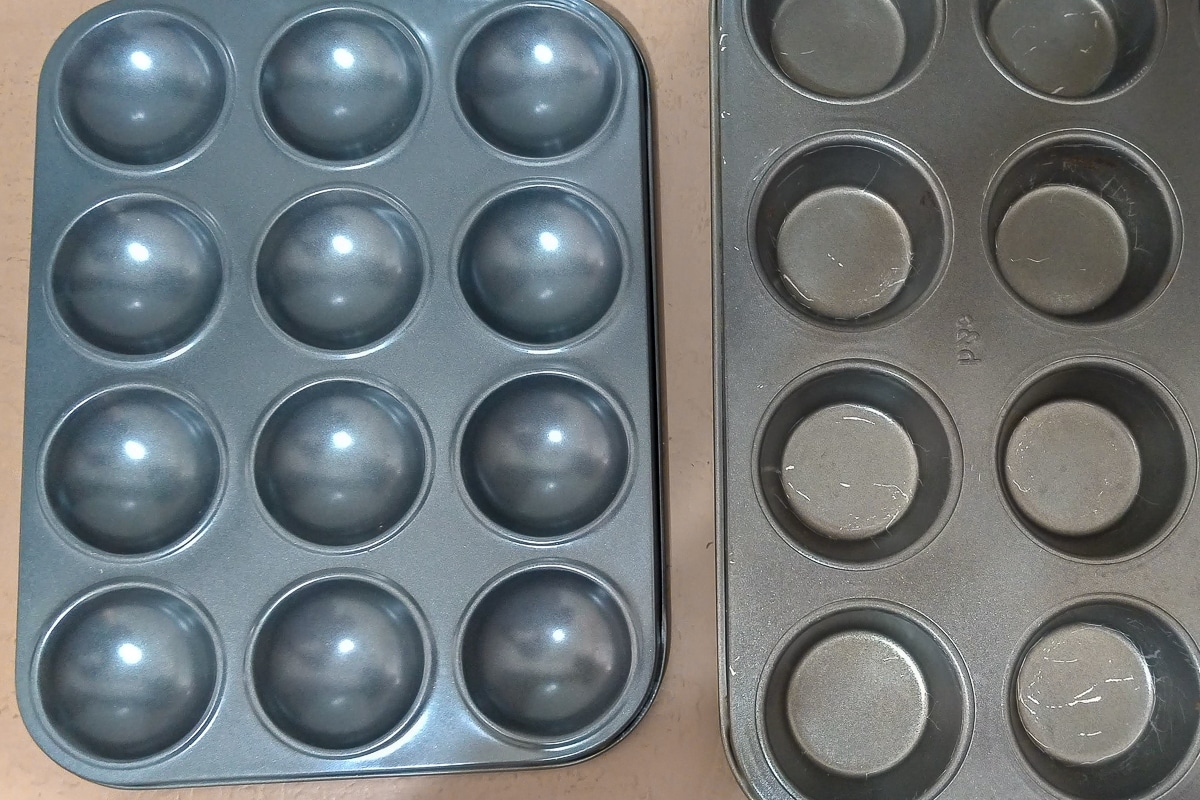 Patty pans have shallower, rounder holes than a muffin tin and are used to make mini tarts, mini cakes and pies. Cakes made in a patty pan are bite-size, not muffin-size – ideal for baking delicate morsels for a high tea.
I got my patty pan (Wiltshire brand) on Amazon for $12 (2023 price). You can sometimes find them in stores like Big W, Bunnings, and kitchen stores.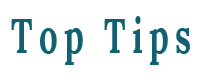 There's not much of a lip on these pans – I use a pair of tongs to partially ease the pan out of the oven so I can get a better hold of the tray with oven mitts.
How to Make the Biscuit Tartlet Bases
Biscuit tart shells are easy to make in just two steps.
The best biscuits to use for tart shells are round ones like Arnott's Butternut biscuits, Choc Ripple biscuits, or Gingernut biscuits (or any round biscuit, including gluten-free ones), depending on the taste you're going for. Thinner biscuits will require less time in the oven.
Once cooled, you can fill the tart shells with caramel, chocolate, or your favourite fillings.
Check out the video for the full process.
Making the Chocolate Filling
The chocolate filling is just three ingredients: butter, cream, and dark chocolate.
Melt the butter in a saucepan or in the microwave until nearly melted and remove from the heat.
Add the cream and the chopped chocolate and stir until the chocolate has melted.
Fill the biscuit tart shells and place in the fridge until the chocolate filling has set.
You can serve the tarts as is, or decorate with cream. In the picture above, I piped three little swirls of cream because it looks pretty but not going to lie, I like these with a big dollop of whipped cream!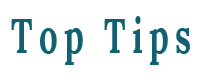 Looking for an easy alternative to making chocolate pie filling? You can use Nutella instead.
Making Caramel Filling From Scratch
Using a ready-made a tin of caramel makes these tarts super easy, but if you would prefer to make your own, you can do so easily by boiling a tin of condensed milk according to these instructions.
Alternatively you can also make dulce de leche with butter, sugar, milk, and condensed milk. The BBC Good Food website has a good dulce de leche recipe if you want to make it from scratch.
Whether you make the caramel yourself or use ready-made, these tarts are great topped with whipped cream and/or grated chocolate.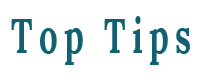 Crumbled Cadbury Flake chocolate is an easy alternative to grating chocolate to decorate the tarts.
Yield: 12 tarts
Easy Mini Chocolate and Caramel Tarts with Biscuit Base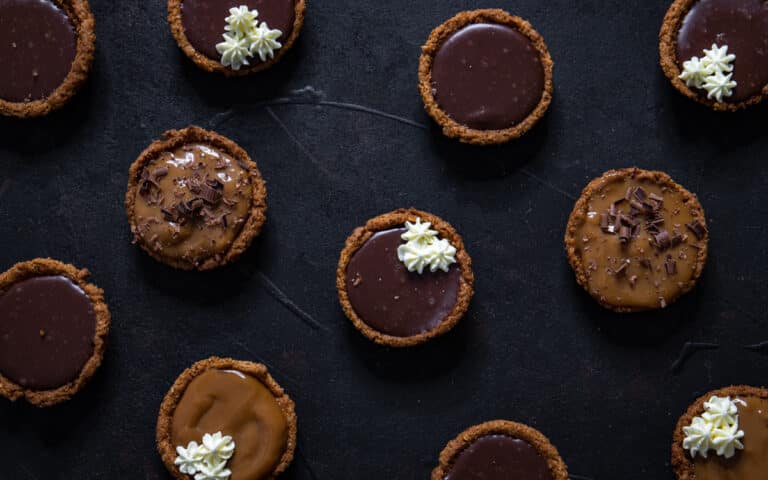 Mini chocolate and caramel tarts are easy and always a crowd pleaser. Great for desserts, afternoon tea, or when you need to 'bring a plate'.
Additional Time
10 minutes
Ingredients
1 packet Arnott's Butternut Biscuits
Carmel Filling: 1 can Nestle Top 'n' Fill Caramel
Chocolate filling (makes 12)
100g chocolate, chopped
50ml thickened cream
25g butter
Optional extra: whipped cream and grated chocolate for decorating
Instructions
For the Biscuit Base
Preheat oven to 160°C (140°C fan-forced) and place the biscuits onto the patty pan.
Warm the biscuits for four to five minutes or until soft.
Working quickly, press the biscuits with a dessert spoon to form a curved tart shape.
Place tarts on a wire rack to cool.
Once cool, the tarts can be filled with your desired filling.
For the Caramel Tarts
Fill the cooled biscuit cases with caramel.
Top with whipped cream and/or grated chocolate if desired.
For the Chocolate Tarts
Melt the butter in a saucepan until nearly melted.
Remove from the heat and stir in the cream and chocolate.
Continue to stir until all the chocolate is melted.
Spoon the chocolate filling into the biscuit tarts and refrigerate until set.
Decorate with whipped cream if desired.
Notes
There's no extra sugar in the chocolate filling so it will be as sweet as the chocolate you choose. 70% Lindt dark chocolate will produce a very rich, but not sweet filling.
Nutrition Information:
Yield:
12
Serving Size:
1
Amount Per Serving:
Calories:

111
Total Fat:

7g
Saturated Fat:

4g
Trans Fat:

0g
Unsaturated Fat:

3g
Cholesterol:

12mg
Sodium:

65mg
Carbohydrates:

11g
Fiber:

0g
Sugar:

8g
Protein:

1g
Nutritional information is calculated automatically using the Nutritionix database. The instructions include chocolate and caramel filling, (so not very accurate in this instance) so you should calculate the nutritional value yourself depending on which tarts you make, and whether you add cream extra and flaked chocolate. Nutrition information can vary for a recipe based on factors such as precision of measurements, brands, ingredient freshness, serving size or the source of nutrition data. We strive to keep the information as accurate as possible but make no warranties regarding its accuracy. We encourage readers to make their own calculations based on the actual ingredients used in your recipe, using your preferred nutrition calculator.