Frugal Date Ideas to Keep the Romance Alive Without Breaking the Budget
This website may earn commissions from purchases made through links in this post.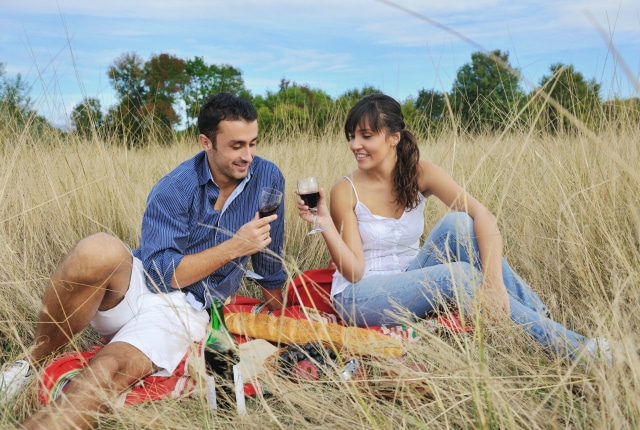 Regular quality time together is super important for healthy relationships. And while dinner at a fancy restaurant would be lovely, it's not essential for keeping the romance alive.
A frugal date can be just as romantic as grand gestures – it's all about creating the right atmosphere and connecting on an intimate level.
The first most important step for a frugal date – or any date – is to stash away the mobile phones. It's hard to spend quality time together when you're distracted.
The other essential part of a romantic date is a little bit of effort. There is nothing more romantic than effort. Effort says "I value you so much that I wanted to go the extra mile to make this time with you something special."
Effort isn't about spending money. Anything that shows a little bit of forethought and planning shows your date you've got them on your mind. And that is very romantic.
11 FRUGAL DATE IDEAS
1. GO ON A PICNIC
It's all about location, location location. Whether it's on the beach, or beside a creek in the country, or in the botanical gardens in the city, a picnic is about as romantic as you can get.
You don't need to spend a lot of money on food: a good cheese and a baguette; fish and chips; a bottle of wine and a homemade risotto – even a BBQ chook will work if you're watching the sunset or stargazing.
2. DINE AT HOME
When doing dinner at home, it's all about creating a romantic atmosphere so that it's distinguished from every other dinner at home.
Cooking together can be an intimate part of the date, so don't stress about making a perfect meal before they arrive or come home.
Turn off the TV, set the table up nice, light a few candles and eat something a little special that you wouldn't normally eat.
If the weather is good, try alfresco dining. It's dinner 'out' without having to pay for a babysitter. Outdoor dining can be a nice change and set the mood for connecting with your loved one.
3. SHARE YOUR FAVOURITE TREAT
Maybe you both enjoy a fine dark chocolate. Or a cup of tea in bed, early in the morning. Or a craft beer.
Or maybe your favourite treat has nothing to do with food. Maybe it's browsing a bookstore or watching a movie.
Sharing your favourite things with your partner and vice versa will bring you closer together.
4. GO FOR A STROLL
It's easier to open up when you're walking. Walking and talking is a great way to go deeper into a conversation, without feeling awkward (it's an eye contact thing).
A simple stroll together after work can make all the difference between strengthening your connection to one another.
A walking date is both good for your health and good for your relationship!
5. VISIT A LOCAL ATTRACTION
A local event or attraction can offer an inexpensive date opportunity.
Stroll through the local art gallery, visit a local market, go hiking in the national park, browse your local bookstore, enjoy a free performance in the park.
Accompany any of these things with a picnic or a coffee and you've got a lovely inexpensive day out.
More into the theatre, sports or concerts? Check out your local paper or events directory for small productions, local sports events or concerts. They will be a fraction of the cost of the bigger events, but just as enjoyable.
6. TAKE ADVANTAGE OF DISCOUNTS, COUPONS AND CHEAP NIGHTS
Whipping out a fist full of shop-a-dockets may seem a bit daggy on a first date, but hey, what your date doesn't know won't hurt them, right? A frugal date will see it as smart: having a fun time without overspending!
Look for coupons in the local papers, shop-a-dockets, two-for-one deals, discounts, specials and make the most of the savings.
If you're wanting to do something extra special, like a night away, make sure you get the best deal on accommodation and look for discounts on food and entertainment to squeeze as much fun out of your money as you can.
7. BREAKFAST, BRUNCH AND LUNCH
Dinner out can be pretty expensive, but you can save by doing breakfast or lunch instead.
I love a breakfast out – a hot coffee and eggs benny and the Saturday paper (what a luxury – to read a paper!), then a stroll afterwards.
Maybe we'll browse a bookstore or go for a walk along the beach. Breakfast or lunch is a great way to cut the expense of dining out, while still enjoying the experience – and it's a bit different from the old dinner out too.
8.HANG OUT
How often do we get time to just hang out with our partners?
There's work, the housework, grocery shopping, kids, cooking, emails, TV…
Sometimes, rather than doing anything specific together, it's nice just to hang out.
Read a book or the newspaper in each other's company. Work on your hobbies together. Do the gardening together. Turn out the lights and listen to music and talk.
These are my favourite ways to spend time with my husband.
9. HAVE A MOVIE NIGHT IN
Nothing beats a snuggle on the couch with some popcorn and chocolate and a movie for a romantic night in.
Enjoy a romantic classic or the latest Netflix offering or download something special from the Google Play / iTunes store.
It's a good idea to watch a movie first and then have a meal. The movie gives you something to talk about and discussing the movie can give you greater insight into each other's personality, bringing you closer together.
10. READ TO EACH OTHER
Reading out loud can be a bit awkward these days because it's not the done thing anymore, but it's an intimate way to spend an evening.
The upside to reading the same book is that you can discuss it together too.
If reading aloud is just too weird, try an audio book instead – it's not quite as intimate, but it's a bit different to watching a movie. You can download these for free from your local library.
11. PLAY
Even adults have to play and there's nothing like playing, laughing and having fun together to deepen your bond.
When we're in a long-term relationship, play can get lost amongst all the day to day living.
Swing on a swing at night. Go down a slide. Tell a joke. Tickle. Play a board game or poker… and see where play takes you.
Laughing. Playing. Connecting. Isn't that what dates are all about?
Whether you're getting to know someone new or reconnecting with your long-term partner, dates don't have to be expensive. Connect with your loved one without breaking the budget with these frugal date ideas.