Serve this easy spinach artichoke dip recipe warm. It's a perfect winter dip. This version is cooked on the stove top, saving time and electricity. Served in under 10 minutes!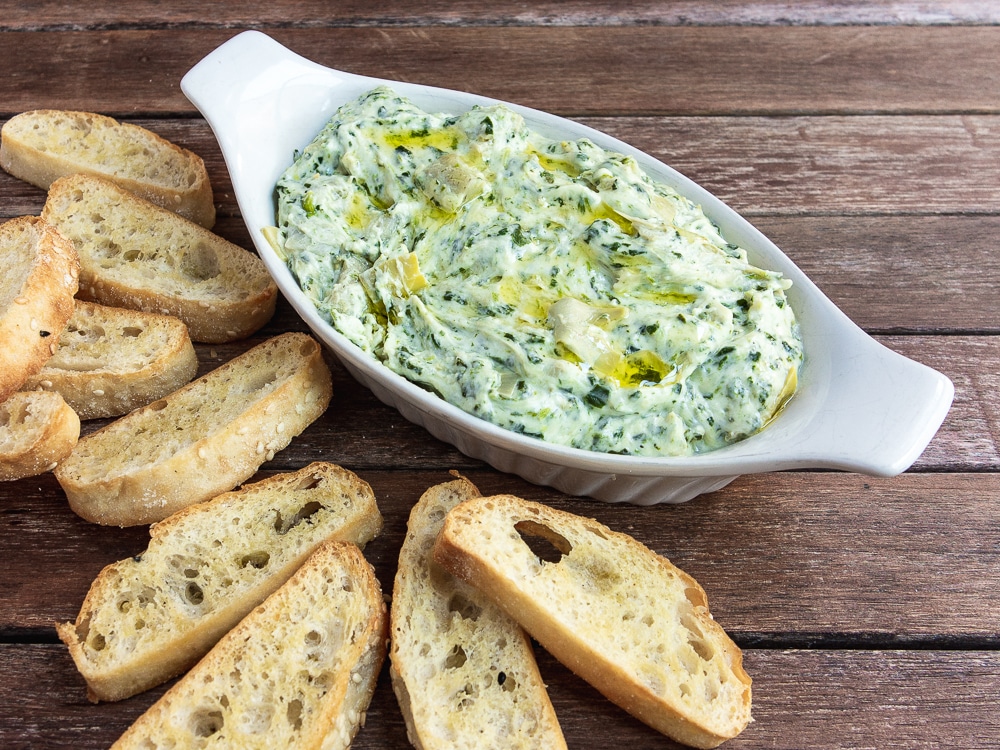 This classic dip is quick and easy to make with foods you can keep in your pantry or freezer.
Because it's served warm, it's a great dip for winter entertaining. Serve along with toasted bread or as part of a larger nibbles platter.
What makes this dip so easy is that it's a stovetop version.
Ingredients in Spinach and Artichoke Dip
Besides spinach and tinned artichokes, there is also cream cheese, mozzarella, parmesan, sour cream and garlic.
Some recipes also add mayonnaise but for me, that's overkill. If you want to add mayo, substitute part of the sour cream with mayonnaise.
If you don't have mozzarella, use the cheese you have on hand. Regular cheddar is fine.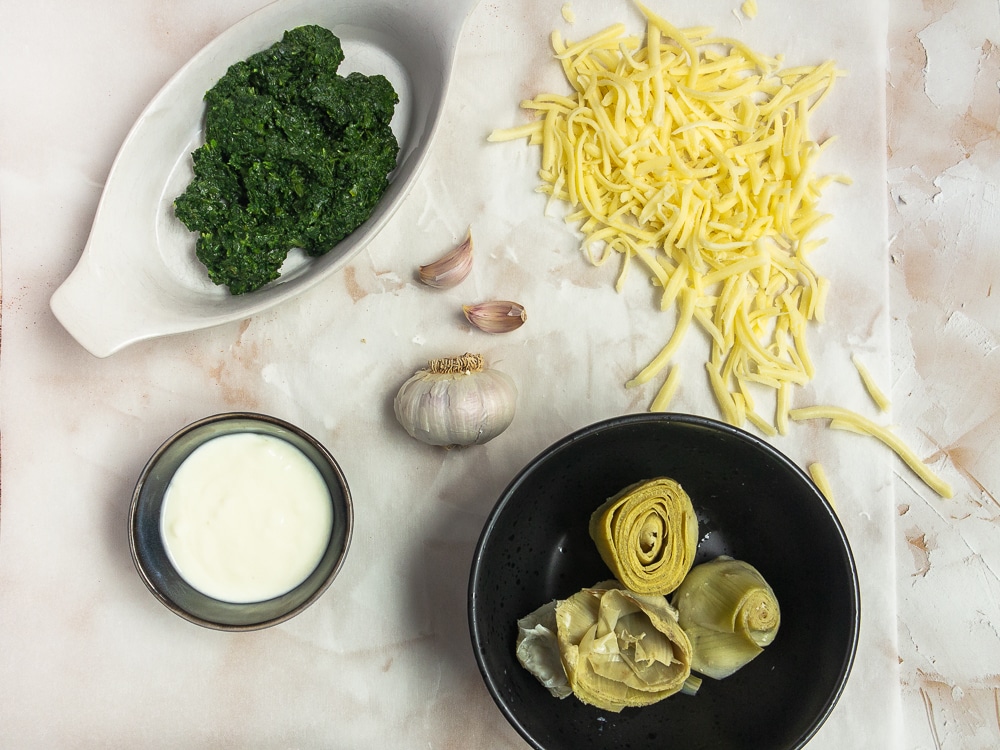 The beauty of this dip is you can keep a spare tin of artichokes at the back of the pantry and some frozen spinach and mozzarella in the freezer ready to throw this dish together in a few minutes.
If you're going to keep tinned artichokes in the pantry, it's good to have a few dishes up your sleeve for variety. I like this Tuscan Chicken recipe that also uses artichokes.
To make this dip lighter, use light cream cheese and either light sour cream or natural yoghurt, which will give the dish a slightly more tangy flavour.
Cooking with frozen spinach
Frozen spinach has a lot of water in it that needs to be squeezed out.
Defrost the spinach and then place in a strainer over a bowl or the sink. Then squeeze the spinach in your hands to remove the excess water. It's then ready to use.
Making this dip with fresh spinach
If you prefer, you can make this dip with fresh spinach.
Wash your fresh spinach and wilt it in a frypan over medium heat. It will cook in the little bit of water clinging the leaves from washing it.
Once it's wilted, let it cool, chop and then squeeze the excess water out as with the frozen spinach.
Cooking spinach and artichoke dip
Many recipes mix the ingredients together and then bake the dip. The advantage of baking it is that you can top it with extra cheese and get that melty cheese top.
However, cooking the dip on the stove will save time and electricity!
To cook the spinach and artichoke dip on the stove, put all the ingredients in a pot and heat over medium-low heat, stirring, until the cheese is melted and everything is warm.
Make sure to stir it so it doesn't burn on the bottom. The whole process should take less than five minutes.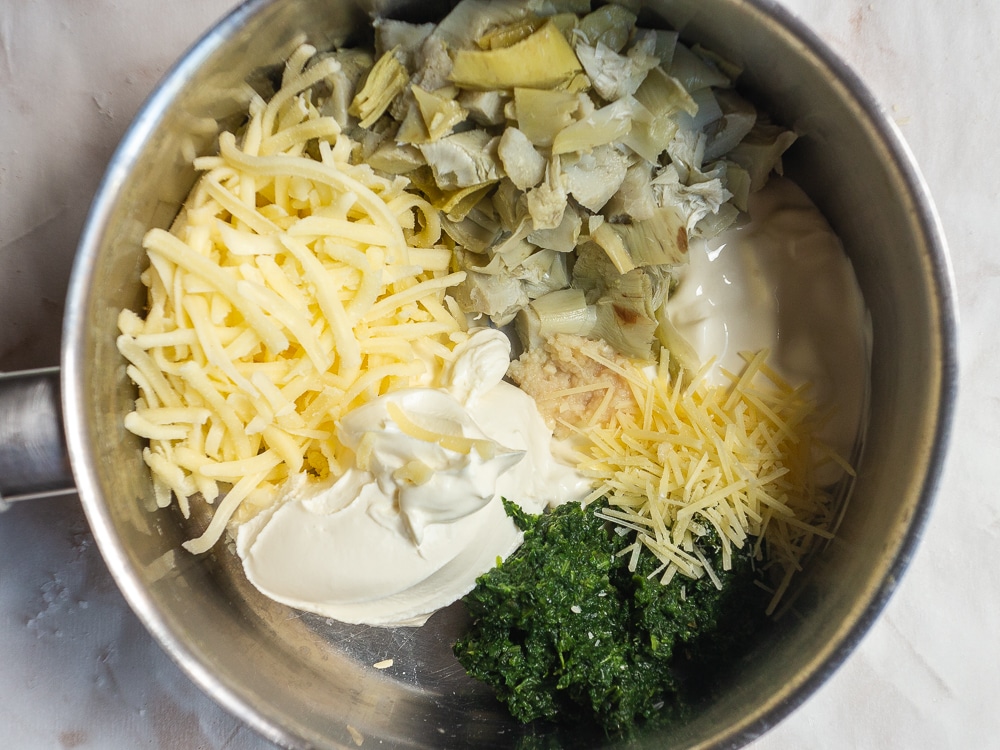 What do you serve with artichoke dip?
This dip goes really well with toasted ciabatta bread, toasted Turkish bread (pictured) or baguette.
Slice the bread, brush with a little olive oil and bake in a hot oven for 5 – 10 minutes until golden.
You can also eat this dip with your favourite crackers.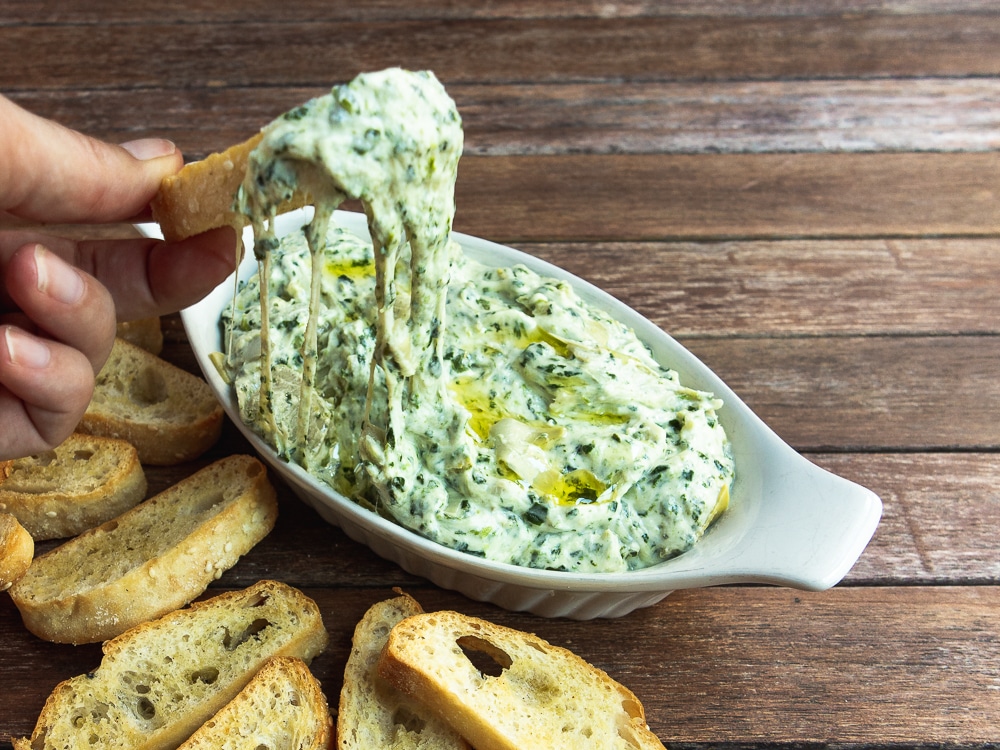 Using Up Leftovers and Reheating
You can definitely eat this cold then next day. I like it spread on toast. Or you could use it as a sandwich spread along with chicken and salad.
But if you would prefer to reheat it, either warm it in the microwave or reheat in a saucepan on the stove over low heat until warmed through.
Other ways to use this dip up is to stir through pasta as a simple pasta sauce or through cooked vegetables for a simple but different vegetable casserole. Top with cheese and bake, then serve as a side to chicken or steak.
Yield: 2 cups
Easy Spinach and Artichoke Dip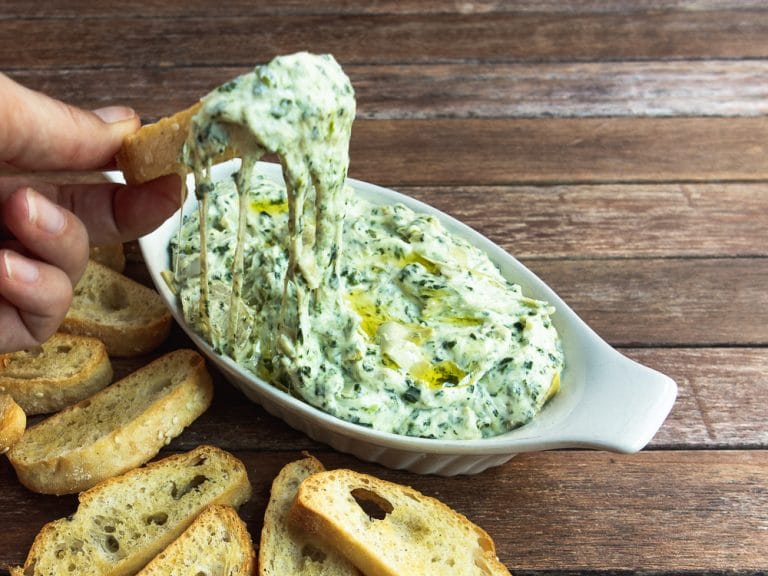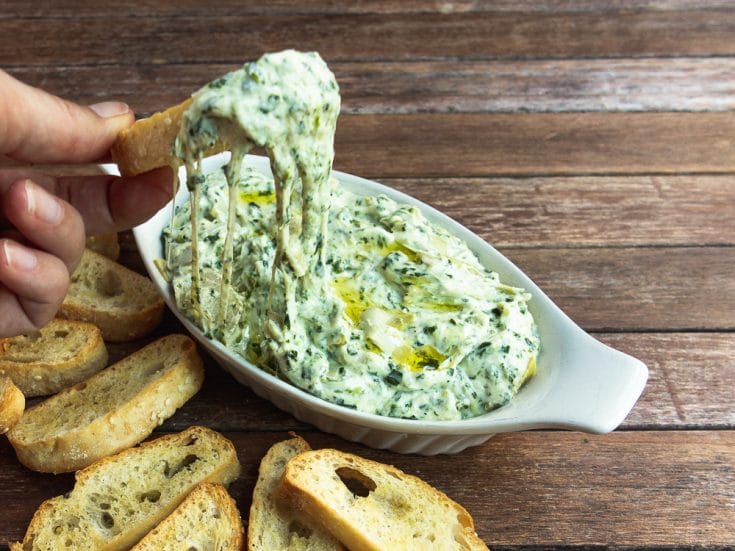 This warm and cheesy dip is made on the stovetop rather than baked in the oven.
Ingredients
250g cream cheese
1/2 cup of sour cream
1 can of artichoke hearts, drained and chopped
1 250g packet of frozen spinach, defrosted
1 clove garlic, minced
3/4 cup of mozzarella cheese
1/2 cup parmesan cheese
salt and pepper to taste
Instructions
Place defrosted spinach into a sieve and squeeze excess moisture out of the spinach.
Place all ingredients in a saucepan and cook, stirring, over low heat until cheese has melted.
Taste, season and serve.
Notes
Don't have mozzarella or parmesan? Use whatever cheeses you have on hand.
To use fresh spinach, wilt over medium heat in a pan. Cool, chop and squeeze out excess moisture the same as frozen.
Add a little zing by stirring in a little grated lemon rind.
Nutrition Information:
Yield:
12
Serving Size:
1
Amount Per Serving:
Calories:

139
Total Fat:

12g
Saturated Fat:

7g
Trans Fat:

0g
Unsaturated Fat:

4g
Cholesterol:

36mg
Sodium:

234mg
Carbohydrates:

4g
Fiber:

1g
Sugar:

1g
Protein:

5g
Nutritional information is calculated automatically using the Nutritionix database. Nutrition information can vary for a recipe based on factors such as precision of measurements, brands, ingredient freshness, serving size or the source of nutrition data. We strive to keep the information as accurate as possible but make no warranties regarding its accuracy. We encourage readers to make their own calculations based on the actual ingredients used in your recipe, using your preferred nutrition calculator.
Melissa Goodwin is a writer and the creator of Frugal and Thriving who has a passion for living frugally and encouraging people to thrive on any budget. The blog is nine years old and is almost like her eldest baby. Prior to being a blogger and mum (but not a mummy blogger), she worked as an accountant doing other people's budgets, books and tax.