Simple Garlic Mashed Potatoes – Vegetable Side Dish
This website may earn commissions from purchases made through links in this post.
Add depth to ordinary mash with garlic. These simple garlic mashed potatoes have a subtle flavour without being too garlicy.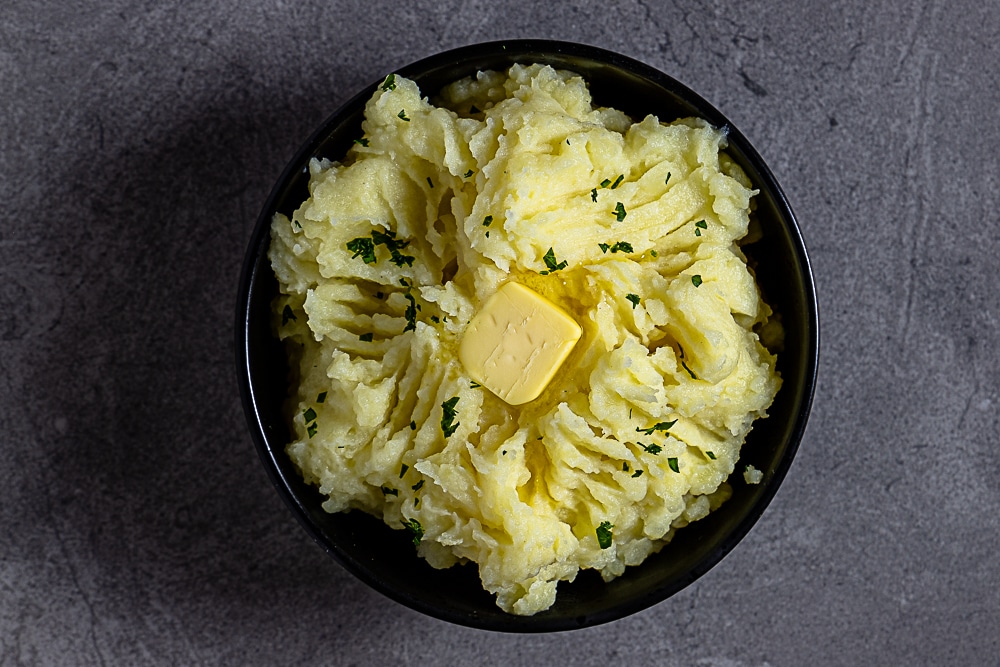 Nothing says comfort food like a hearty serving of mashed potato. When winter is upon us and we feel the need to be wrapped in buttery carbs, mashed potato is there like an old friend with a warm hug.
This version of mashed potato takes it to the next level by adding garlic. And you can't have too much garlic during winter cold and flu season.
But rather than being pungent, the garlic in this mash is mellow and subtle because the garlic is boiled in its skin along with the spuds. Then the soft flesh is squeezed into the mash.
How to Make Perfect Mashed Potato
To make the perfect garlic mash, first boil the potatoes along with a couple of garlic cloves, still in their skin, until the potatoes are tender enough to fall off a fork when you test them. You want the potatoes nice and soft the whole way through otherwise you'll end up with lumpy mash.
Drain the potatoes, remove the garlic to cool and return just the spuds to the pot.
Put the pot back on the stove burner just for a minute, tossing the potatoes so they don't stick and burn to the bottom of the pot. The reason for doing this is to dry the potatoes out so your mash isn't waterlogged and insipid.
After the garlic has cooled a bit so you can handle it, squeeze that lovely garlic flesh out of the skin and back into the pot with the potatoes. The recipe says two cloves of garlic, but if you love garlic, add more. By boiling the cloves in their skin, the flavour is more mellow and less pungent compared to fried garlic.
Next add a good dollop of butter. Butter tastes best but if marg is all you've got, then use what you've got. I've heard people swear by adding a bit of olive oil too. I haven't tried it. If you have, let me know in the comments below.
Then mash your potatoes and garlic until they're nice and smooth and there are no lumps. Use a potato masher if you have one, but don't run out and buy one if you don't. I've been mashing potatoes with an ordinary fork for nearly 20 years. It works just fine and it's one less thing to wash up and clatter around in your drawers.
Add a dash of milk and salt to taste. Give the mash a good stir, mixing in the milk and garlic. I also like to add a dash or two of white pepper. Why white? So you can't see little black flecks in your mash. And the flavour is different to back pepper. But add black pepper if you prefer or that's what you've got. Or leave it out altogether.
The final step is to taste your mash. Does it taste like you could sit right down on the kitchen floor and eat the lot right away? If so, you've got the seasoning perfect. If not, add a little more salt until your mash is just right.
What to do with Leftover Mashed Potato
There are lots of ways to use up leftover mashed potatoes. In fact, you can save time, money and washing up by planning ahead and cooking a double batch of mash for another meal during the week.
Whether or not you plan leftovers, here are some ideas for leftover mashed potato. You can:
Yield: 4
Simple Garlic Mashed Potato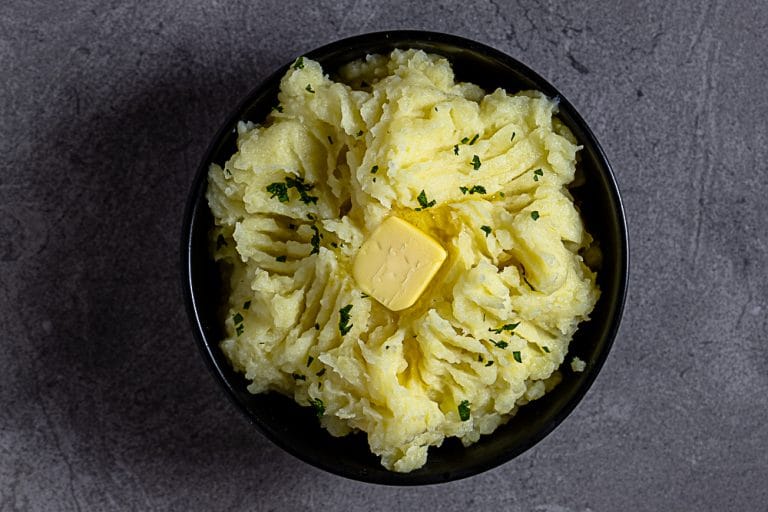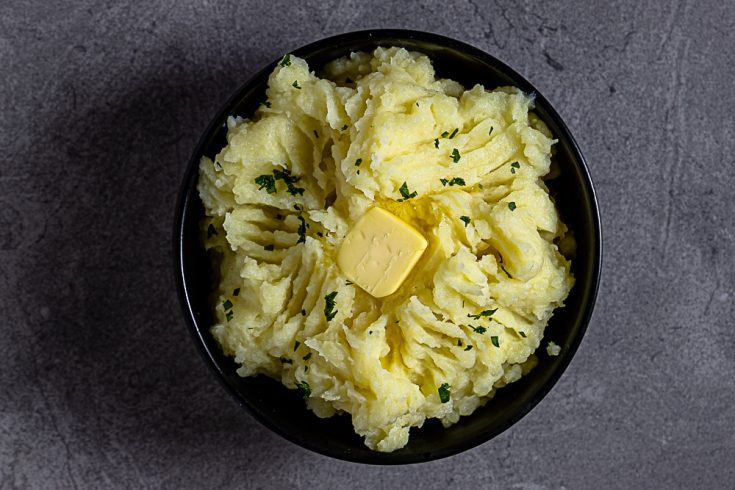 Add depth to ordinary mash with garlic. These simple garlic mashed potatoes have a subtle flavour without being too garlicy.
Ingredients
4 large potatoes, peeled and chopped
1-2 cloves of garlic, unpeeled
3-4 Tbsp. milk
45g butter
salt and pepper to taste
Instructions
Fill a pot with water. Add chopped potatoes and unpeeled garlic to the water and bring to the boil.
Boil potatoes until they easily slide off a fork when you stab one.
Drain potatoes and remove garlic to let cool. Return the pot to the hot stovetop for one minute, tossing constantly, to let any remaining water evaporate and dry out the potatoes. Don't let them burn on the bottom at this stage. Remove pot from heat.
Squeeze the garlic out of the skins. Put the garlic back into the pot with the potatoes, discarding skins.
Add the butter and milk and mash all until fluffy. Mash the garlic up with the potatoes and stir, distributing the garlic. Season with salt and pepper to taste.
Notes
Add more garlic if you love it and want more of a garlic taste.
Stir through chopped parsley for a herby mash.
Stir through some parmesan cheese for a cheese mash.
Nutrition Information:
Yield:
4
Serving Size:
1
Amount Per Serving:
Calories:

386
Total Fat:

11g
Saturated Fat:

6g
Trans Fat:

0g
Unsaturated Fat:

3g
Cholesterol:

28mg
Sodium:

203mg
Carbohydrates:

67g
Fiber:

7g
Sugar:

4g
Protein:

9g
Nutritional information is calculated automatically using the Nutritionix database. Nutrition information can vary for a recipe based on factors such as precision of measurements, brands, ingredient freshness, serving size or the source of nutrition data. We strive to keep the information as accurate as possible but make no warranties regarding its accuracy. We encourage readers to make their own calculations based on the actual ingredients used in your recipe, using your preferred nutrition calculator.