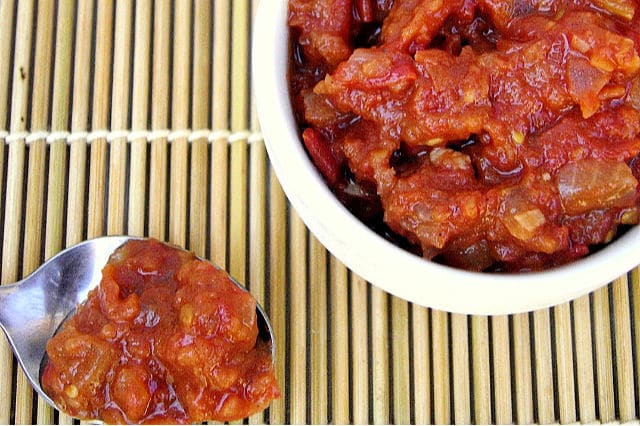 It's just past tomato season; I made this relish back at the end of February when tomatoes were at the peak of their harvest. This tomato relish has lots of flavour and is great with vegetable fritters, on steak sandwiches or as an accompaniment to meat.
The sweet / acidic flavours will depend on the tomatoes and apple, so add just a little of the sugar and vinegar to start with, 'reduce' the relish and then add a little more to taste as necessary. You can always add more, but you can't take it out if it's too sweet or acidic.
This relish stores well in the fridge for a few days or you can double or triple the recipe and bottle it for later. Makes approximately 1 cup.
Ingredients
1 small onion, finely chopped
1/2 apple, grated
1 clove of garlic, crushed
500g tomatoes, chopped
1 Tbsp. brown sugar
1 Tbsp. red wine vinegar
1/2 tsp. allspice
1 tsp. bottled mustard
Method
In a saucepan, sauté the onions in a little oil over medium heat until soft. Add the apple and garlic and continue to cook for a further couple of minutes.
Add the tomatoes, mustard, allspice, sugar and vinegar, stirring.
Bring to the boil and then reduce the heat to a simmer. Simmer until reduced to a consistency that you like (I reduced mine for about 20 minutes).
Serve warm, bottle in a sterilised jar and process or let cool and refrigerate until use.
Melissa Goodwin is a writer and the creator of Frugal and Thriving who has a passion for living frugally and encouraging people to thrive on any budget. The blog is nine years old and is almost like her eldest baby. Prior to being a blogger and mum (but not a mummy blogger), she worked as an accountant doing other people's budgets, books and tax.