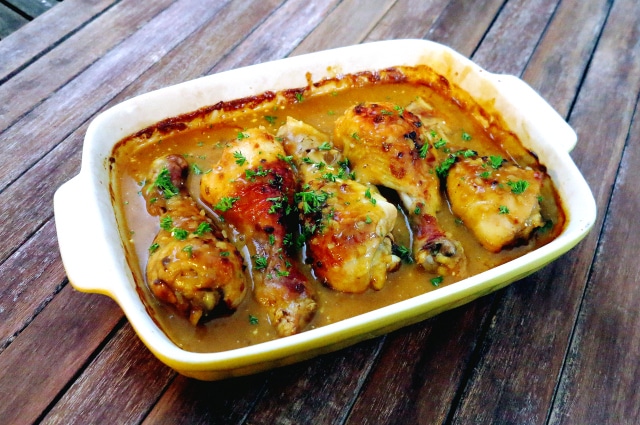 An old classic, this version of Apricot Chicken recipe is super easy. Make a big batch of marinade and freeze chicken in batches to save time and money.

Nothing says 'frugal meal' like chicken drumsticks.
And nothing says 'chicken drumsticks are served' like this easy apricot chicken recipe, teleported straight from the 1980s, which is when I enjoyed it as a kid.
As a parent, what I love about this dish is that it's easy.
I'm all for cooking from scratch, but sometimes you've just got to have a cheat meal up your sleeve, and this is one of ours.
The 'cheat' part is the french onion soup mix. No doubt the original version with real onions and apricots would be gastronomically superior, but most nights of late, easy trumps just about any other consideration.
To make, simply mix the soup mix with apricot nectar, pour it over the chicken and then bung it in the oven for an hour. Stir in a little sour cream at the end if you like and then serve with rice and vegetables.
My mum's trick with the rice and vegetables is to cook the chopped vegetables up with the rice. You end up with a whole variety of vegetables with the rice (nice and healthy as well as cheap) and you only have to wash the one pot.
Easy Apricot Chicken
Ingredients
8 chicken drumsticks
400g tin of apricot nectar (just over 1 1/2 cups or 375mls)
1 sachet of French onion soup mix
2 Tbsp sour cream (optional)
Instructions
Preheat oven to 200°C (390°F). Place chicken in an oven dish.
Whisk together the nectar and soup mix.
Pour mixture over chicken and bake for approximately one hour or until the chicken is cooked through, turning the chicken in the sauce halfway through the cooking.
Remove the chicken from the baking dish and stir in the sour cream.
Serve chicken with rice and vegetables, spooning extra sauce over rice.