Creamy Celery Soup is cheap and deliciously filling on a cold day.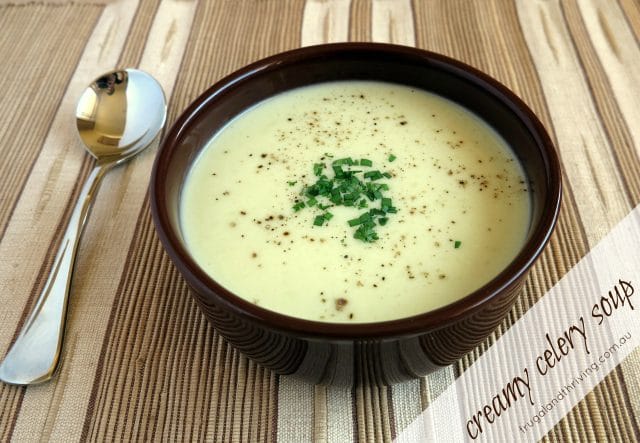 Celery is in season at the moment making it a perfect choice for a warming winter soup.
Celery is a bit of an underrated vegetable – it's often used a flavour base for soups and stews alongside carrots and onions, but is rarely showcased on it's own, unless you count eating celery sticks as a snack on a diet.
Which is a shame, because celery is a particularly healthy vegetable with strong anti-oxidant and anti-inflammatory properties.
This celery soup is a luxurious, creamy soup with a delicate flavour. It's also amazingly cheap.
I recently purchased a celery bunch for $1 and used about half for the soup. Using homemade stock and a couple of spuds and leeks, this soup was less than $3 for the pot. It would have been less than $2 if I used onions instead of leeks.
Creamy Celery Soup
Ingredients
5 – 6 stalks of celery, chopped
2 Tbsp. butter
2 leeks or onions, chopped
2 medium potatoes, peeled and chopped
2 1/2 cups of chicken or vegetable stock
1 1/4 cups of milk
2 Tbsp. cream or sour cream
salt and pepper to taste
Instructions
Melt butter in a large soup pot and add celery, potato and leek. Cook gently in butter for 15 minutes.
Add stock and milk, cover and bring slowly to simmering point. Cook over a low heat for 20 – 30 minutes or until vegetables are tender. Watch that the soup doesn't boil over.
Blend soup to a puree then stir in cream. Season to taste.
Adapted from Delia's Frugal Food
Melissa Goodwin is a writer and the creator of Frugal and Thriving who has a passion for living frugally and encouraging people to thrive on any budget. The blog is nine years old and is almost like her eldest baby. Prior to being a blogger and mum (but not a mummy blogger), she worked as an accountant doing other people's budgets, books and tax.