Reduce food waste with this "clear-the-crisper" kid-friendly curry.
It's the end of the shopping week or fortnight, and you've got a bit of this and a bit of that leftover in the crisper.
What do you cook to use up the dribs and drabs and reduce waste?
Here's just one idea: a vegetable curry that's delicious, mild and kid-friendly.
Add whatever you have in the fridge, the freezer or the pantry to this curry.
Leftover meat? That can go in too.
Or keep it vegetarian if you prefer.
Spice it up with fresh or dried chilli if you prefer a little heat.
Chill it down with a dollop of cooling, natural yoghurt.
While this curry is kid-friendly, it can be very adult as well.
Want an easy, midweek cheat instead of an end of week, gotta-use-up-the-leftovers meal?
Use frozen veg instead.
I bought a bag of frozen mixed veg in Aldi the other day for $1.90. It was of New Zealand origin and included peas, corn, carrot, beans, cauliflower and potato. Half to one bag of veg and you have a very quick and easy, very cheap but healthy and tasty curry.
This is my little lady loving her veggie curry. My son, however, is going through a decidedly fussy I'm not eating it! stage, even though he's loved it in the past.
Oh well. You win some, you lose some.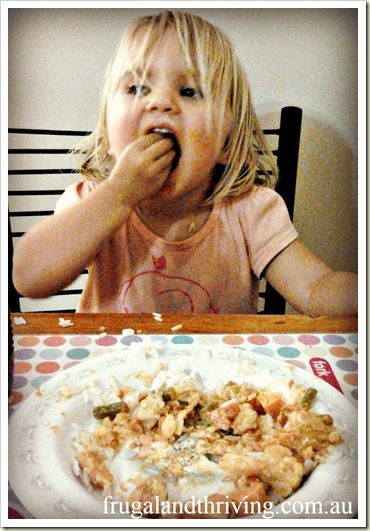 Kid-Friendly Curry
Ingredients
1 chicken breast, diced (optional) or leftover meat (optional)
1 onion, diced
3 garlic cloves, crushed
1 tin tomatoes (or 3 or 4 fresh tomatoes, chopped)
1 can coconut milk
1 Tbsp. ground cumin
1 Tbsp. ground coriander
1 tsp. ground (or fresh) ginger
1 tsp. turmeric
vegetables of choice (i.e. pumpkin, carrot, beans, potato, sweet potato, zucchini, broccoli (including the stems), cauliflower, beans, peas, capsicum, spinach)
Instructions
If using, brown chicken breast in a little oil. Remove from pan.
Sauté onion and garlic in a little oil until soft and translucent.
Add spices, tomatoes and coconut milk, stirring well.
Add vegetables (and chicken if using) and simmer until soft. If you're adding spinach, add it towards the end of cooking and cook until just wilted.
Serve with rice and topped with natural yoghurt.
Notes
Meat is optional. This is great as a vegetarian curry. Use just vegetables or add a 1/4 cup or so of lentils.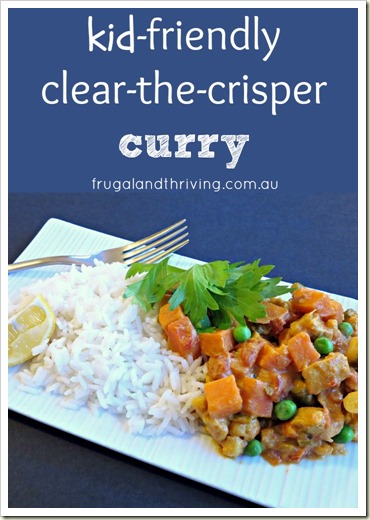 Melissa Goodwin is a writer and the creator of Frugal and Thriving who has a passion for living frugally and encouraging people to thrive on any budget. The blog is nine years old and is almost like her eldest baby. Prior to being a blogger and mum (but not a mummy blogger), she worked as an accountant doing other people's budgets, books and tax.