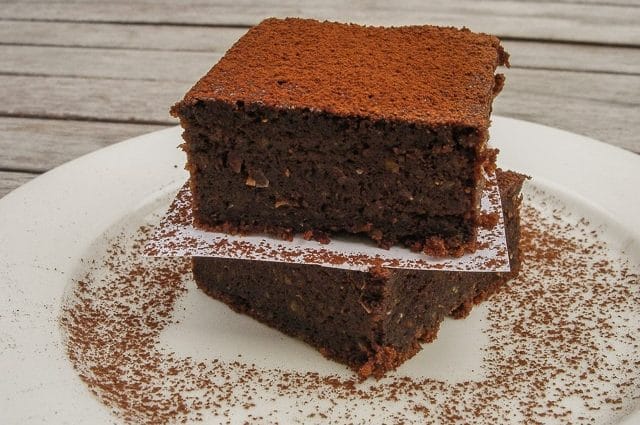 Fridays have become brownie days in our house as I experiment with different gluten-free recipes. Fridays just demand brownies. Especially wet Fridays. With sick kids.
This one will make it into my favourite recipe collection because it tastes delicious. And you wouldn't know it, but these brownies are made from a tin of chickpeas.
Not only do I like them and the little fella (we're easy to please), but they also passed taste tests by DH and his parents (all of whom are very fussy eaters). I waited until after they were gobbled up (the brownies that is, not the in-laws) to announce grandly and with a flourish, they are made with chickpeas!
I adapted this recipe from one I found via Pinterest on the Taste and See blog and made it ever so slightly more healthy (at least as healthy as a brownie can be – it is a brownie after all) by switching out the vegetable oil and replacing it with real butter and reducing the sugar. I 'happened' to have (now, how did that get there?) a block of Greens 85% dark chocolate hiding in the depths of the fridge and used that in this recipe, but any dark chocolate would do.
You can use tinned chickpeas or chickpeas that you have cooked yourself. Or you can use beans. Any beans. I have a recipe that is similar from Kitchen Stewardship's Everyday Beans Cookbook (aff. link) that uses cooked black beans, so I can't see why this recipe wouldn't work with kidney, cannellini or any other bean you've got in the pantry. If you try it with different beans, let me know how it turns out.
Ingredients
150g dark chocolate
75g butter
1 tin of chickpeas, drained and rinsed or 1 3/4 cup cooked chickpeas
4 eggs (next time I shall experiment with 3)
1/2 cup honey or 3/4 cup of sugar (I used 1/2 cup of brown sugar which was sweet enough for us – taste it and add more if you like it sweeter).
1 Tbsp. cocoa powder plus extra for dusting
1/2 tsp. baking powder
1 tsp. vanilla extract
1/2 tsp. cinnamon
Method
Preheat the oven to 180°C and grease a square baking pan.
Place the chocolate and butter in a bowl and place the bowl over a pot of water. Bring the water to the boil. Ensure that the water does not touch the bottom of the bowl. Turn the heat off and allow the chocolate and butter to melt, stirring occasionally.
In a food processor, process drained chickpeas. Add eggs one at a time and process further until smooth. If you don't have a processor, blend the chickpeas and eggs, then transfer to a bowl to mix in the remaining ingredients.
Add remaining ingredients and process until combined.
Pour batter into baking pan and bake for 30 minutes until a skewer in the centre of the cake comes out clean.
Cool in pan and cut into squares. Dust with cocoa if preferred. These taste great both warm or cold from the fridge.
Melissa Goodwin is a writer and the creator of Frugal and Thriving who has a passion for living frugally and encouraging people to thrive on any budget. The blog is nine years old and is almost like her eldest baby. Prior to being a blogger and mum (but not a mummy blogger), she worked as an accountant doing other people's budgets, books and tax.