Boujee on a Budget: Smashed Avo & Feta in 2 Minutes & Under $2
This website may earn commissions from purchases made through links in this post.
Some would argue a smashed avo and feta is the ultimate in decadence, but you can make this popular café meal very cheaply at home.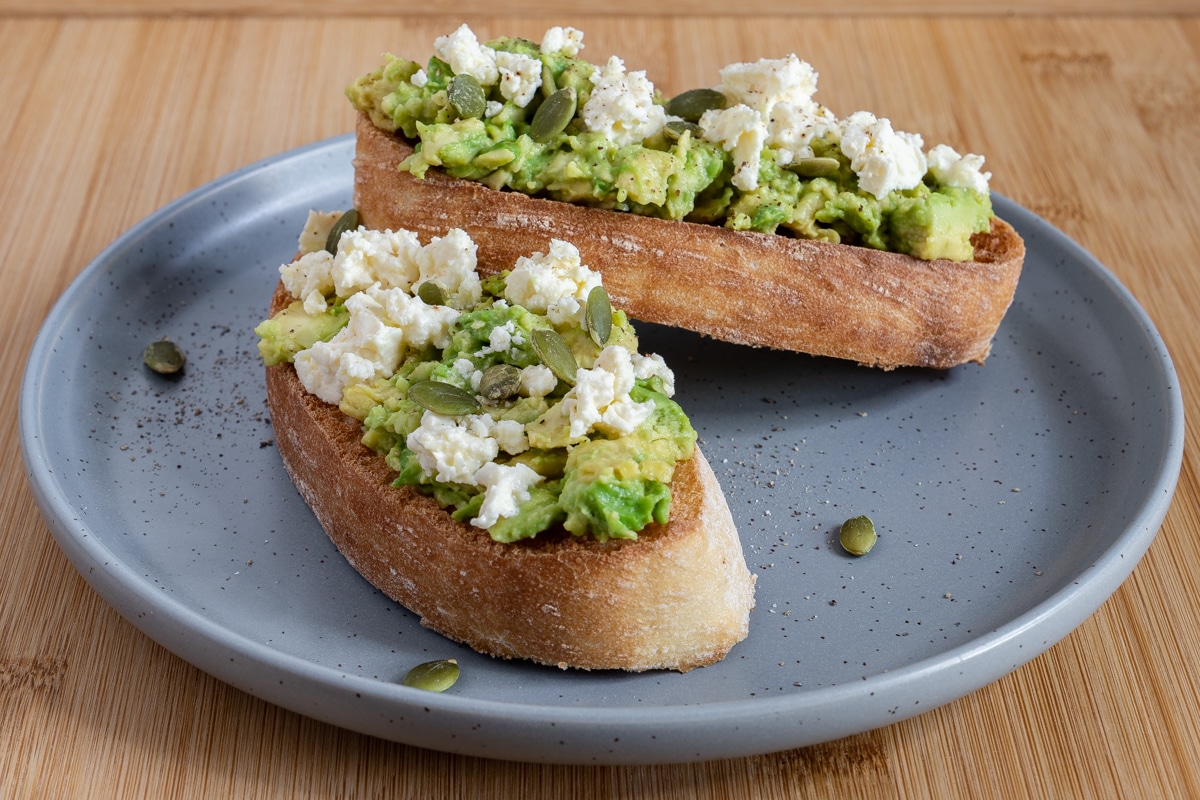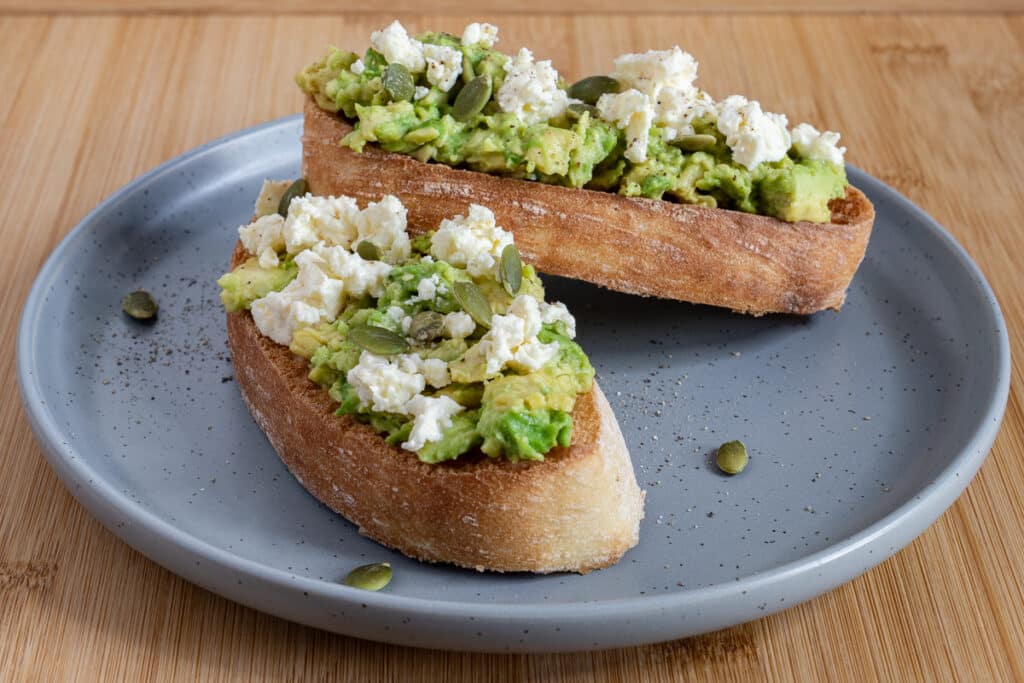 This avocado season, avocados are not only cheap, but Australian farmers are begging us to eat more because of a glut.
At a time when EVERYTHING is more expensive, and given avocado's reputation as being the symbol of financial extravagance, what an ironic twist that this little testicular fruit is the season's food of choice for the budget conscious.
Admittedly, this dish won't always come in under $2 a serve. Depending on the season, the price of avocados, and relevant weather events, costs will vary. But the ol' smashed avo isn't the budgetary villain it's been portrayed as.
Ingredients and Costs
At its most fundamental, smashed avo is just mashed-up avocado on bread.
From there, you can add all sorts of ingredients to build a complete meal.
But the variation you see most often is mashed avocado, feta cheese, and maybe some pepitas on a crusty bread like ciabatta, so that's what I've gone with for this recipe.
Greek feta cheese is ideal for this dish. While Danish feta is creamier, Greek feta crumbles better. So if you're after the crumble, go for Greek.
As fast as costs go, the total comes to $1.54 per serve, with an initial spend of $13.10 for all the ingredients (see below on how to make this even cheaper).
As a point of comparison, our local Coffee Club sells smashed avo for $12.90. That's a saving of $11.36 per serve. For a family of four, you can have a cafe-quality meal at home for $6.17 at a total saving of $38.50, with leftovers for other meals.
(Note: costs are in Australian dollars, based on Woolworth's prices, August 2022.)
Smashed Avo and Feta
| | No. of Servings | Total Cost | Cost Per Serve | Cost for 4 Serves |
| --- | --- | --- | --- | --- |
| Ciabatta Loaf | 5 | $4.00 | $0.80 | $3.20 |
| Avocado ($1 ea) | 2 | $1 | $0.50 | $2.00 |
| Feta Cheese | 20 | $3.10 | $0.16 | $0.08 |
| Lemon Juice (Bottled) Optional | 50 | $1.00 | $0.02 | $0.08 |
| Pepitas (Optional) | 60 | $4.00 | $0.07 | $0.27 |
| Total | | $13.10 | $1.54 | $6.17 |
Let's talk savings.
If you eat this straight away, you can eliminate the lemon juice. It's to stop the avocado from going brown over time.
You can also ditch the pepitas. Not using lemon and pepitas will reduce the cost per serve to $1.46 and the total cost of buying ingredients to $8.10.
Switch to a cheaper bread or get bread marked down at the end of the day, and you can save even more. If you use a home-brand loaf of sliced bread, the cost per serve comes down to $0.87, and the total cost to purchase ingredients will be $6.00.
The other cost-saving tip is to shop at Aldi, where you can buy ingredients cheaper than Woolies or Coles and save even more.
Variations – What Else to Put on Smashed Avo
Mashed avocado is a foundation for a wide variety of additions that can transform this basic snack into a complete meal. All additions will increase the cost. Variations and additions include:
fresh or fried/grilled tomato
fried mushrooms
fried halloumi
bacon
ham
smoked salmon (not budget, but cheap on sale as a treat)
poached egg
spinach
rocket
dukkha
chilli sauce
cheddar cheese melted under the grill
green onion
garlic
Making Smashed Avo in Two Minutes
With a bit of parallel tasking (prepping while the toast is cooking), this really is a two-minute breakfast.
Start by toasting your bread in the toaster or under the grill.
While toasting, slice, scoop, and roughly mash the avocado (well, mash gently to get a rough consistency). If you're eating this straight away, there's no need to add lemon.
Take a fork and crumble off a little bit of feta.
When the toast is cooked, spread with avocado, sprinkle over the crumbled feta and some pepitas if using, crack a bit of pepper over the top, and you've got a boujee breakfast in minutes without the pricetag.
Storing Avocado
Store uncut avocado on the bench until ripened (it is ripe when it 'gives' slightly when very gently pressed near the stem). Avocados go from perfect to overripe very quickly, so keeping an eye on them is essential.
Once ripe, you can eat the avocados immediately or store them in the fridge to slow the ripening process. This will help them last for a few extra days.
Store cut avocado in an airtight container or plastic/beeswax wrap in the fridge. You can smear the flesh with a bit of lemon juice to prevent it from browning. If you leave the seed in, that's a little bit less avocado exposed to the air, which will stop that bit from browning. Personally, if they go a bit brown, I scape the brown bit off – not a biggie.
Using Up Leftovers
As you can see from the photo below, I used barely any feta for the single serve and have a lot left over.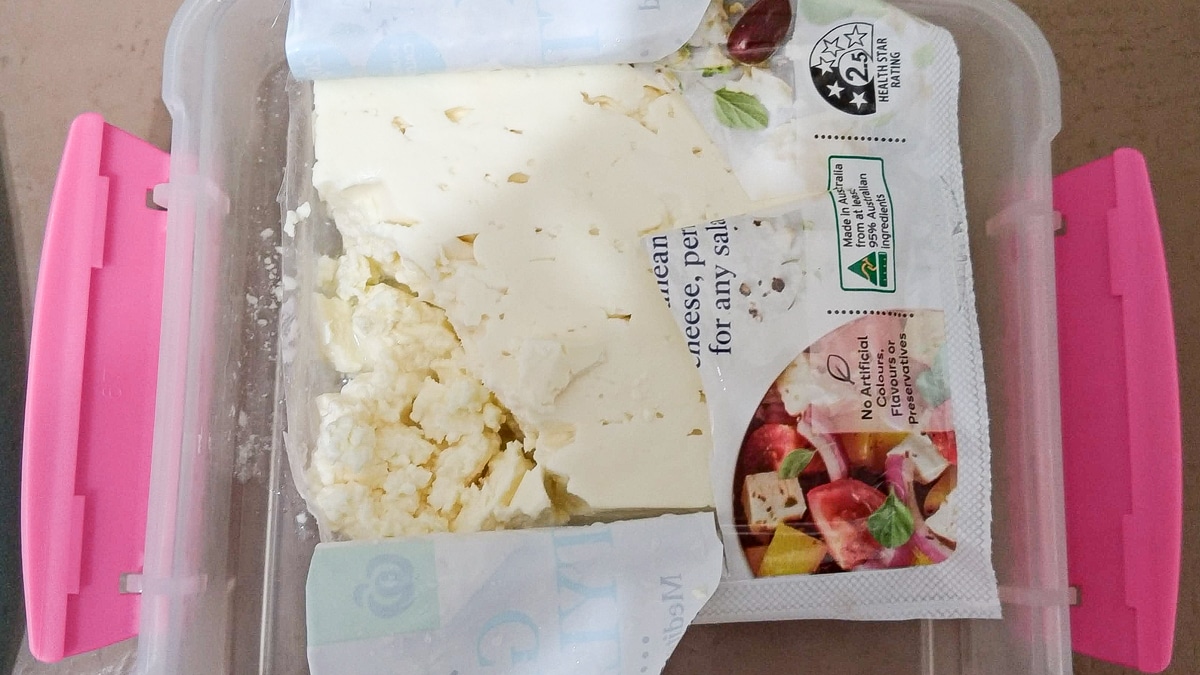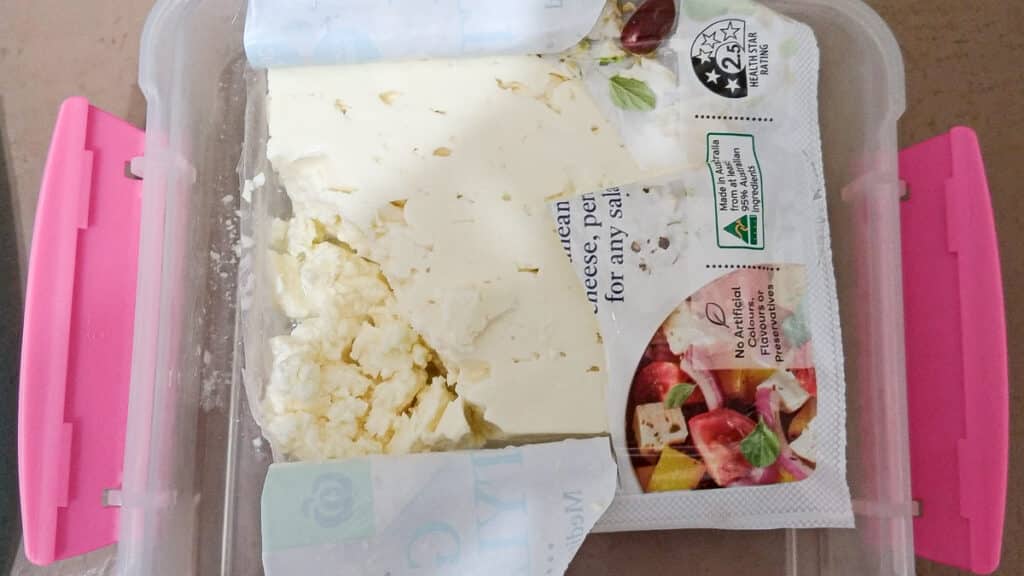 With avocados so cheap, we've been eating smashed avo all week. Some ways to use up leftover feta cheese include:
This meal stops being a budget meal if food gets wasted, so it's a good idea to plan other meals in the week to use up the leftovers.
On to the recipe…
Yield: 1 Serve
Smashed Avo and Feta on Toast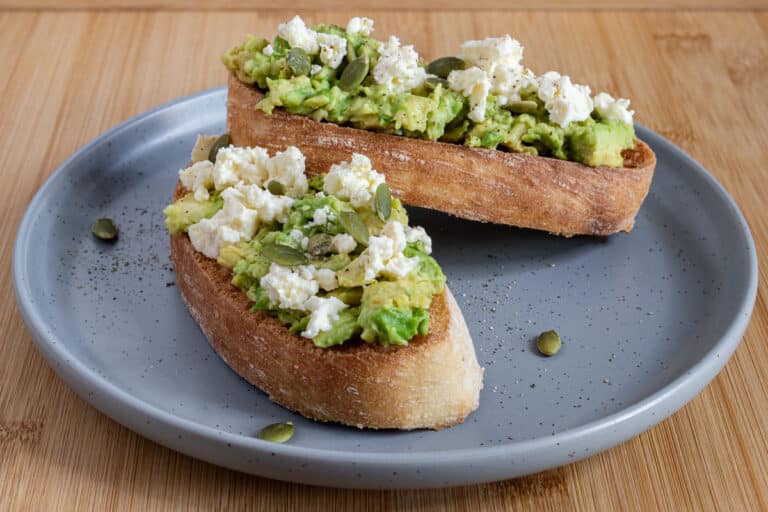 Enjoy smashed avo and feta on toast at home for a fraction of the cost of going to a cafe. It's super quick and easy to prepare.
Ingredients
2 slices of Ciabatta bread (or other bread of choice)
1/2 avocado
10 g of Greek Feta cheese
1/2 tsp. lemon juice (optional)
1 Tbsp. pepitas (optional)
Instructions
Toast sliced bread in a toaster or under the grill (broiler)
Meanwhile, scoop the flesh out of the avocado and mash roughly with a fork. If not eating immediately, stir in 1/2 teaspoon of lemon juice.
Using a fork, crumble the feta into small chunks.
Spread avocado thickly over toast, sprinkle with feta cheese and pepitas if using.
Season with salt and pepper as desired.
Notes
For variations, top with one or more of the following: a poached egg, grilled tomato, fried mushrooms, spinach, bacon, salmon, or dukkah.