Looking for a lunchbox treat? This Weetbix and date loaf might just be your next family favourite!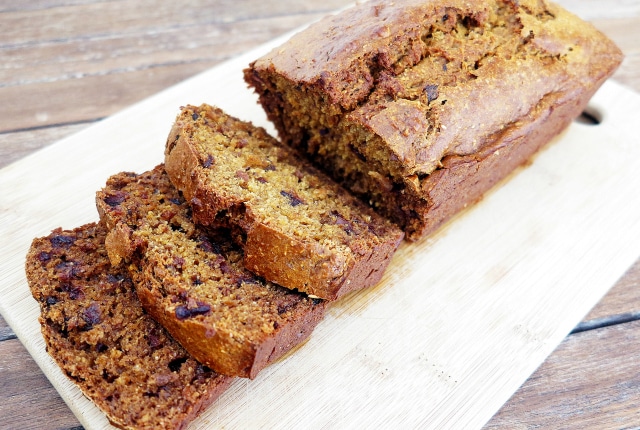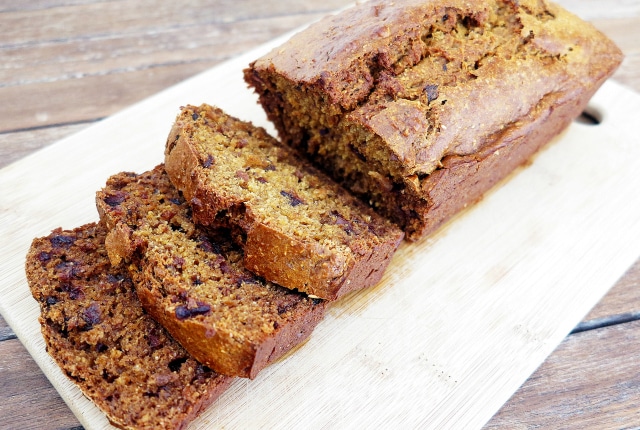 Based on that famous Aussie breakfast of champions, this date loaf has a delicious malty taste that goes perfectly with the sweetness of the dates.
And it's an easy recipe too. Combine the Weetbix, sugar, dates and bicarb in a bowl and add boiling water. Then let it sit for 5 minutes so those dates go all nice and soft and gooey.
Then add the flour and eggs and bake in the oven until golden and cooked through.
You can eat it plain, but it's oh so delicious steaming hot and with a good pat of butter. Although I'm thinking it's close enough to be a sticky date loaf, that some caramel sauce drizzled over the top would not be 'over-the-top'.
My mum made this when we were kids and I'm still making it for my kids, although I use real sugar and butter rather than margarine and artificial sweetener (which were all the rage in the 80s and 90s).
Rather than crush the Weetbix, you can collect all those broken crumbs at the bottom of the box and use those instead. 1 biscuit is the equivalent of 1/3 cup of crush Weetbix, so use 1 1/3 cups of crumbs. Then these dregs aren't going to waste.
I make my own self-raising flour – there's less to buy, less storage to worry about and I can add as much raising agent as I like. I like to also make my own baking powder (it's not as gruelling as it sounds) – you can get the details here. There's no aluminium in homemade baking powder (and your homemade self-raising flour as a result) and it tastes a whole lot nicer as a result.
If you're looking for a loaf tin, you can try Cookware Brands* online. They stock quality brands and have pretty good sales. We got our frypan from there at 60% off, which was nice.
Weetbix and Date Loaf
Ingredients
4 Weetbix, crushed
1/2 cup sugar
1 cup dates, chopped
1 tsp. bicarbonate soda
1 cup boiling water
1 cup wholemeal self-raising flour
2 eggs
Instructions
Preheat oven to 18-°C. Grease a loaf tin.

In a large bowl, place the Weetbix, sugar, dates and bicarbonate soda. Pour in the boiling water, stir well and let sit for 5 minutes.

Add in the flour and the eggs, beating well.

Pour into the loaf pan and bake for 40-50 minutes or until cooked through.
Notes
If you have a fan-forced oven or a non-stick pan, you may need to adjust your oven down accordingly.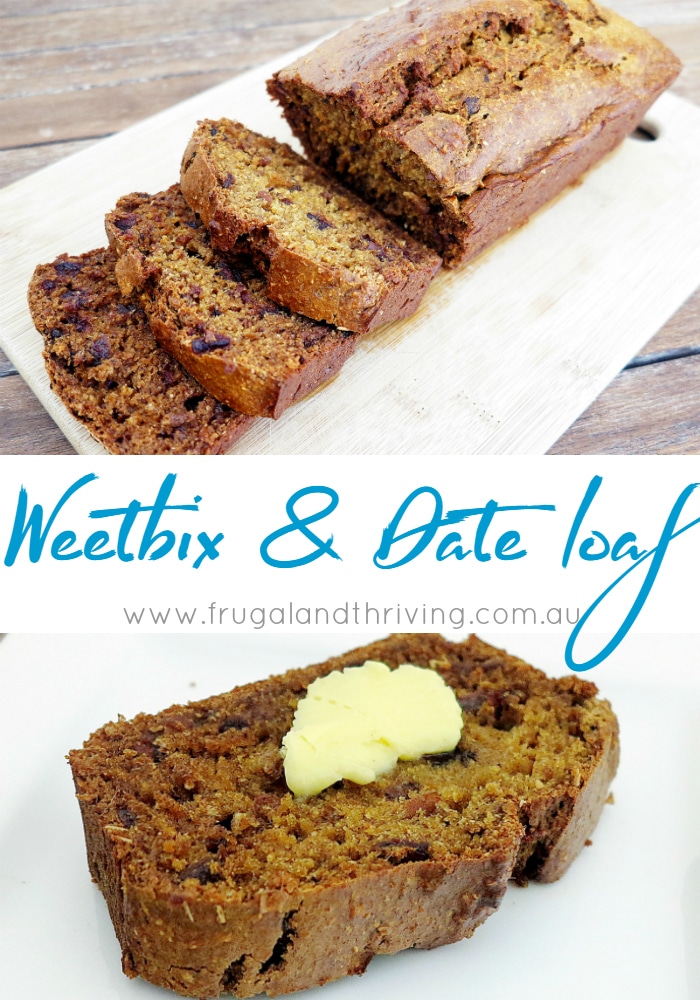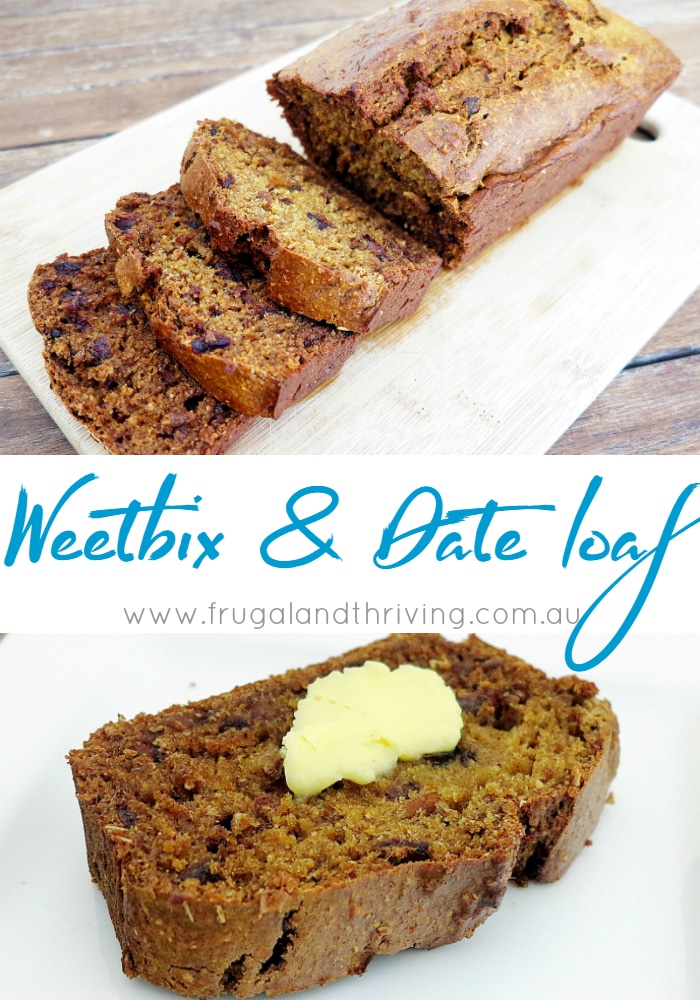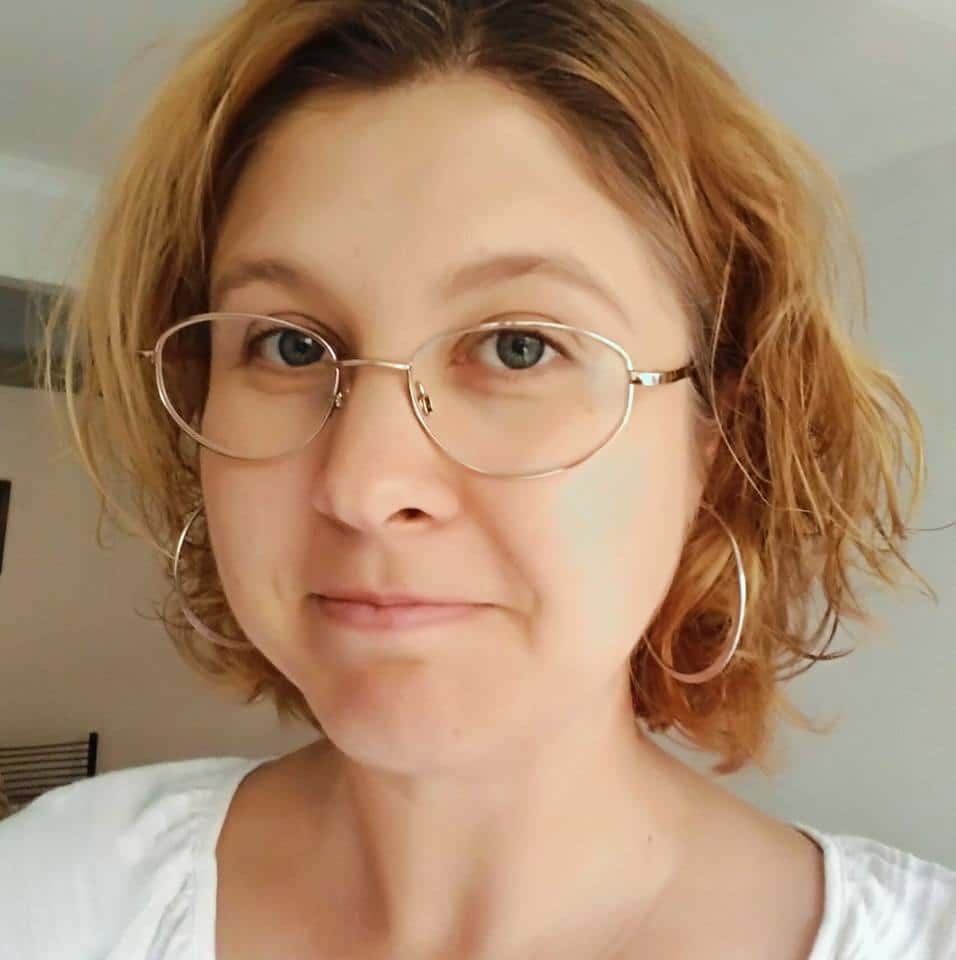 Melissa Goodwin is a writer and the creator of Frugal and Thriving who has a passion for living frugally and encouraging people to thrive on any budget. The blog is nine years old and is almost like her eldest baby. Prior to being a blogger and mum (but not a mummy blogger), she worked as an accountant doing other people's budgets, books and tax.