Slow Cooker Pork Shoulder for Melt-in-the-Mouth Pulled Pork
This website may earn commissions from purchases made through links in this post.
Make a slow cooker pork shoulder on the weekend for a variety of delicious and frugal meals during the week.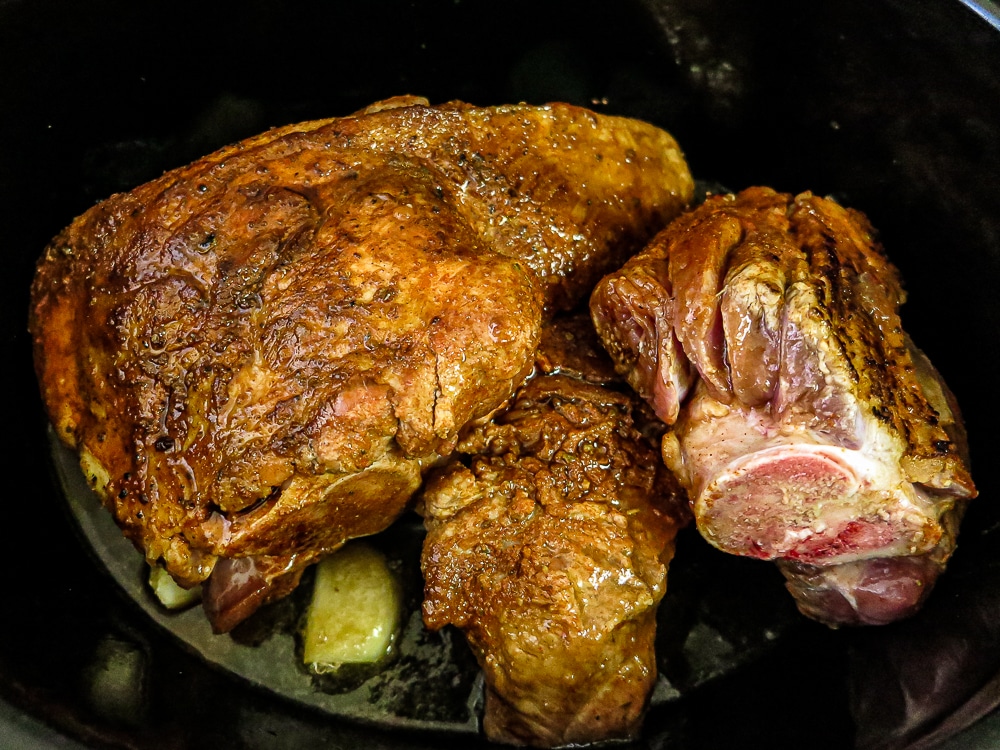 Pork shoulder is one of the more inexpensive cuts of meat, making it a great budget choice. It is perfect for slow cooking, which means you're saving time as well as money.
The other way to save money on the groceries, besides buying economically, is to reduce waste.
But cutting waste is more than just eating what you buy before the use-by date – it's about going back to the old-fashioned ways of using every edible part of an animal or plant.
In this series, I'll be writing about how to get even more value from your humble pork shoulder by:
slow cooking the shoulder to make tender and tasty pulled pork
making the most of the leftovers
We can pick up a pork shoulder for around $15 from our local butcher. For two adults and two children, we get 4 meals worth of meat (that's $3.75 per meal) and we usually have enough leftovers for a couple of lunches as well.
And when you make stock and lard from what would often otherwise be thrown away (both of which are not cheap to purchase from the supermarket) you're getting even more value for your money.
Today's post is about preparing and cooking your pork in the slow cooker.
Preparing Your Pork Shoulder for the Slow Cooker
If you're giving your pork shoulder a spice rub and you have a pork shoulder with skin still on, prepare the pork shoulder the day before you want to cook it so that the spice rub has time to flavour the meat.
When you buy a pork shoulder, the skin and fat layer will be intact.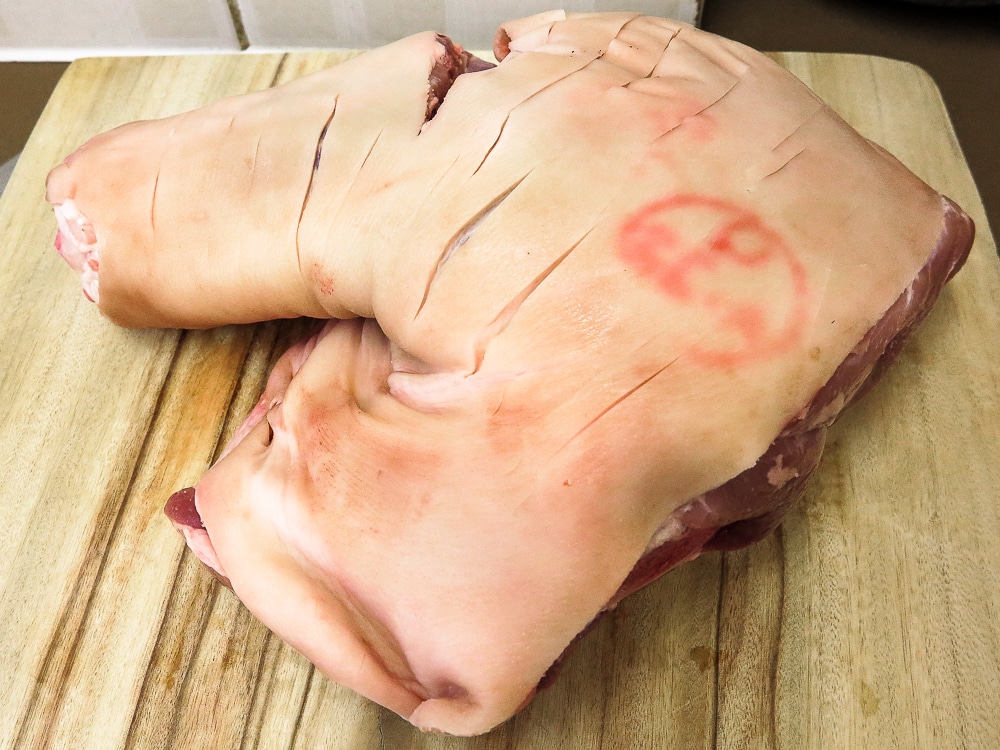 While crackling is one of my most favourite things, the skin doesn't crackle in the slow cooker, so the first thing to is to remove the skin.
I'm going to be frank here, removing the skin is not the most fun you will ever have – it's a bit of a fiddly job.
If you don't want to cook it for crackling or render the lard, you might ask the butcher to remove it for you, this will save you a bit of time and effort.
How to Remove Skin From the Pork Shoulder
To remove the skin, start by turning the joint of meat over and cutting along one edge of the skin.
Pull the skin away from the meat, slicing with the knife to help peel the skin away.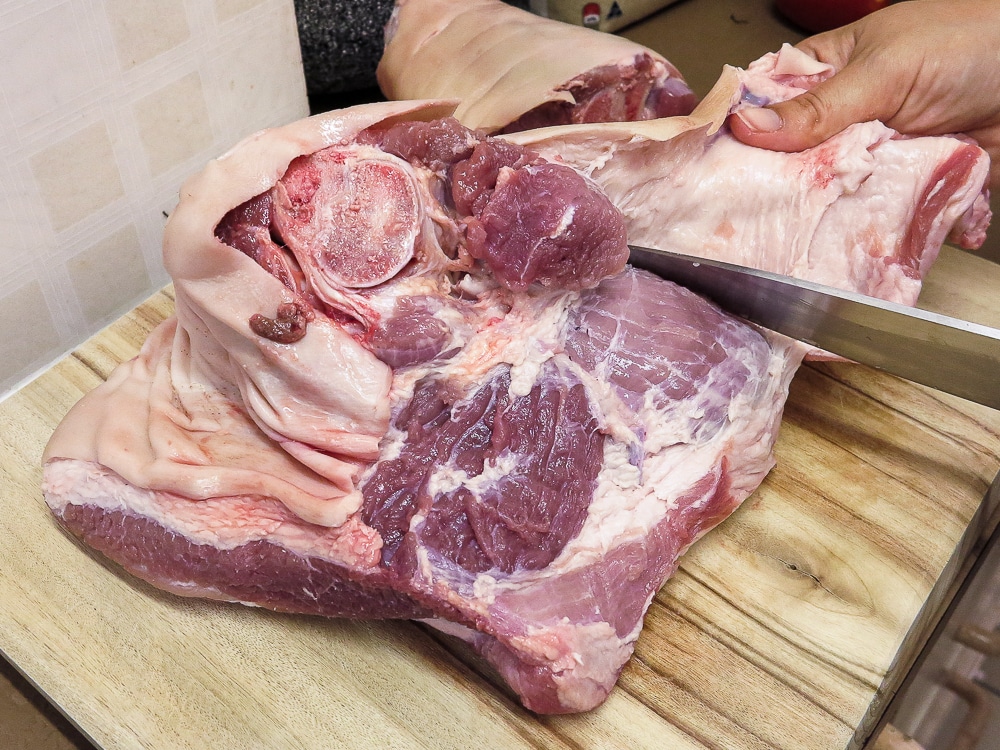 A good pair of kitchen scissors make this job sooo much easier. It takes about 5 minutes using the scissors.
Remove all of the skin and as much fat as you can. Your shoulder should now look something like this:
Next, make your spice rub.
This is optional. If you want plain pork, then just leave the rub off.
The rub will give the pork added layers of flavour.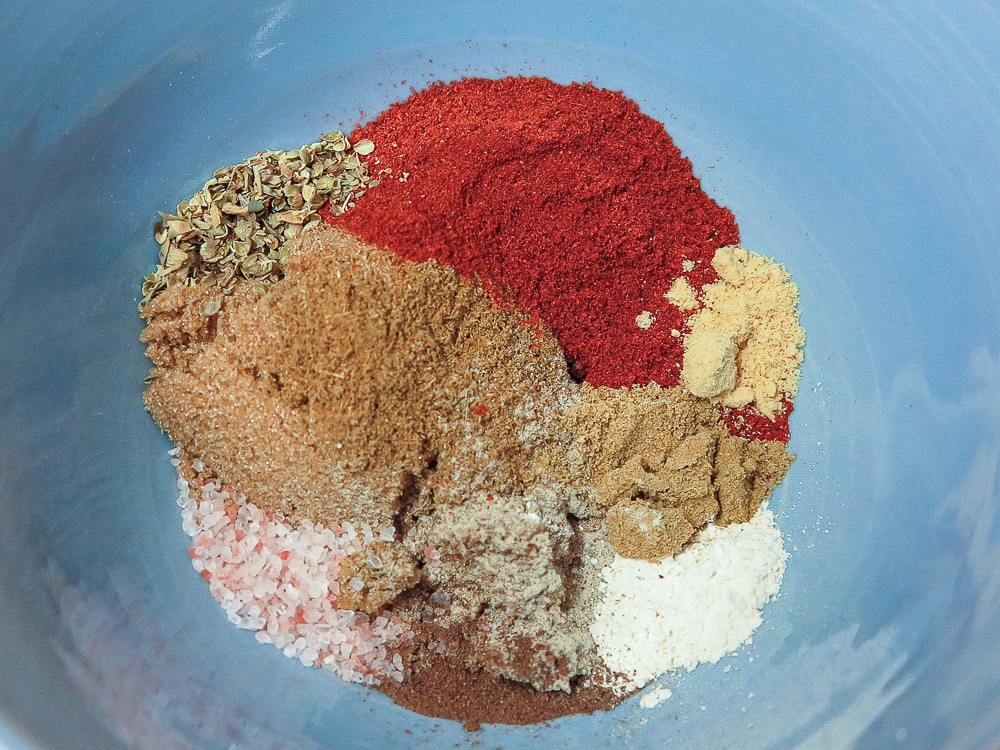 Rub the pork shoulder all over with the mixture, making sure you get it into all the nooks and crannies. Be generous with the mix for maximum flavour!
Place the shoulder in a covered container and leave in the fridge overnight.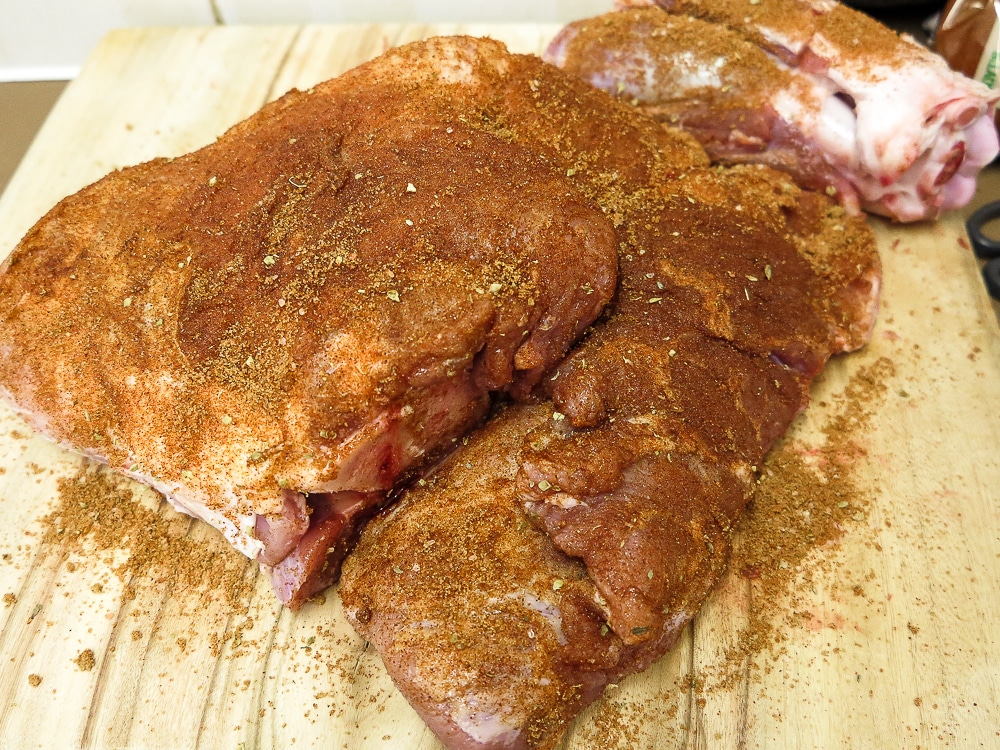 How to Use The Removed Pork Skin
To make crackling with the skin, rub it all over with oil and salt and put it into a very hot oven until bubbling and crisp, around 40 – 50 minutes.
If your crackling isn't crisping, finish it off under a hot griller/broiler until crisp and perfect.
The other option is to render the skin into lard. To do this cut it into small pieces (again a good pair of kitchen scissors make light work of this) and put it into a container in the freezer.
Rendering takes a while, so it's a good idea to collect the skin and fat of several pork shoulders before rendering.
You can extra rind (can be purchased cheaply at the supermarket) or fat (see your butcher) to make the rendering worth your while.
How to Cook a Pork Shoulder in the Slow Cooker
In the morning, throw a roughly chopped onion into the bottom of your slow cooker and then heat a frying pan and add a little oil or lard until hot and brown the pork shoulder on all sides.
Place the shoulder on top of the onion.
Deglaze the pan with the stock and juices from the pork container, scraping up all the bits on the pan and then add to the slow cooker.
Cook on low for 8 hours or so, until cooked through and tender.
Slow-Cooked Pork Shoulder With Roast Vegetables and Gravy
To make the tastiest gravy ever, heat some oil or lard in a frying pan and add an equal amount of plain flour (arrowroot flour makes a great gluten-free flour alternative).
Cook the flour for a few minutes to take off the raw taste.
Next, ladle some of the liquid through a fine-mesh into the pan, stirring well to prevent lumps. Keep adding the stock to the gravy stirring all the while until you've got a thin gravy.
Now take that thin gravy and bring it to the boil. Turn down the heat and simmer, stirring, until thickened to your liking. This reduction process concentrates the flavours making a delicious gravy.
Serve with the gravy, some roast vegetables and steamed greens.
What to Do With Pulled Pork
Remove the leftover meat from the bone and shred using two forks. You should have a heap of leftover pork.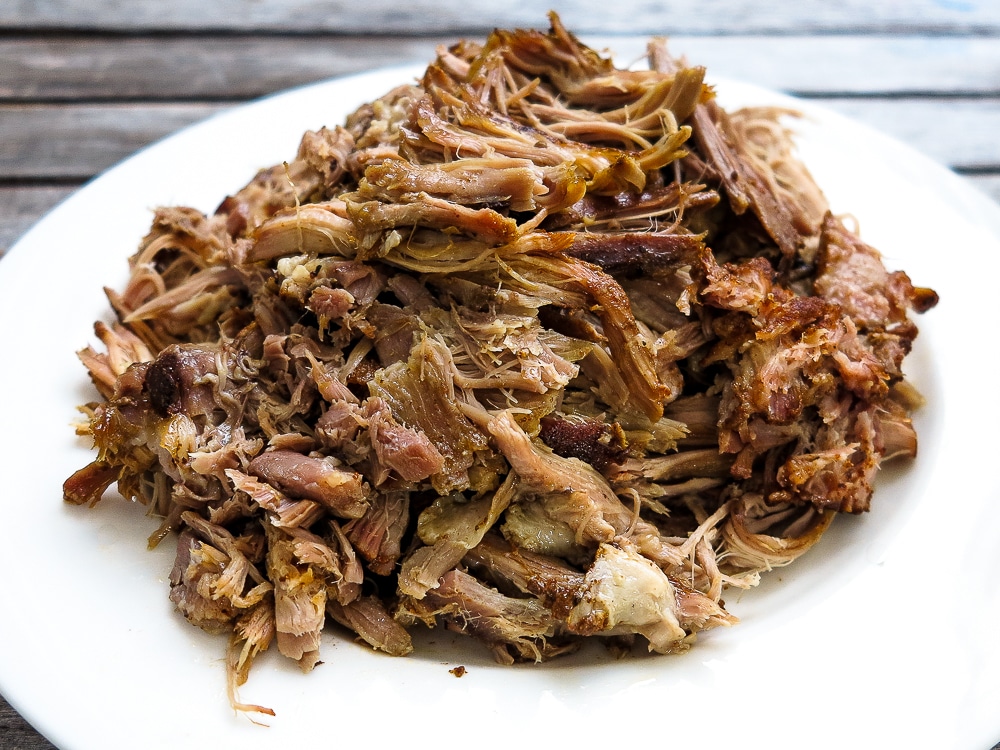 Divide the pork into meal-sized portions and freeze for later.
Ways to use pulled pork include:
Pork and gravy roll
Slaw and pulled pork burger
Pulled Pork Pizza
Sandwiches
Burrito bowls
Pulled pork pies
Pork chilli with beans and rice
Pulled pork nachos/tacos
Stuffed potato topping
Cottage pie
Yield: 8 serves
Slow Cooker Pork Shoulder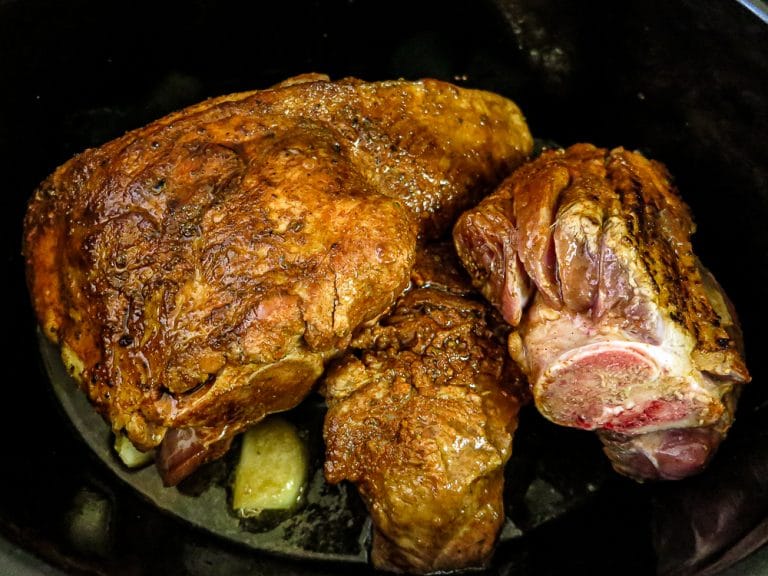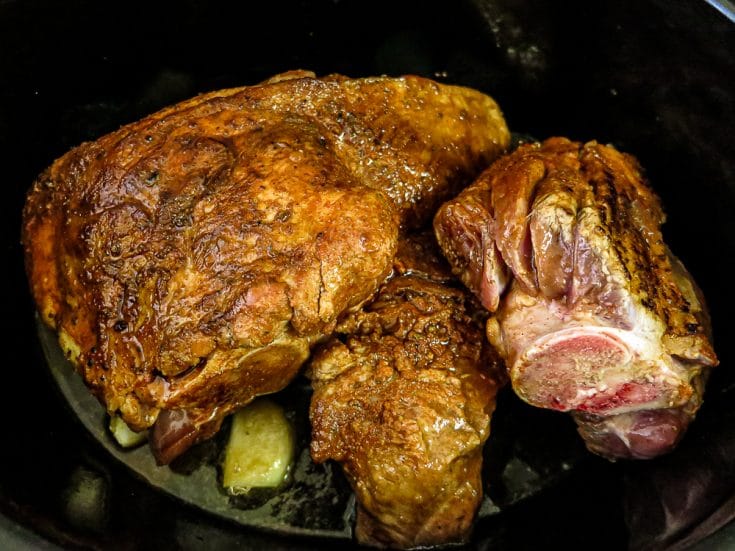 Cook this cheap cut of meat in the slow cooker for melt-in-the-mouth roast meat. Eat as a roast with vegetables or turn into pulled pork and freeze in portions for dozens of recipe variations.
Additional Time
10 minutes
Total Time
8 hours
25 minutes
Ingredients
1 pork shoulder, bone-in
1 Tbsp. brown sugar
2 tsp. ground cumin
2 tsp. ground paprika
1 tsp. ground coriander
1 tsp. dried oregano
a good grind each of salt and pepper
1 onion, roughly chopped
1 - 2 cups of pork or beef stock
Instructions
THE DAY BEFORE
Remove the skin and fat from the pork shoulder.
Mix the rub ingredients together and rub all over the pork shoulder on both sides, rubbing the mixture right into all the nooks and crannies.
Refrigerate in a covered container overnight.
IN THE MORNING
Place the onion in the bottom of the slow cooker.
Heat oil or lard in a frying pan until hot and brown the pork shoulder on all sides.
Place the pork shoulder into the slow cooker.
Using the stock, deglaze the hot pan, scraping up any flavourings in the pan. Pour the stock into the slow cooker.
Cook on low for 8 on low hours or until cooked through, tender and falling off the bone.
Nutrition Information:
Yield:
8
Serving Size:
1
Amount Per Serving:
Calories:

203
Total Fat:

12g
Saturated Fat:

4g
Trans Fat:

0g
Unsaturated Fat:

6g
Cholesterol:

65mg
Sodium:

142mg
Carbohydrates:

4g
Fiber:

1g
Sugar:

2g
Protein:

20g
Nutritional information is calculated automatically using the Nutritionix database. Nutrition information can vary for a recipe based on factors such as precision of measurements, brands, ingredient freshness, serving size or the source of nutrition data. We strive to keep the information as accurate as possible but make no warranties regarding its accuracy. We encourage readers to make their own calculations based on the actual ingredients used in your recipe, using your preferred nutrition calculator.
Slow cooker pork shoulder is a great meal prep option because it's easy to make, delicious and the pulled pork can portioned, frozen and reinvented into a variety of other meals.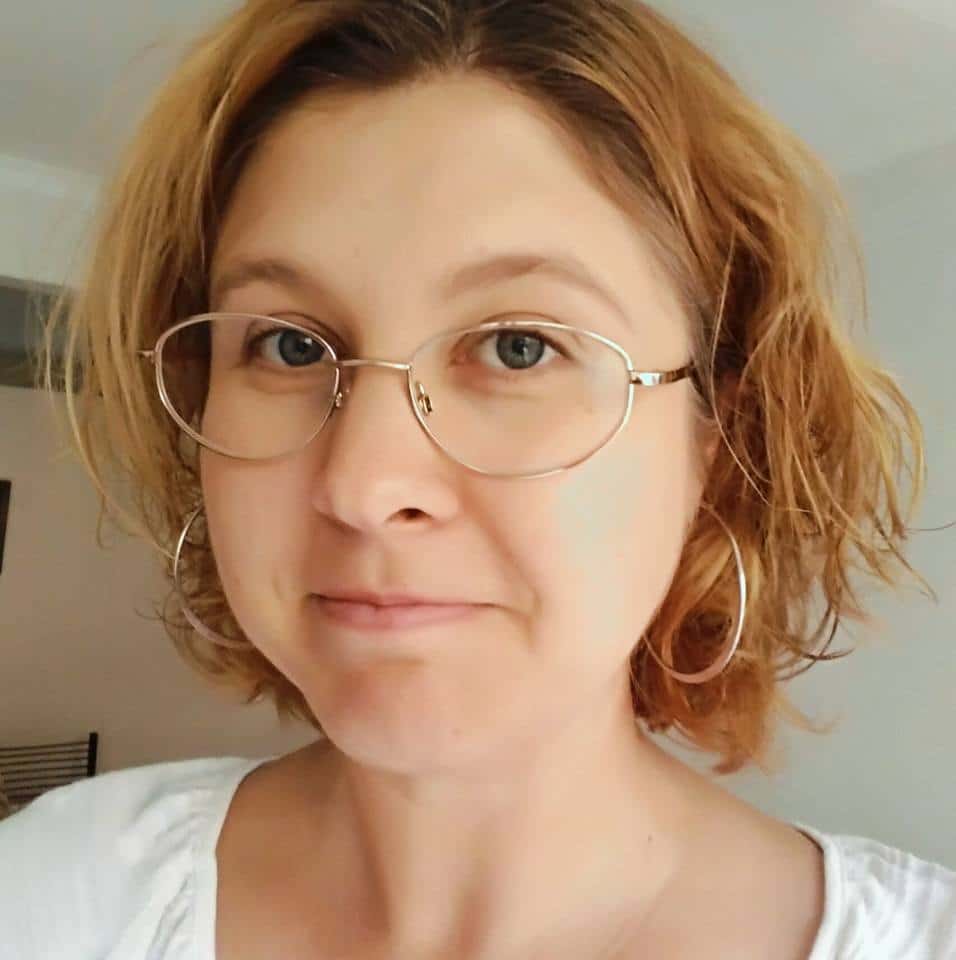 Melissa Goodwin has been writing about frugal living for 10+ year but has been saving her pennies since she first got pocket money. Prior to writing about frugal living, Melissa worked as an accountant. As well as a diploma of accounting, Melissa has an honours degree in humanities including writing and research and she studied to be a teacher and loves sharing the things that she has learned and helping others to achieve their goals. She has been preparing all her life to write about frugal living skills.
JOIN THE NEWSLETTER