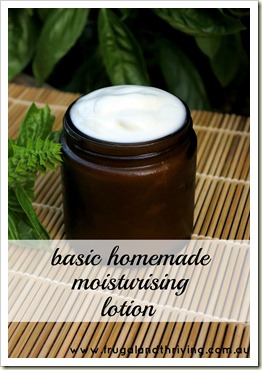 If you look at the ingredients list on any natural moisturiser, you will see that there are two main ingredients: oil (although this may be listed as a variety of different oils and butters) and water.
Oil and water – simple right?
But the old adage is true: oil and water don't mix.
So you need a third ingredient, an emulsifier (in today's case, beeswax) to help the oil and water combine and stay that way.
In other words, today's post is all about making a mayonnaise for your skin.
Making your own moisturising lotion is quick and simple, a lot cheaper than buying natural moisturisers and a lot better for your skin than commercial moisturisers that include all sorts of suspect chemicals.
The recipe below is one to build on (although it works fine just as it is). You can change it up with different oils and butters, and add a variety of essential oils or botanicals to add beneficial properties to your lotion.
See the article: Key Ingredients for Making your Own Natural Personal Care Products for information on where to find more specialised recipes. I also add specialised recipes to my Pinterest board when I come across them.
the ingredients
Water
Water is the main ingredient in many personal care items. Moisturisers can contain between 40 – 80% water!
Tap water has sediments and chlorine and so is not the best for making personal care products, although I use filtered and boiled tap water myself. Alternatives are distilled water, which you can get from the supermarket, rain water or floral water, which is what is left over after essential oils are distilled.
Oils
You can use any oils that you like, but I used coconut oil and macadamia nut oil, because they are both good for the skin and they are in the pantry.
Coconut oil is solid at 'room temperature', which is important for a thick stable cream. You can substitute it for any solid fats like cocoa butter or shea butter.
Beeswax
Beeswax is a natural emulsifier as well as a stiffener for your creams and lotions. It also helps seal and protect the skin.
making a basic lotion
Ingredients
1/4 cup coconut oil or other solid fat
1/2 cup olive or macadamia nut oil (or oil of choice)
2 tsp. beeswax pellets or 2 heaping tsp. grated beeswax
3/8 cup of filtered water
Method
Bring the water to the boil, and let cool to about 80°C.
Combine the oils and the beeswax and heat over a low heat until the wax is melted. Cool to 80°C.
Slowly trickle the oil into the water whilst mixing with a stick blender or in a blender.
Once combined, pour into a sterile container and let cool.
Store in the fridge.
why store your lotion in the fridge?
Have you seen those experiments where a sandwich and MacDonald's meal are left out for a year and while the sandwich deteriorates in days, the Macca's meal looks just like it did the day it was made thanks to all the preservatives?
That analogy works perfectly for moisturisers too.
DIY lotions are real food for your skin. Which means unlike commercial moisturisers (the Macca's burgers of personal care) you can't keep them in the bathroom cabinet for months and years on end. They need to be made in small quantities, kept in the fridge and used within a month or two. And you need to look for signs of mould.
There are natural ingredients you can add to increase the shelf life of your products – vitamin E oil is one, grapeseed extract is another, but your lotions will still not have the same shelf-life as commercial moisturisers and really, that's a good thing – no junk on your skin.
For those of you who make your own lotions, what's your favourite recipe?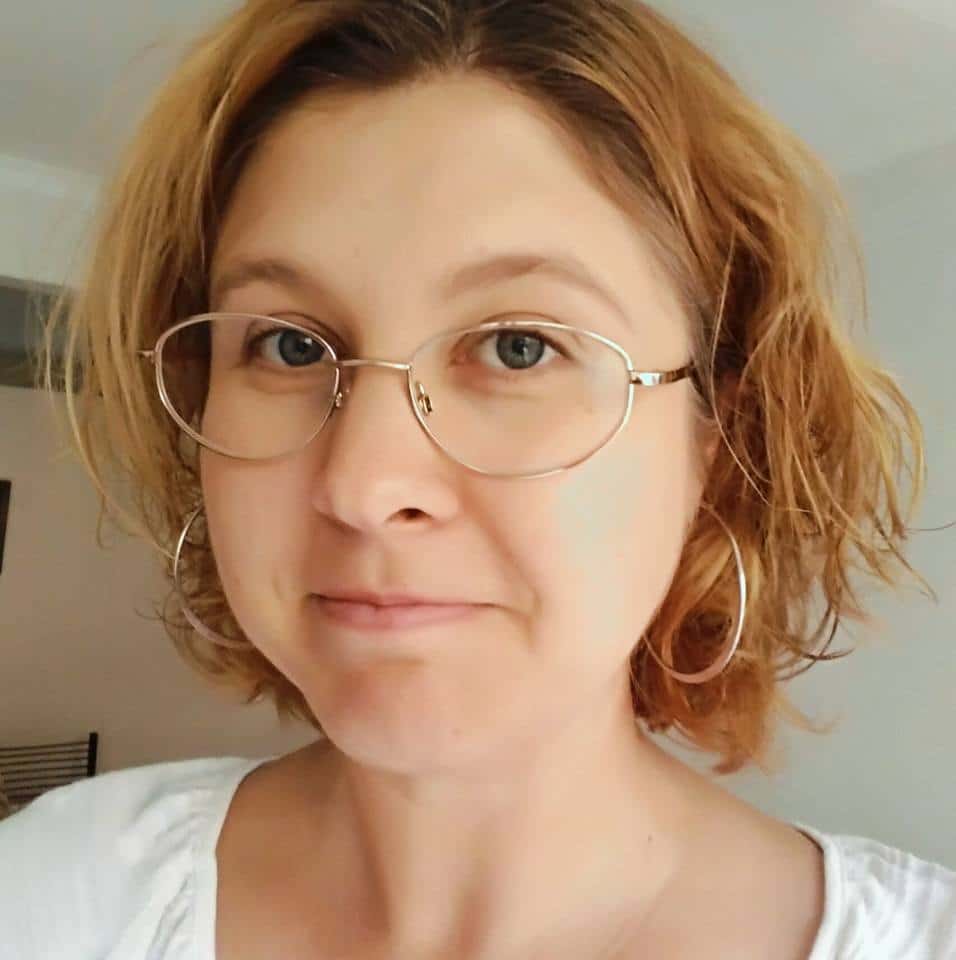 Melissa Goodwin is a writer and the creator of Frugal and Thriving who has a passion for living frugally and encouraging people to thrive on any budget. The blog is nine years old and is almost like her eldest baby. Prior to being a blogger and mum (but not a mummy blogger), she worked as an accountant doing other people's budgets, books and tax.