Wholemeal Date Scones Just Like Grandma Used To Make Them
This website may earn commissions from purchases made through links in this post.
Do you have guests coming? Nothing to serve for morning tea? These delicious wholemeal date scones can be on the table in around 20 minutes.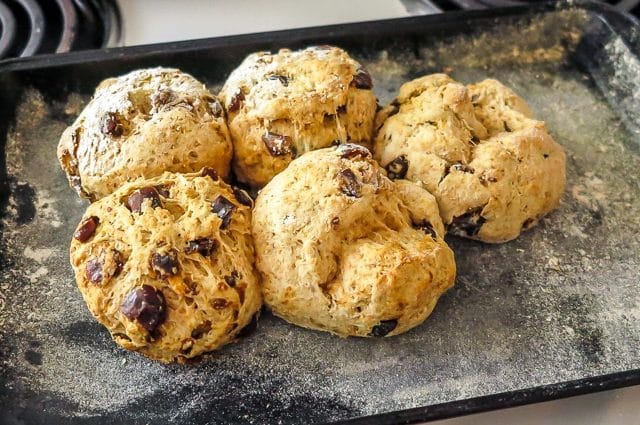 What comes to mind when you think of scones and tea?
The word associations that pop immediately into my mind are:
CWA Hall, jam, afternoons, magpies, the sound of chairs scraping on wooden floorboards, teaspoons clinking on China, the smell of dry dirt and grass, eucalyptus and old wood, tall gum trees against blue sky, summer breezes, crickets, black ants, Picnic at Hanging Rock.
There's nothing like scones to take you back to simpler times. They are simple to make and are one of the most frugal of baked goods.
Because they are so quick and easy – you can have them in the oven in 5 minutes and on the table, warm and dripping with butter in another 15 – they are one of my favourite things to bake with the kids, who are impatient for them to cook.
It also means that homemade scones are a handy recipe to have on hand should sudden visitors drop by and you have nothing to serve.
Scones are just flour, salt, a tiny bit of butter (I also include an egg in mine, but that's not traditional), served with butter or some homemade jam and fresh cream.
This recipe, however, glams up scones with some chopped dates and a touch of vanilla and sugar, both completely optional ingredients, and switches out the plain flour for a bit of wholemeal.
You don't have to use wholemeal flour, plain flour is fine, but I find wholemeal flour makes the scones a little bit healthier and a whole lot more filling. And the way my kids eat, filling is important – I'm already dreading feeding my son when he becomes a teenager!
My grandmother's tip for making scones that rise is to place the scones on a tray so they are touching. That way they push each other upwards rather than spread out on the tray.
Yield: 6 scones
Wholemeal Date Scones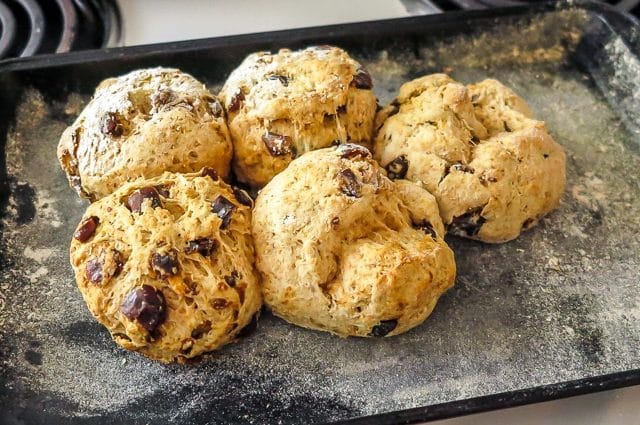 Scones are quick and easy to make when you need a speedy morning tea. Riff on plain scones by adding dates.
Ingredients
1 1/2 cups of wholemeal flour
3 tsp. baking powder (use 1 tsp. if using self-raising flour)
pinch salt
2 tsp. sugar (optional)
1 Tbsp. butter
1/2 cup chopped dates
1 egg
1 tsp. vanilla (optional)
milk
Instructions
Preheat oven to 200°C. Lightly dust a baking tray.
Sift flour, baking powder, salt (and sugar if using) into a large bowl. Add in the meal from the sieve.
Using your fingertips, rub in the butter, until the mixture resembles fine breadcrumbs.
Stir in dates (fingers work fine), then add the egg and vanilla if using.
Add 1 Tsp. milk and using your hand, bring the mixture together into a dough, adding more milk as necessary to get a firm, dough-like consistency. Knead the dough once or twice to combine, but don't overwork the dough.
Put a little flour onto the bench and form the dough into a thick disk. Using a glass or cutter, cut rounds until all the dough is used. You can form the last of the dough into a rough round.
Place the scones touching on the tray and bake for 15 minutes or until cooked through. You know they are cooked through when you can hear a hollow sound when you tap the bottom.
Serve warm and fresh with your favourite topping.
Nutrition Information:
Yield:
6
Serving Size:
1
Amount Per Serving:
Calories:

195
Total Fat:

4g
Saturated Fat:

2g
Trans Fat:

0g
Unsaturated Fat:

2g
Cholesterol:

39mg
Sodium:

315mg
Carbohydrates:

35g
Fiber:

4g
Sugar:

9g
Protein:

7g
Nutritional information is calculated automatically using the Nutritionix database. Nutrition information can vary for a recipe based on factors such as precision of measurements, brands, ingredient freshness, serving size or the source of nutrition data. We strive to keep the information as accurate as possible but make no warranties regarding its accuracy. We encourage readers to make their own calculations based on the actual ingredients used in your recipe, using your preferred nutrition calculator.