Wholemeal Date Scones Just Like Grandma Used To Make Them
This website may earn commissions from purchases made through links in this post.
Do you have guests coming? Nothing to serve for morning tea? These delicious wholemeal date scones can be on the table in around 20 minutes.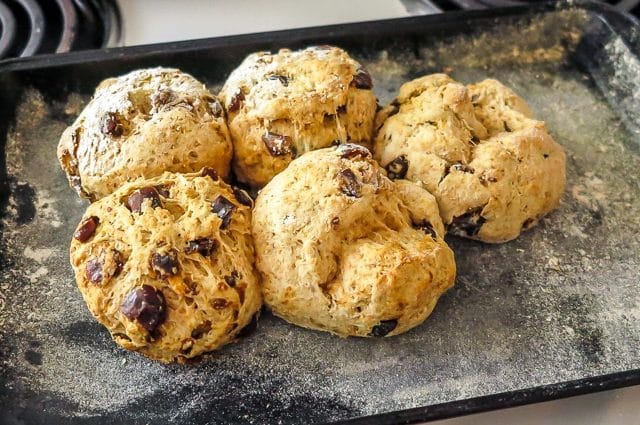 What comes to mind when you think of scones and tea?
The word associations that pop immediately into my mind are:
CWA Hall, jam, afternoons, magpies, the sound of chairs scraping on wooden floorboards, teaspoons clinking on China, the smell of dry dirt and grass, eucalyptus and old wood, tall gum trees against blue sky, summer breezes, crickets, black ants, Picnic at Hanging Rock.
There's nothing like scones to take you back to simpler times. They are simple to make and are one of the most frugal of baked goods.
Because they are so quick and easy – you can have them in the oven in 5 minutes and on the table, warm and dripping with butter in another 15 – they are one of my favourite things to bake with the kids, who are impatient for them to cook.
It also means that homemade scones are a handy recipe to have on hand should sudden visitors drop by and you have nothing to serve.
Scones are just flour, salt, a tiny bit of butter (I also include an egg in mine, but that's not traditional), served with butter or some homemade jam and fresh cream.
This recipe, however, glams up scones with some chopped dates and a touch of vanilla and sugar, both completely optional ingredients, and switches out the plain flour for a bit of wholemeal.
You don't have to use wholemeal flour, plain flour is fine, but I find wholemeal flour makes the scones a little bit healthier and a whole lot more filling. And the way my kids eat, filling is important – I'm already dreading feeding my son when he becomes a teenager!
My grandmother's tip for making scones that rise is to place the scones on a tray so they are touching. That way they push each other upwards rather than spread out on the tray.
[mv_create key="206″ type="recipe" title="Wholemeal Date Scones" thumbnail="https://www.frugalandthriving.com.au/wp-content/uploads/2014/03/IMG_1784-2-e1554879860678.jpg"]
JOIN THE NEWSLETTER