Create a Summer Sanctuary with the Best Essential Oils For Summer
This website may earn commissions from purchases made through links in this post.
Turn your home into a sanctuary filled with the fresh scents of natural essential oils. Below are some of the best essential oils for summer.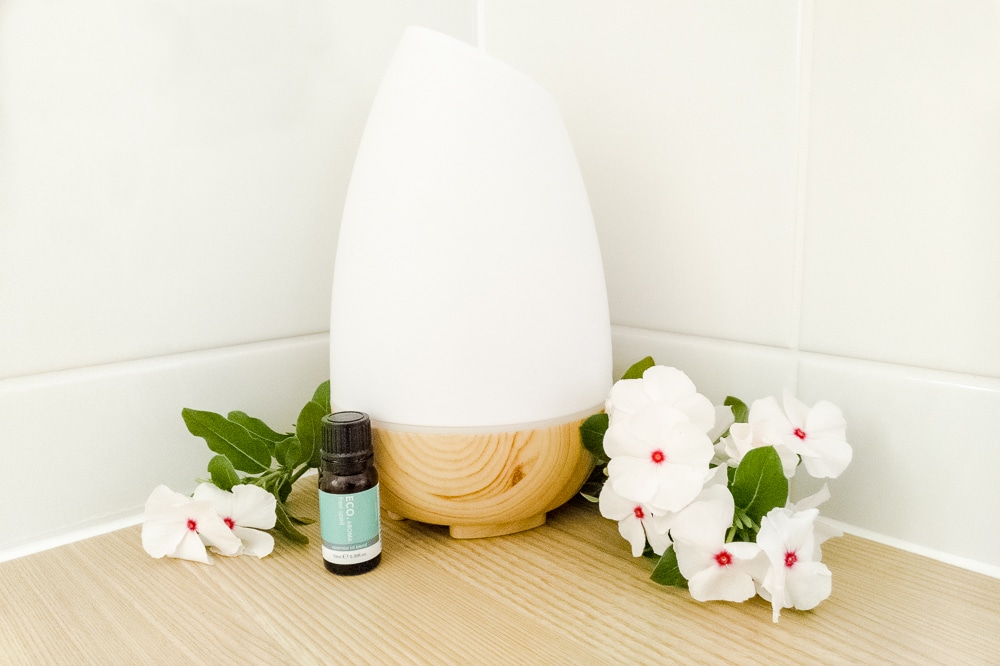 Scents and smells have a powerful effect on us. They can evoke long-lasting memories and create strong emotions.
When used in the home, familiar smells can create a strong sense of place and belonging.
Pure essential oils are natural, so they make your home smell nice, without using artificial fragrances.
And essential oils can have many other benefits besides just smelling nice. They can keep bugs away, help with mood and sleep, help with skin conditions, to name just a few.
There are lots of different oils to enjoy. In the article below I share a few that are perfect for the Australian summer.
How to Enjoy Essential Oils at Home
There are many ways to use essential oils at home.
One of the most popular is in a diffuser. You can get mist diffusers like this one to spread a subtle scent throughout a room of your home.
Another option is to make your own reed diffuser for an energy-free way to enjoy your favourite essential oils.
Add a few drops to homemade potpourri or make your own linen spray to on linen or as a room deodoriser before guests arrive.
Essential oils can trigger allergies in susceptible people, so it's important to take care when using them. Never swallow them. Dilute them in a carrier oil if using on your skin and keep out of reach of children.
7 Essential Oils Perfect for Summer
With so many delicious essential oils, it's hard to pick just seven. There are all your standards like lavender but as I live in the Australian sub-tropics I've picked a few that say Australian summer to me.
Ginger – Hot humid air scented with the spicy scent of ginger evokes summer in the tropics – palm fronds and pools. Goes well with Jasmine, Lemon, Lime, Orange, Patchouli, Rose and Sandalwood.
Jasmine – Nothing says summer like the scent of Jasmine drifting into open windows at night. If you don't have Jasmine climbing all over your fence, you can recreate the mood with Jasmine essential oil. Goes well with Geranium, Sandalwood, Patchouli and Lemongrass.
Citronella – Summer = BBQs + mozzies + citronella. I love the sweet citrus smell of citronella so much I use it in my everyday cleaning spray. As well as keeping mozzies away, it is supposed to be an uplifting and stimulating scent – great for the day after.
Basil – Native to tropical regions, basil grows in abundance during summer. Its fresh herby scent blends well with citrus oils, jasmine, ginger, mint, Cyprus and sandalwood.
Lemon myrtle -Distinctively Australian, lemon myrtle has a fresh scent similar to Lemongrass. It evokes memories of long walks along sandy paths through Tea Trees and Eucalypts to the beach, accompanied by the deafening sound of the cicadas.
Spearmint – Sweet, refreshing and milder than peppermint. This oil pairs well with citrus scents. It reminds me of fresh homemade lemonade with sprigs of mint.
Lime – Mojitos! Goes well with basil grapefruit, ylang ylang.
Want to get creative and mix different essential oils to create your own unique blends of summer?
Check out this article for inspiration. It has over 25 recipes for summer blends. I love the sound of the 'island living' blend!
Premixed Blends for Summer
If mixing blends isn't your thing, you can buy essential oils already blended. Here are a few that sing Australian summer.
Australian Shores – This blend is like summer in the bush. It includes Eucalyptus, Tea Tree Lemon and Vanilla. Refreshing with a hint of sweetness from the vanilla.
Free Spirit – This is my current favourite blend. The sweet orange and lime give this blend a fresh citrus scent, while the patchouli and ylang-ylang give the blend sweet musky undertones.
Santorini – Escape to the Mediterranean with this blend of Grapefruit, Lemon, Bergamont, Geranium and Peppermint.
White Christmas – For us southerners, Christmas and summer go together like burnt sausage and white bread. The White Christmas blend includes summery smells like sweet orange, tangerine, geranium, Cyprus and cinnamon. Or you could try one of the other Christmas blends like Candy Cane or the more traditional Christmas Eve.
Create your own summer sanctuary at home with the essential oils. They also make great gifts for the hard-to-buy-for person, either on their own or as part of a handmade gift.