stocktake: key ingredients for making your own natural personal care products
This website may earn commissions from purchases made through links in this post.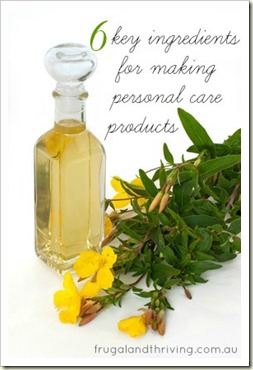 Have you ever thought about making your own personal care products?
Over the next few months, I'll be sharing some basic personal care recipes that you can build on to make your own personalised products.
But first up is a list of key ingredients that are used in making your own personal care products.
Depending on the kind of products you want to make, there are only a few key ingredients you need, and some of these you will already have on hand.
Botanicals, which you can grow yourself, will give your concoctions a variety of beneficial properties. And herbs can be used medicinally and for culinary purposes as well.
Making your own personal care products is easy. You know there will be no nasty chemicals in them (and you can tailor your products around allergies), they are cheaper than store bought natural products and they are effective. In fact, some preparations in use today date back thousands of years.
And they make great gift ideas.
Here are some basic ingredients for making your own personal care products.
1. Oils
While it may seem counter-intuitive, oil is the main ingredient in many natural beauty products, including face cleansers. Moisturisers, salves, balms, butters all include oil.
There are many oils that you can choose from, but my favourites are coconut oil, olive oil and macadamia nut oil for the simple reason that they are relatively inexpensive and come straight from the pantry. I'm all for multi-tasking ingredients!
If you want to branch out into specialty oils, some popular options include Jojoba and Rosehip oils.
2. Beeswax
I have a huge 5kg lump of beeswax (that really needs refining) that I just grate when I need it. But you can get beeswax in the more convenient pastilles or pellets form. Beeswax can be found in balms, salves and some moisturisers.
3. butters
Butters are similar to oils, except they are solid at room temperature. They are used in lotions, moisturises, salves and creams to name a few. They provide conditioning to the skin as well as body to your product.
While each butter has different properties Shea butter is one of the most popular and cocoa butter is great because you can make chocolate out of it as well!
Eat it. Slather it on your skin. It's all good when it comes to chocolate.
3. essential oils
Essential oils provide fragrance as well as aromatherapy benefits. Eucalyptus, for example, is useful in homemade vapour rub. It's also used in mosquito repellent. Lavender is a popular oil because of its calming and antiseptic properties and also because it's another relatively inexpensive oil.
Depending on what you're making, you can choose essential oils according to their function or according to your personal taste.
4. Castile Soap
Liquid castile Soap is useful for making liquid hand soap (which of course, is what it is), shampoo, facial cleanser, body wash, dishwash, and dog shampoo, to name a few.
5. Botanicals
Different botanicals have different properties for the skin. Two popular botanicals, for example, are aloe vera and calendula.
You can either purchase botanicals in various forms or you can grow your own. Grow Your Own Drugs: Easy Recipes for Natural Remedies and Beauty Fixes and the follow-up book Grow Your Own Drugs: A Year with James Wong are great introductory books for growing and using botanicals.
6. Water
Water is the main ingredient in many personal care products – up to 95% of some products (like shampoo)!
Tap water is no good for making cosmetics because of the chlorine and sediments. Rain water is great (and free!), or you could use distilled water (you can get that from the supermarket) or use hydrosols (floral water), which is a bi-product of making essential oils.
Other useful ingredients (depending on what you intend to make)
Arrowroot powder. Can be used for making your own deodorant and baby powder.
Bicarb soda. What does this product not do?! Can be used instead of arrowroot powder. Can also be used to make bath bombs.
Glycerine BP. Used for moisturising. Also useful in making household products, soap, for removing stains, and making homemade cough syrup.
Witch hazel. For making sprays (like bug spray), skin toner and hand sanitiser. An alternative is cheap vodka (not for the toner though).
Vitamin E. To help preserve your concoctions.
Epsom salts. For bath salts and scrubs.
Clay. To make beauty masks.
Zinc Oxide. For making sunscreen and nappy cream.
Pantry items. These include sugar, salt, honey, yoghurt, oatmeal, almond meal, eggs, avocado, to name a few.
where to find the ingredients
Many of the ingredients listed above can be found at your local supermarket, chemist and health food store.
If you happen to have a local supplier of honey, you may also be able to get beeswax from them.
Otherwise you can find all the ingredients you need plus a whole heap more, and containers, from an online natural cosmetic ingredients supplier. There are dozens of Australian online suppliers but the one that I've used are Escentials of Australia.
where to find recipes
Of course, Google and Pinterest are great places to find recipes for natural skin care products. And I'll be sharing more of my own concoctions in the upcoming months.
Two eBooks that I've found useful are How to Make Basic Lotions and Creams, which can be found here, and Natural Facial Creams and Lotions, which can be found here (this is an Australian site, recipes use metric measurements). Both sites have a whole host of eBooks on different topics.
Making your own natural personal care products is relatively easy and can be a lot cheaper than buying them. It can also be a very satisfying hobby and a source of gifts.
Do you make your own natural personal care products? What products do you make?
JOIN THE NEWSLETTER