Today's task, as part of the disaster preparation series, is to organise and back up your important documents.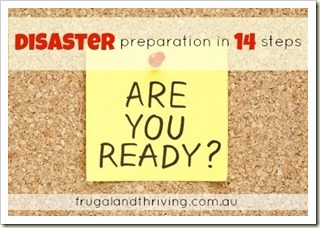 Even if you never have to deal with an emergency (and I hope that you don't) organising your important documents saves you time and hassle when you need to access them.
No searching for insurance papers in the event you need to make a claim or update your details. No extra fees (or stress) because you need to get lost documents reprinted.
And should you experience a disaster, having your important documents safe and readily at hand, means there's just one less thing you have to stress about.
Below are some tip on what of documents you should organise and keep back up copies of and how to organise and back up your documents.
important documents
Here are just some of the documents you might consider organising and keeping copies safe in case of an emergency (and for the sake of being organised):
Birth and Death Certificates
Marriage Certificates
Passports
Divorce Papers
Insurance Papers
Home inventory
Vehicle registration papers
Bank details
Credit card details
Mortgage and other loan details
House deeds
Wills
Investment details
Shares etc.
Superannuation details
Centerlink Information (Social Security details for American readers)
Trust papers
Tax papers
Organising originals and keeping them safe
Be it a folder, filing cabinet or other filing system, it's important to keep your paperwork well organised.
Filing is NOT my strong point (my old boss will attest to that), nevertheless, I do try and keep our papers relatively organised in a binder.
For important documents like deeds to the house and wills etc., it's a good idea to keep copies of these at home and originals safe with your attorney or bank.
Some people also choose to have a fire-proof safe in their home for important documents.
organising copies
For emergency situations, it's a good idea to make copies of important documents and keep them in an emergency folder with your 72 hour kit. Original birth certificates etc. should be kept together so that they are easy to grab in an emergency.
While scanning your documents and keeping them on stick or disk saves you room in your kit, you may not be able to access these files during an emergency. In the very least, it's a good idea to have paper copies of insurance policies.
It's also a good idea to keep copies of important document securely online (somewhere like dropbox or similar secure online storage) or on stick with a relative who lives away from you, if you are concerned about online security and identity theft.
As a side note, I take copies of documents like insurances when we travel, just in case I need them while we're away.
Having your important papers well organised is good practice because it saves you time and stress during everyday circumstances. But it's also important to keep them somewhere safe and where you can grab them quickly, should you need to leave your home in the case of an emergency. And it's a good idea to make copies or a back up and keep them with your emergency kit, just in case.
How do you organise your important documents? Do you keep copies or backups?