6 Things to Do On Sunday to Start the Week Off Right
This website may earn commissions from purchases made through links in this post.
60 minutes on Sunday can save your week.
And I don't mean the TV show.
I'm a big believer in Sunday being a day of rest. Time with the family. Time to read a book or go to the beach.
But spending 60 minutes on a Sunday preparing for the week ahead can help you start the week off on the right foot.
60 minutes can be the difference between a frazzled week and a calm week.
The difference between a frugal week and a week where you're spending on conveniences.
Below are six ways that can help you physically, mentally and emotionally prepare yourself to have a great week ahead.
6 Things to Do On Sunday to Start the week right
1. Prep Food for the Week
You don't have to spend all week batch cooking to get ahead in the kitchen!
But you can avoid takeaway or work lunches and other expensive conveniences by spending half an hour or so planning and preparing your meals ahead of time.
Write a menu plan for the week
Use a simple meal plan and this task should take about 5 minutes. Check your fridge and pantry for anything that needs using up and then write a shopping list. Don't forget to plan lunches and snacks as well.
Do a quick shop
Now that you have your menu plan for the week, it's time to make sure you have all the ingredients on hand, so there's no last-minute rush to the shops mid-week.
A quick shop now, based on a solid menu plan and grocery list will save you time, stress and money throughout the week.
One of the nicest ways to incorporate grocery shopping into a lazy Sunday is taking the family to the local farmer's markets to enjoy a stroll in the sun while getting what you need.
But if you prefer not to spend Sundays shopping at all, online grocery shopping can be a godsend. I love doing our grocery shop online for convenience and to watch what we spend. If you'd rather not pay a delivery fee, choose click-and-collect to save. Grocery shopping is then a 10-minute task. In your pjs. While drinking a cuppa for the win.
Prep ahead
With your menu plan in hand, you can pre-prep some veggies for easy dinners during the week.
While big batch cooking is popular, I don't want to spend Sundays in the kitchen. But I can do 10 minutes preparing vegetables. And this can make all the difference during the week.
A batch of muffins for lunchboxes can take about 15 minutes to make. If you're in the kitchen making dinner anyway, throwing a batch in the oven will save time and money during the week.
2. Plan your goals and schedule
The most successful people set goals, create an action plan to reach those goals and then schedule when they are going to do those actions.
So what are you going to do this week to reach your goals?
And just as importantly, when and how are you going to get those things done?
Grab out your diary or planner of choice and jot down the action steps you plan to take this week to take you one step closer to your goals. I like to do this on Sunday evening before bed with a cup of tea, but find a time that works best for you.
To ensure success, look at your calendar and plan exactly when you're going to do this action step, what resources you need and how you're going to do it.
You might also like: How Household Routines Can Save You Money.
3. Prep your Stuff
Does this sound like a typical Monday morning:
"Where's your lunchbox…ugh! What's that mouldy thing? I have to iron a work shirt; your school uniform's in the wash basket…we're running late, get out the door!"
We've certainly had our fair share of those Monday mornings!
Spending all Sunday getting ready for the week ahead would be horrible.
But a few minutes of ironing, setting out clothes, organising bags and lunch boxes, and making sure homework is ready and packed will save you a whole lot of stress on Monday morning and will set the tone for the week to come.
And you don't have to do it all!
It helps to delegate.
Kids love responsibility and helping out…ok, not always. But teaching your kids these time-management tips gives lays the foundation for great future habits and empowers them to be self-sufficient.
This is also a good time to sync schedules. Who has to be where and when during the week? We use Google calendar, which we sync across our devices, and spend a couple of minutes going over the week and making sure everyone knows the schedule.
Our lives can be so busy these days; adding chaos to an already busy week ramps up the stress. A schedule check and delegation can help.
4. Spend QUALITY time with your loved ones
Quality time with friends and family can make all the difference to our well-being. It's what makes life the good life.
It brings a family closer together; it fills our buckets for the coming week, it nurtures our souls. Kids thrive on quality attention – it fills their bucket too and helps them cope with the week ahead.
Too often, however, time spent with others involves a screen or "my precious" as I refer to the smartphones in our household. I'm guilty of spending way too much time on devices.
When we're tired, we want to zone out and relax, and a screen offers the perfect escape. Netflix here I come!
But while enjoyable in the moment, it can leave us feeling flat and restless, not content and happy.
Instead, looking for moments of flow, where you get caught up in something creative, can be much more fulfilling. Talking to family and friends and partaking in something recreational creates memories and happiness.
Play a game. Go for a hike in nature. Bake muffins.
Find things that you love to enjoy.
5. Count Your Blessings
There is no greater practice for getting you in the right frame of mind than counting your blessing. It sounds cliche, especially if life is particularly horrid at the moment. But this one practice alone can change the way you view the world. It doesn't change reality, horrid things are still horrid, but looking for blessings can help you cope with the horrid stuff.
It can be a great practice to spend a few minutes on Sunday night looking back over the week and acknowledging all the good in your life and the world.
If you like, try journaling. Studies indicate keeping a journal benefits many areas of your life. It's healing. It enhances creativity. It reduces stress.
Another option is spending time meditating. I signed up for the Headspace meditation app (no affiliation, I just like it), and it has had such an incredible impact on my life. You can get the introductory series of meditations for free, and you can take them over and over (which is what I did for quite a while) if you don't want to subscribe.
6. Go to bed early
Early to bed and early to rise makes a man healthy, wealthy and wise.
While it's tempting to keep the weekend going by staying up late, this strategy can be detrimental to your work and your relationships in the long run.
To get a good night's sleep try hitting the sack early – a sleep meditation can help. It can increase your chances of starting the week fresh and ready to jump out of bed.
Even if you suffer from broken sleep (I struggle with insomnia, which is probably why I value sleep so much – I never get enough!), an early night can mitigate the damage somewhat.
By taking 60 minutes out of your weekend to plan and prepare for the upcoming week, and then focusing on filling your bucket with quality time with family or friends, time counting blessings, spending time in nature or engaging in your passion(and getting enough sleep), you'll be set for a great week to come.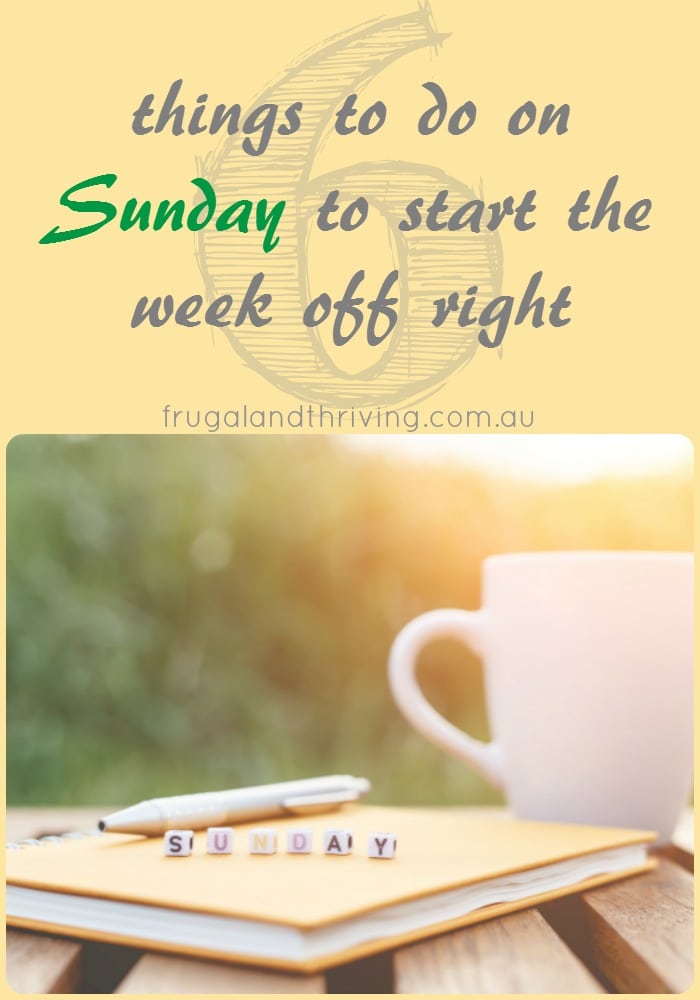 JOIN THE NEWSLETTER