Easy one-dish baked pesto chicken and vegetables. Just five minutes prep time and you can do other stuff while it's cooking in the oven.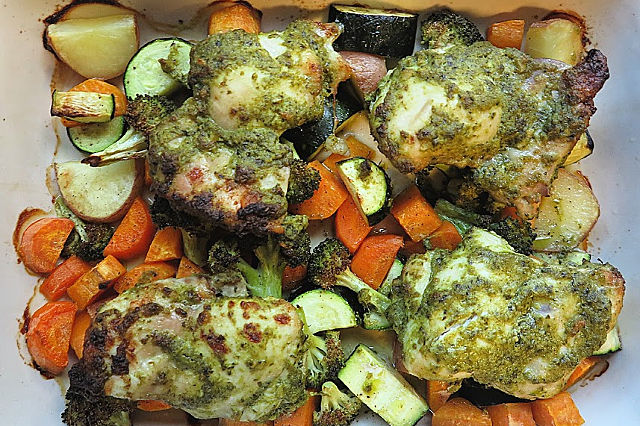 Every busy parent needs a quick and easy meal that's healthy, cheap and that the kids will eat, but is not a lot of fuss.
It's a tall order, ticking all those boxes, but this dish does just that and it's one of my favourites.
When you come home after a long day, the last thing you want to be doing is juggling food prep along with helping the kids with their homework and doing all the other little home admin tasks.
That's where a tray bake comes in handy.
The beauty of a tray bake is it only takes about five minutes to get ready, and then you can spend the next forty minutes or so doing all the other things you need to do, without watching the pot or stirring or adding extra ingredients.
Or, if you've cut your veggies ahead of time, it takes even less time to get dinner in the oven.
This meal is super simple because it only has three main ingredients: chicken, pesto and vegetables.
Use bottled pesto for convenience (although you can make your own pesto if you have an abundance of basil and a little extra time), chicken (thigh, breast, drumsticks or chicken pieces all work) and whatever vegetables you have in the crisper.
Vegetables that work well include potatoes, sweet potatoes, zucchini (squash), pumpkin, broccoli, carrots, cauliflower, capsicum, asparagus (although add that in a little later), onion, mushrooms and probably more that I can't think of.
Toss your chicken in the pesto, roughly chop your vegetables to around the same size – no need to peel, just wash – and bung it all in the oven. Five minutes and dinner is in the oven.
Then set the oven timer and come back to a cooked dinner.
And the one pan – that means less washing up!
Easy One-Dish Baked Pesto Chicken
Print
Ingredients
4 chicken thigh fillets

1/2 jar of pesto about 1/3 cup

mixed vegetables of choice. Some ideas include potatoes, sweet potato, pumpkin, carrots, zucchini, squash, broccoli, cauliflower, capsicum, onion, mushroom

2 Tbsp. olive oil

Salt and pepper to taste.
Print
Directions
Preheat oven to 200C or 190C fan-forced.
Place chicken thighs in a bowl and spoon pesto over. Toss to cover.
Chop selected vegetables into bite-size pieces approximately all the same size.
Pour olive oil into a baking dish. Place vegetables in the dish, season with salt and pepper and toss through the oil to coat.
Place chicken on top of the vegetables and spread any pesto that's still in the bowl onto the chicken.
Bake for 40 minutes to 1 hour until chicken is cooked through.
Melissa Goodwin is a writer and the creator of Frugal and Thriving who has a passion for living frugally and encouraging people to thrive on any budget. The blog is nine years old and is almost like her eldest baby. Prior to being a blogger and mum (but not a mummy blogger), she worked as an accountant doing other people's budgets, books and tax.