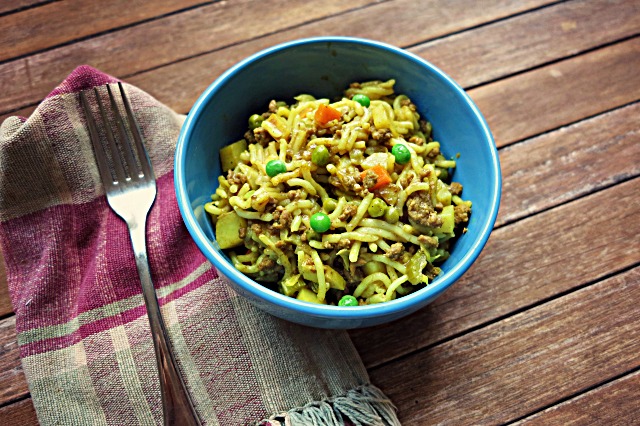 I love a meal that ticks all the boxes and this is one of them.
It's tasty. Tick.
It's versatile. Tick. I can adjust it according to what I have in the fridge.
One pot. Tick. Less washing up is always a good thing.
Healthy and full of veggies. Tick.
Cheap. Tick.
And it makes wonderful comfort food on cold winter nights and even as leftovers for lunch the next day.
You can use any mince you like; I like to use kangaroo mince. It is lean, 'grass-fed' and high in iron. It's a little pricier than beef mince, which is why I only use a little bit of each meal and stretch it with lots of veggies.
For me, savoury mince says cabbage…mmm, cabbage… but use whatever vegetables you have on hand.
You can leave the noodles out if you like and serve it with rice or some crusty bread or just on toast, which is how we ate savoury mince as a kid.
I goo light on the curry powder so the kids will eat it, but add as much as you enjoy.




Savoury Mince with Vegetables and Noodles
Ingredients
300g mince
1 onion, diced
2 cloves garlic, minced
1 stalk celery, finely sliced
1 carrot, diced
1 zucchini, diced
1 potato, diced
1/4 cabbage, shredded
1/2 cup peas, fresh or frozen
1 Tbsp. corn flour flour
1 cup stock of choice
1 Tbsp. Worcestershire Sauce (optional)
1/2 to 1 scant tsp. mild curry powder (more to taste)
1 tsp. turmeric
1/2 tsp. cumin
salt (or a little soy sauce) and pepper to taste
Instant noodles
Method
Prepare noodles according to packet directions.
Brown mince and set aside. Drain off excess fat if necessary.
Add a little oil to the pan and saute onion until soft. Add garlic, celery, carrot, zucchini and cabbage (or veg of choice) and saute for a few more minutes.
Return mince to the pan. Sprinkle in the flour and then pour in the stock, giving everything a good stir. Add Worcestershire sauce, curry powder spices and bring to the boil.

Simmer for 20 minutes or until vegetables are cooked through to your liking and the sauce has thickened.

Stir in noodles to heat through.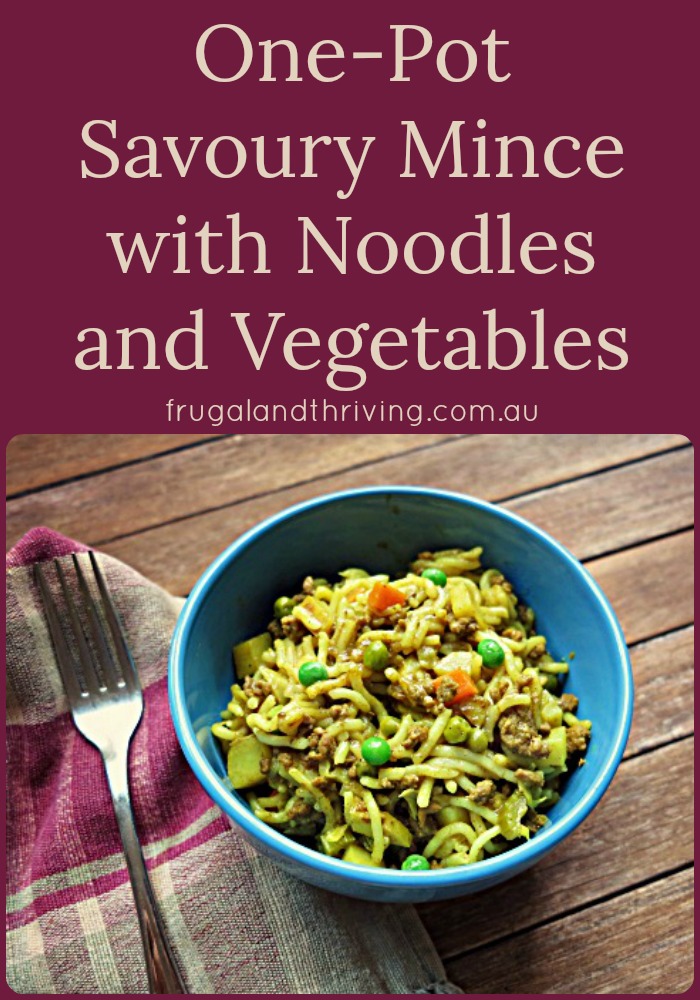 Melissa Goodwin is a writer and the creator of Frugal and Thriving who has a passion for living frugally and encouraging people to thrive on any budget. The blog is nine years old and is almost like her eldest baby. Prior to being a blogger and mum (but not a mummy blogger), she worked as an accountant doing other people's budgets, books and tax.