Shepherds Pie Recipe Using Nothing but Leftovers
This website may earn commissions from purchases made through links in this post.
Save time and reduce food waste with this quick and easy shepherd's pie recipe that uses nothing but leftovers.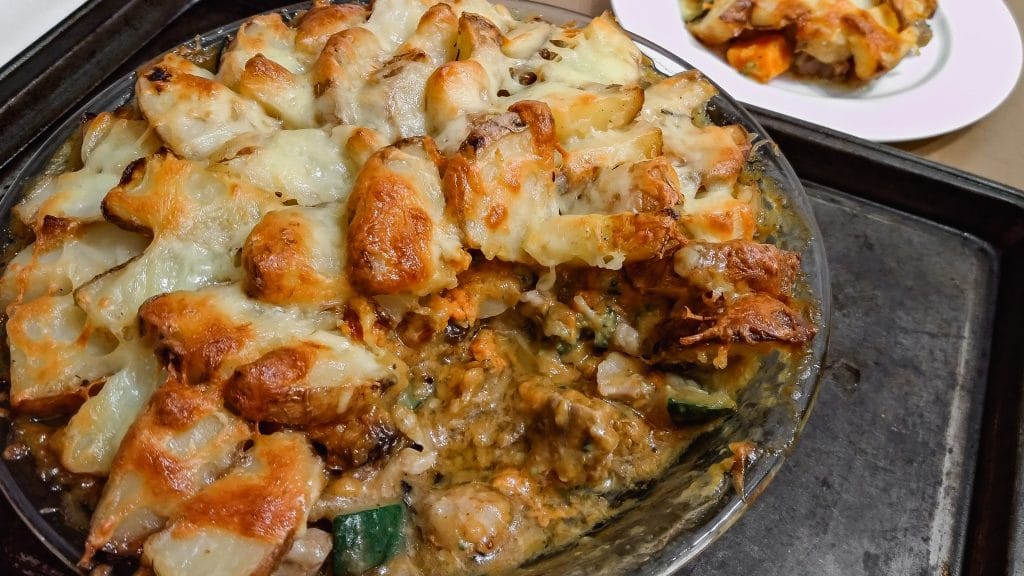 Every culture in the world has traditional recipes that use up leftovers. Shepherd's pie is one such recipe.
This is my version of shepherd's pie – the queen of all the leftover roast lamb recipes. This recipe uses up ALL the leftovers from a roast meal: the meat, the potatoes, the vegetables and the gravy.
What's more, using up the leftovers doesn't just reduce food waste. It doesn't just save money. It doesn't just save time.
Leftover lamb pie actually tastes even better the second day around because like all good stews, the flavours have had time to meld and develop overnight in the fridge.
You can make shepherd's pie from scratch, of course. And my husband asked if we could just skip the roast and make the pie. It was that good.
But it wouldn't taste as good as leftover pie because of the magic that happens to the flavours when they have a chance to mingle overnight.
Origins of Shepherd's Pie – For the History Buffs
Shepherd's pie was originally known as cottage pie, and the name refers to a pie made from any meat and topped with potato.
Cottage pie originates from the 18th Century Ireland and Britain when the poorer people – known as 'cottagers' – started using potatoes as an everyday food.
Cottage pie has local variations around the world. But my favourite is from the Netherlands just because it's called philosopher's stew [source].
How to Make The *Easiest* Shepherd's Pie Using Leftover Roast Lamb
There are thousands of recipes that show how to make Shepherd's Pie from scratch, or using just leftover roast lamb.
But the version I like to make is entirely from leftovers. That means night number two is super easy.
First, make your roast. You can use any meat in a shepherd's pie, but lamb is traditional. Here's how I make my lamb roast with rosemary and garlic.
Roasts can seem pretty expensive, but when you stretch them to cover more than one meal (and maybe some sandwich meat for lunches), they end up being quite a cheap meat option.
Keep an eye out also for sale items or reduce to clear roasts and save further.
Now, this is the key step…
Along with your roast joint of meat, make sure to roast extra vegetables and cook some extra greens and make extra gravy for the shepherd's pie.
Then, after your roast meal, strip any remaining meat from the bone and set aside. Don't throw the bone out, you can use the bone to make stock!
Put the bone in the slow cooker with some water and let it cook overnight for lamb stock. Or, put the bone in the freezer to make stock at a later date. That stock can be used to make gravy for your next roast or soup. We made vegetable and barley soup with the lamb stock that came from the same bone as the meat for this pie.
Back to the pie.
Mix the leftover meat and greens with the leftover gravy and put in a pie dish.
Slice the remaining roast potato and top your pie with the potato slices.
If you like, you can sprinkle a little cheese on top. Then set aside in the fridge overnight.
The next night, simply pop your pie in the oven until it is heated through and golden on the top.
Serve with a side of more greens or bread.
Yield: 4 Serves
Old-Fashioned Shepherd's Pie from Leftovers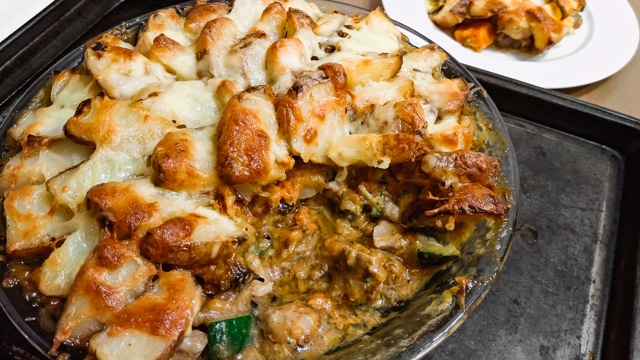 A super quick and easy shepherd's pie using leftover roast meat, vegetables and gravy.
Ingredients
Leftover vegetables
Leftover roast potato
1/2 cup grated cheese (optional)
Instructions
Chop leftover lamb into bite sized pieces.
Mix leftover roast lamb, leftover gravy and leftover vegetables together.
Place in pie dish.
Slice leftover roast potato and spread over top of lamb mixture.
Sprinkle with grated cheese if using OR dot with a little butter OR drizzle with a little oil.
Bake at 180°C for approx. 30-40 minutes or until heated through and golden on top.
Serve with steamed greens if desired.
Notes
This dish is super easy if you plan ahead and cook extra vegetables and gravy when you roast the lamb.
Roast carrots to chop through the pie.
Steam or boil extra greens to add to the pie.
Many shepherd's pie recipes include onion. Instead of chopping and frying onion for your pie, roast some onion wedges with your roast vegetables and roast lamb to add to your pie.
Try roasting your lamb and potatoes with some fresh chopped rosemary for a flavourful twist.
Time-saving tip: On the first night, when you roast the lamb, strip the remaining meat from the bone, chop it into bite sized pieces and add it to the leftover gravy along with leftover steamed vegetables and leftover roast vegetables (except the potato). Place mix into a pie dish. Top with sliced, leftover potatoes and store in the fridge for an easy meal the next day that only needs to be reheated in the oven.
Nutrition Information:
Yield:
4
Serving Size:
1
Amount Per Serving:
Calories:

181
Total Fat:

11g
Saturated Fat:

4g
Trans Fat:

0g
Unsaturated Fat:

5g
Cholesterol:

39mg
Sodium:

236mg
Carbohydrates:

9g
Fiber:

2g
Sugar:

1g
Protein:

11g
**As the recipe uses up leftovers, the nutrition will be dependent on how much of each you use. You should calculate according to the amounts YOU put in your dish. Nutritional information is calculated automatically using the Nutritionix database. Nutrition information can vary for a recipe based on factors such as precision of measurements, brands, ingredient freshness, or the source of nutrition data. We strive to keep the information as accurate as possible but make no warranties regarding its accuracy. We encourage readers to make their own calculations based on the actual ingredients used in your recipe, using your preferred nutrition calculator.
Looking for more lamb recipes? Check out these popular recipes:
JOIN THE NEWSLETTER